About E-mails * babysue® Store * Donate * General Info * Links * LMNOP® * Poetry * Quotes * T-Shirts * Review Policies
July 2007 Reviews by


*Top Picks

RATING SYSTEM:


= UNBELIEVABLY INCREDIBLE

= EXCELLENT


= VERY GOOD


= GOOD


= FAIR


= SHITTY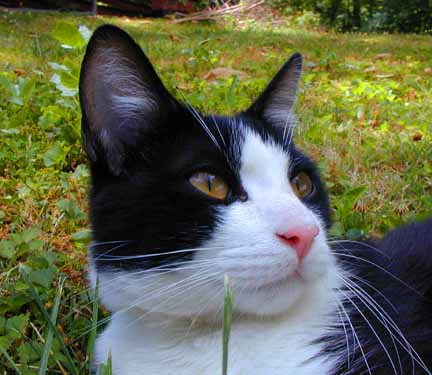 The Cat With No Name is now A Cat With A Name
On June 3, 2007 we walked towards our truck in the parking lot of the post office carrying a large crate of packages. There, laying underneath the front tire of our truck playing with the treads, was a very relaxed black and white teenage cat. We picked it up and the cat immediately began nudging and licking our hands. It was obviously very hungry and starving for attention. Looking around, it was obvious that the animal was either lost or abandoned. We stood for a moment wondering what to do when a very nice professional lady spotted us and came over to talk. We handed her the cat and she began inspecting it. "What a sweetie. He's been roaming for awhile," the lady said. "Look how much wear is on his paws."
It didn't take us long to realize that if this kitty was going to have a chance in life it was up to us so...we put the cat in the mail crate with all the other packages and got in the truck. Our new friend sat happily with his front paws grasping the side of the crate as we drove to our office suite. At this point we thought...hmmm...why not ask all of our cool contacts around the world to help name him...?
When we sent out review notifications later that morning we asked folks to submit their ideas for a name. Here are some favorites: Dog, Shamu, Dumpster Sinky, Lindley Armstrong Jones, Chubby Checker, Patches, Buckwheat, Condoleezza, Serendipity, Jasper, Simba, Twilight , Michelin, Pirelli, and Manny. Other names submitted included Sylvester, Drought, Jewel Case, Digipak, Watermark, Bonus Tracks, Global Warming, Napkin, Cracker Jacks, Pumpkin, Special Sauce, Boatmilk, Homeless, Script, Download, Glitterbox, Goddamn It, Beaver, Wally, Nutcake, Cocker Spaniel, Belinda, Tumbler, Litterbox, Sucker, Monochrome, Bullet, Fresca, Boxcutter, Eyesore, Shitten, and Teaser.
In the end, we finally decided that--with so many choices--it would be best to let the cat itself choose its name. So...we printed the names out on sheets of paper, cut them into squares, put a cat food "morsel" on top of each square, and arranged them in a neat large circle. Then we put the cat in the middle of the circle. The first two names the cat chose were...Wally and Michelin.
So...now the cat has a name. Wally Michelin fits. Thanks everyone who participated. Mrowl.
* * * * * * * * * * * * * * * *
A Hero From A Thousand Places - Mistakes (CD, X Music / Fontana, Rock/pop)
The debut album from Cherry Hill, New Jersey's A Hero From A Thousand Places. This is a good album...but it is a mixed bag of goodies. Our varied reaction to this band's music stems from the fact that they have two sides...one good, one bad. The band is at their best when they lower the volume and allow their songwriting skills to shine. They show that they can indeed write good songs with very nice, simple arrangements. At their worst...when they "rock out" at full volume they sound just like a million other generic twenty-first century rock bands. But in the band's favor, most of the tracks on Mistakes feature the band's more interesting softer side. Twelve tracks here including "The Aftermath," "It's Not Over," and "A Hand Written Apology." This is a good album...but we're betting that this band will do even better in the near future... Packaged in a very nice diecut digipak sleeve. (Rating: 4+++)


Angel and the Love Mongers - The Humanist Queen (CD, Rock Snob, Pop)
Although folks involved with this band see themselves as sounding like Jeff Buckley, John Lennon, and The Cure...to our ears, the tunes on The Humanist Queen sound much more like an odd cross between Sparks and The Chainsaw Kittens. In any case, even though this album may be an acquired taste (we had to spin it two or three times before deciding we liked it)...if you give them some time, this band's songs will most likely make a lasting impression. This is the second full-length release from Knoxville, Tennessee's Angel and the Love Mongers. The band's songs are extremely intelligent and well-thought out...and produced to perfection thanks to the talents of underground icon Mitch Easter. This band's music seems to be influenced by bands from the 1980s...although picking out exactly which bands isn't so obvious. Twelve cool pop tracks here including "The Humanist Queen," "Let It Be Done," "Home," and "Tornado Wind." Great vocals on this one. Groovy stuff that grows on you. (Rating: 5+)

Angels of Light - We Are Him (CD, Young God, Progressive pop)
The fifth album from Angels of Light...the project created by Michael Gira after the Swans disbanded in 1997. During his lengthy, influential, elusive career, Gira has recorded a wealth of material that has somehow mostly escaped our consciousness up to this point (with the exception of one or two releases that we heard only briefly). For whatever reason, while others were having their minds totally blown away by the intensity of Swans music...we never got our greedy little hands on any of the band's best releases. Thus, though recorded late in his career, this is the first album by Gira to receive our full attention. We Are Him is an intriguing, multitextured collection of tunes that are puzzling and strangely calming. In many ways, We Are Him reminds us of Brian Eno's Here Come The Warm Jets album. The vocals are strikingly similar at times...and, like Warm Jets, the arrangements are obtuse and unfamiliar. Michael invited some underground heavyweights to help him arrange and record these tunes...contributors include Akron/Family, Christoph Hahn, Bill Rieflin, Eszter Balint, Julia Kent, Paul Cantelon, Steve Moses, David Garland, Siobhan Duffy, Larkin Grimm, Phil Paleo, Birgit Staudt, and Pat Fondiller. Although this album is difficult to describe and/or explain...there is something obviously rather substantial going on here that extends beyond the normal boundaries of pop music. This is easily one of the most intriguing releases of 2007. Puzzling and peculiar...and yet somehow familiar and reassuring... (Rating: 5+++)

Astro - Astral Orange Sunshine (CD, Blossoming Noise, Electronic/noise)
Either there's a resurgence of pure, undiluted noise artists lately...or else we're getting that impression because of the volume of recent bizarre audio releases from Lilburn, Georgia's mild-altering Blossoming Noise label. Astro is Japan's Hiroshi Hasegawa (who is also a member of C.C.C.C.). Astral Orange Sunshine features three lengthy tracks that might best be described as light ambient industrial space noise. Hasegawa is an expert at creating peculiar, hallucinogenic sounds. While subdued overall, his music is cerebral and rather far out...at times slightly reminiscent of the more experimental side of early Tangerine Dream. This is the kind of music/noise that you can either listen to and appreciate fully...or play in the background to confuse those around you. Trippy and rather insane at times, Astral Orange Sunshine truly toys with the mind and soul... (Rating: 5+)

Mama Bar & Rudolf Eb.er - Il Portale Delle Indipendenti (CD, Blossoming Noise, Noise)
The sounds of everyday life...refried and thrown at the wall with random abandon. Mama Bar and Rudolf Eb.er record sounds that are so weird and off the wall that they border on hilarious. The utterly confusing tracks on Il Portale Delle Indipendenti will undoubtedly leave everyone wondering what the hell is going on. The first track ("O") lasts eight seconds and is nothing more than a tiny bell ringing. The second track ("Il Portale Delle Indipendenti") centers around repetitive cut-and-paste vocals and other odd sounds seemingly thrown in to add a bit of variety. The third track (also called "Il Portale Delle Indipendenti" to add more confusion to the equation) consists of random sounds and snippets of human voice...and may (or may not) involve the destruction of a piano. "U Portal" borders on sounding musical...but ends up sounding more like a beast tearing someone apart in the forest. Over eighteen minutes of pure weirdness. The album ends with "T Prozession"...a minute's worth of noisy controlled chaos. While we certainly can't recommend this for everyone...we can recommend it to folks out there who seek pure, confusing, accidental noise. We honestly can't decide ...quite what to make of this...???? Extremely odd. (Not Rated)
Basement Apartment - Pine Tree Hill (CD, MPLS Ltd., Pop)
The folks in Basement Apartment spent about three years recording this album...and it shows. The band's precise and articulate attention to detail is obvious throughout the eleven tracks on Pine Tree Hill. Instead of spending all their time over-arranging their music to death with too many unnecessarily busy instruments, these folks apparently spent their time trying to make things sound as smooth and uncluttered as possible. Basement Apartment is Kristina Caro, Vincent Caro, Steve Finch, Andy Iwanin, and Janey Winterbauer. These folks' music is, first and foremost, about songs. Instead of just throwing anything together and calling it a song, these pieces are well-crafted compositions that obviously required a great deal of thought. The vocals are outstanding...particularly the beautiful, lush layered harmonies. Put the disc in a nice, simple tri-fold cardboard sleeve...and you've got a great little album that just begs to be played over and over. Nifty tracks include "Kicking the Can," "Tear Gas," "Monkey," "There Isn't," and "Pine Tree Hill." (Rating: 5++)

Suicide is
Always the best
Choice.


(Rating: 1)


Birth defect
Is how Jesus
Tell us that he
Love us.

(Rating: 1)

Black Before Red - Belgrave to Kings Circle (CD, I Eat Records, Pop)
This band reminds us very much of one of our favorite underground pop bands of the past few years, Claudia Malibu (the vocals are particularly similar). Both bands play simple, super hummable pop music that is highly reminiscent of mid-period Kinks. The main difference between Claudia Malibu and Black Before Red is that this band's music is much more polished and smooth. Based in Austin, Texas, you'd think that these guys would be playing ultra weird artsy stuff. But instead, the music is pure pop all the way. Belgrave to Kings Circle features eleven classic pop tracks, all of which feature superb gliding melodies and wonderfully understated vocals. The band members are...Marc Dickey, Marc Ferrino, Michael Macicak, and Kevin Schneider. These guys' music isn't likely to catch on with a huge audience...the songs are too far removed from the shallow pop crap that seems to appeal to the average twenty first century airhead. But our guess is that underground pop fans will go apeshit over Black Before Red. This short, cool little album features smooth catchy keepers like "Underneath Gold," "Our Last Summer," "Teenage America," and "Waiting For the Bang." (Rating: 5+)

Mikal Blue - Gold (CD, Immergent, Pop)
We often find that some of the best musical artists are the ones who end up producing rather than playing. Up until now, this has been the case with Mikal Blue. This fellow has produced a wealth of artists thus far...Augustana, One Republic, Drowning Pool, and Gary Jules to name a few. With the release of Gold, Mikal may just find his roles permanently reversing in the world of music. Instead of the difficult, artsy stuff that many producers seem to enjoy recording, Blue records 100% pure pop for now people. This album features eleven super smooth tracks that emphasize Mikal's strong melodic tunes and exceptional vocals. True, these cuts may be far too slick and polished for underground fans...but our guess is that this man is shooting for the top. As such, he seems to have successfully created an album that has the potential for widespread mass appeal...while still managing to retain artistic credibility. Catchy pop tracks include "Gold," "Heaven," "Never Gonna Say" (this song would make Eric Carmen proud), "Already Lost You," and "Break The Skin." (Rating: 5)

The Bongos - Drums Along the Hudson (CD, Cooking Vinyl USA, Pop)
Reissue of The Bongos' 1981 debut...along with a wealth of bonus material. It is truly amazing how fresh Drums Along the Hudson sounds...particularly since it was recorded over a quarter of a century ago. In the early days, The Bongos were an energetic, occasionally frenzied alternative pop act that could really play their balls off. There's not a bad nugget in all of the album's original fifteen tracks...all of which were loving restored and remastered from the original master tapes by Steve Addabbo and Richard Barone. The reissue of this album is bound to reignite interest in The Bongos. In addition to the original tracks from the album, this CD also includes two songs recorded live in London, eight live cuts from the band's first recorded show, and the newly recorded "Bulrishes 2007" which the band recently recorded with Moby. There's a lot to take in here. We wish all reissues were done with such attention to detail. Killer tunes include "In The Congo," "Clay Midgets," "Telephoto Lens," and "Hunting." (Rating: 5)

The Cape May - Glass Mountain Roads (CD, Flemish Eye, Progressive pop)
Moody, perplexing, artsy underground progressive pop. Canada's The Cape May is Clinton St. John, Jeff Macleod, and Matt Flegel...although the trio is assisted on this album by five other musicians (Craig McCaul, Diego Medina, Alex Bian, Lilian Penner, Stephen Levy). In terms of overall sound and style, Glass Mountain Roads reminds us very much of a more guitar-oriented version of Unwed Sailor...or a more subdued Ticonderoga. This band's peculiar, unorthodox progressive pop flows like ocean waves...constantly evolving and reinventing itself in the process. Although this album was recorded by Steve Albini, you won't find walls of harsh noise here. Eleven odd soothing cuts including "Spring Fight to the Land of Fire," "Mari," "Catch Your Words," and "A Butcher's Son." Intriguing stuff, delivered with style... (Rating: 5)

Dave Derby - ...And the Norfolk Downs (CD, Reveal, Pop)
Dave Derby's second full-length solo album...is another resounding success. ...And the Norfolk Downs features eleven smooth, fluid, pensive tracks that...in a perfect world...would be phenomenal hits. A host of talented individuals lent their skills here including (but not limited to) Joan Wasser, Chris Brokaw, Jill Sobule, Kevin March, Lloyd Cole, and Andy Chase. When you consider the number of artists involved in this project, you would think that Norfolk Downs would be an overproduced mess. But instead, the exact opposite is true. These tunes features nice, sparse arrangements that allow the listener to focus on Derby's superb melodies and exacting vocals. Dave Derby has been making great music for quite some time now...perhaps this album will finally push his career up several notches. This man's work is definitely deserving of your attention. Killer pop tracks include "Come On Come On," "Beaten Down," "Even in Darkness," "My Back Issues," and "You Got To Go." A couple of these songs are slightly reminiscent of some of the softer tracks recorded by The Feelies. Hmmm...interesting... An easy top pick...highly recommended. (Rating: 5+++)

The Defog - Ebb and Flow (Independently released CD, Progressive pop)
The fellows in Philadelphia, Pennsylvania's Defog have, in a short amount of time, carved out their own unique niche in the world of music. While coming up with comparisons for the band's sound is difficult, we feel that they sound something like a cross between Stereolab and Belle and Sebastian with Bill Nelson and/or Emitt Rhodes on vocals. What makes this band so unique is probably the strange clash of styles. While the music is an odd hybrid of soft pop and light modern hypnotic psychedelia...the vocals are pure pop all the way. These guys are tight on their instruments...super tight...and they present their tunes simply and with precisely focused determination. Ebb and Flow is a lengthy album lasting close to an hour and features thirteen peculiar tracks including "Ashes and Leaves," "A Blink Remembered," "Loom," and "Excuses and Complaints." In a world full of copycats, these guys come across sounding fresh and ultimately unique. (Rating: 5+)

We bought a used desk
From a nearby couple
Who run a Christian-based business
That helps young boys
Find their way in life.

When we got the desk home
We found pornographic magazines
Hidden inside featuring
Interracial sex and
Bestiality.

(Rating: 1)

D.O.A. - Punk Rock Singles 1978-99 (CD, Sudden Death, Punk rock)
MINIBLURB*:
Really lengthy CD (almost 70 minutes long) featuring a non-stop string of singles from D.O.A.. Raw loud attitude abounds on these authentic punk tracks culled from the vaults. Lots of loud guitars, screaming/yelled vocals, and appropriately harsh rhythms make Punk Rock Singles 1978-99 an intriguing overview of this legendary band's career. Includes 26 tracks (!)... (Not Rated)
*A miniblurb is a short descriptive summary of a disc that we found intriguing. We did not have sufficient time to write a proper review but we did not want the disc to go unnoticed. Note that miniblurbs are not rated...but we encourage readers to check out releases receiving miniblurbs because, in some cases, these discs may very well turn out to be the best releases of the month.
Dumpty Dumpty
Dumped on a wall.
Dumpty Dumpty
Dumped in the hall.
All the king's horses
And all the king's men
Couldn't stop Dumpty
From dumping
Again.

(Rating: 1)

The Eat - It's Not The Eat, It's The Humidity (Double CD, Alternative Tentacles, Rock)
This double CD package will no doubt thrill this band's fans immensely as this material has either not been commercially available ever or very difficult to get hold of. The Eat was a 1970s-1980s Florida punk band that was in the wrong place at the wrong time. The band played music that would have been much more widely accepted if they had been on the West Coast. Things being as they were...during their brief career this band was only appreciated by a relatively small group of folks in their home state. Since the band broke up, their releases have become increasingly difficult to find...but cherished by a still-small-but-ever-growing fan base around the globe. It's Not The Eat, It's The Humidity is a whopping dose of The Eat. The package includes the band's best known tune ("Communist Radio") of course...but that's only the beginning. Disc One features 30 studio recordings while Disc Two presents live material recorded at four different times and locations. The studio recordings are appropriately loud, abrasive, and slightly sloppy...but the band's punchy, decidedly offbeat sense of humor shines through. You can't help but love tunes like "Silly Drug Songs" and "Hey Jackass"...priceless stuff. The live recordings vary in terms of quality. It is unfortunate that the last segment (recorded at the Polish American Club in 1981) sounds so tinny...because the band seems to have been at their peak during this particular show. Fans of the band will no doubt already have this in their grubby little hands. For folks who never heard The Eat...this serves as the perfect slice of edible pie... (Rating: 5)

Encomiast - Encomiast (CD, Lens, Experimental/noise)
This disc arrived with no accompanying press release or descriptive information...so we'll just say it as we play it. This music was recorded way back in 1999 by Ross Hagen and Nick Paul and apparently edited/updated in 2006 for this CD release. Encomiast features over an hour's worth of material...all of which is atmospheric, spooky, and slightly surreal. The best way of describing this might be to say that this could very well be the soundtrack to a very bizarre horror film. The sounds are soft and almost soothing...but the dissonant, peculiar material is ultimately rather unsettling. This disc features six perplexing tracks: "Aesthesia," "Suborbit," "Azazel," "Zero," "Concupere," and "Amnios." The closer we listen...the more interesting this becomes. And the louder we play it...the higher our mental elevation. Fascinating noise experiments from two fellows who aren't interesting in playing by the rules... (Rating: 5+)

Politicians are our
Enemies.
Celebrities are our
Enemies.
Animals are our
Enemies and
Our friends are
Our enemies.

(Rating: 1)


Friends are just strangers
Who haven't pissed on us
Yet.

(Rating: 1)

Lisa Germano - Lullaby For Liquid Pig (Double CD / Reissue, Young God, Progressive pop)
We got chills when we opened this package. Ahhh...such pleasant memories... Way back in April 2003 we reviewed the original release of Lullaby For Liquid Pig. It was an obvious top pick and it caused us to fall head over heels in love with Lisa Germano's music. Her 1990s albums were obviously great...but this was in another league altogether. While In The Maybe World (her most recent release) is probably Germano's most emotionally powerful album overall, Pig is most definitely...the oddest. This album fell through the cracks when it was originally released, went out of print, and disappeared into obscurity. Thanks to Michael Gira's Young God label, Lullaby For Liquid Pig has now been properly reissued as a deluxe double CD package. And what a package it is. The first CD is the original album itself. We already reviewed this in 2003 but...suffice to say that these peculiar, sparse, slightly hallucinogenic lullabies would not sound out of place as part of the soundtrack to Eraserhead. This album marked Lisa's return to recording...and at that point she obviously wasn't interested in playing by anyone else's rules. Killer cuts include "Nobody's Playing," "Pearls," "From A Shell," "Lullaby For Liquid Pig," and "Into the Night." The second CD is a true bonus disc...a collection of home recordings and live tracks. Not surprisingly, when presenting her tunes in front of a live audience using nothing more than a piano or a guitar...Lisa's songs are just as strong and substantial as her original recorded versions. (We can't believe how quiet and polite the audiences were...although our guess is that they were probably hypnotized.) More than any other twenty-first century artist, Ms. Germano seems to speak directly to her listeners' subconsciousness. The music is heavy lyrically and sometimes difficult to digest...but it always causes you to think. Few artists will ever reach the heights of Liquid Pig and In The Maybe World. Once again, this album is highly recommended...even more so this time around because of the extra CD. Love the slick tri-fold digipak sleeve and lyric sheet. We can't wait to hear...what comes next... (Rating: 6)


G*Park - Seismogramm CD, Blossoming Noise, Noise)
Honey, where is all that weird sound coming from? Nothing to worry about, dear. It must be the new neighbors doing some renovation on their house. But...it doesn't sound like any renovation I've ever heard. Well, I'll admit that...but what else could it be? Hmmm...maybe we've got rats in the cellar again. Nope, we got rid of the rats last fall. Well then...maybe our house is...haunted.
The sounds of a haunted house. Yup, that may be the best way to describe what we're hearing on G*Park's Seismogramm. Originally released in 1990 as a double vinyl album, the folks at Blossoming Noise have opted to make these sounds available once again to a larger audience. This larger audience might not be so large, however, because of the obtuse, accidental nature of these recordings. There are no familiar musical passages...no happy singalong choruses...no orchestral arrangements... Only the slight, peculiar sounds that you might hear in the background during a suspense film. The closer you listen to this stuff...the weirder it gets. You could say that anyone could make a recording like this. But then...anyone didn't. G*Park did. Interesting stuff...from a different dimension... (Rating: 5)

Grand National - A Drink and a Quick Decision (Advance CD, Recall, Pop)
When we received this advance copy of the new album from Grand National a full three months prior to the CD release we thought it seemed odd...until we read the press release that explained the situation. The album is being offered via download prior to the physical release of the album on September 10, 2007. Thus, the advance disc we received is not sequenced nor is it edited. A lot of folks (including us) went nuts over this band's last album (Kicking the National Habit). A Drink and a Quick Decision picks up where the last disc left off...and it finds the band in fine form. As was the case with the last album, Grand National tunes still remind us of New Order...except the songs are more smooth and subtle. The folks in this band manage to create music that is ultimately accessible and danceable...and yet it still retains integrity and artistic sensibility. Bandleaders Rupert Lyddon and Lawrence "La" Rudd are great singers and songwriters...and this album really showcases their talents. We can think of few artists whose soft dance pop sounds as smooth as this. Killer, catchy cuts include "Reason To Hide In," "Animal Sounds," "Joker and Clown," and "Part of a Corner." Great pop, executed to perfection. Can't wait to hear the actual finished album when it becomes available... Recommended. (Rating: 5++)

Gringo Star - Gringo Star (Independently released CD EP, Pop)
We don't normally review EPs but we made an exception in this case. We have been hearing great things about Atlanta, Georgia's Gringo Star for some time now...but this EP serves as our introduction to the band's music. These guys' great word-of-mouth is based on a solid foundation. Based upon what we're hearing on this six-song EP...we now consider ourselves fans. True to the claim of the press release that accompanied this disc, these tracks sound something like a cross "between The Animals, Motown, and The Kinks." That pretty much sums it up. Pure, melodic, feelgood pop tracks include "No Reason," "No Man," "Esmerelda," and "Not A Sound." Great uplifting pop stuff. (Rating: 5+)

Merle Haggard - Working Man's Journey (CD, Cracker Barrel, Country/pop)
Merle Haggard is and has always been our favorite country artist from the old school...and his material will always occupy a good deal of shelf space in our continually expanding library. We don't mind admitting that Working Man's Journey is not Merle's strongest album. Comparing the music to Hag in his prime would be doing a disservice to the man and his music. While the jolt and saucy attitude of earlier recordings is missing here...it is replaced by the more subtle, relaxed sound of a cool old gentleman who is slowing down in life. As such and taken for what it is, Journey is a fine, slow-paced collection of reflective tunes that should appeal to the audience for which is is intended. For ourselves...well....we're just happy that this fine fellow is still with us and still making credible music. Top picks: "Shade Tree Fix-It Man," "Kern River," "Stormey New Orleans." (Rating: 4++++++)


Billy Harvey - Bear Sick (CD, Gold, Pop)
Intriguing underground pop from Austin's Billy Harvey. Bear Sick is Harvey's third full-length release...and it is definitely a keeper. While Harvey's melodies might not seem so peculiar, they are pushed to a totally different level due to the unusual delivery and unconventional arrangements. But unlike a lot of artists who use technology to cover up the fact that their material lacks substance, Harvey uses technology to enhance the substantial meat that is already present in his songs. Although there are enough familiar elements here to make this music inviting and easy to spin...there are plenty of unexpected twists and turns in the music that will undoubtedly make it hold up over time. Bear Sick is an intriguing journey inside the mind of a young man with a truly inventive spirit. Cool, puzzling pop tracks include "Scribbler's Heart," "Soft Black," "When I Say," and "Everything You Want." Recommended. (Rating: 5++)

Heavy Trash - Going Way Out With Heavy Trash (Advance CD, Yep Roc, Rockabilly/pop)
Heavy Trash is Jon Spencer and Matt Verta-Ray. This duo's music sounds something like a cross between Elvis Presley and The Cramps. We don't admitting that...here in the babysue campground...a little bit of rockabilly goes a long, long way. But when we really, really like something...well then, all those generalities go straight into the trash. Going Way Out With Heavy Trash is a great album featuring thirteen peculiar underground rockabilly tracks. While the song structures themselves might be rather straightforward and familiar...the delivery is definitely not. Instead of simply rehashing familiar formulas, Spencer and Verta-Ray infuse their music with heavy doses of their own personalities...creating music that drives and has real punch. But, most importantly, this music is pure and simple fun. Cool feelgood tracks include "Outside Chance," "That Ain't Right," "She Baby," "Crazy Pritty Baby," and "You Can't Win." Cool music delivered with style. (Rating: 5++)

Helen Money - Helen Money (CD, Cellobird, Instrumental)
We're a bit confused by the title of this album. Has this album been released by Helen Money...or Alison Chesley...? Actually, they are one and the same. Chesley is probably best known as a former member of the band Verbow. The band received critical acclaim but was not a financial success. Helen Money is Chesley's latest project...a solo endeavor in which she plays guitar and cello. This album is not intended to reach a mass audience. The music is pure art. Instead of recording catchy upbeat danceable pop, Chesley has recorded eleven peculiar instrumentals using only the bare essentials. The music sounds something like a cross between progressive rock and modern classical. While these tracks may be a bit too odd for the casual listener...folks seeking out adventurous, creative stuff will find a lot to love here. Cool intelligent compositions include "Dreaming," "Hum," "Song for My Sister," and "...In Love With the Whole Wide World." (Rating: 5+)

Hex Dispensers - Hex Dispensers (German import CD, Alien Snatch!, Pop/rock/punk)
Hex Dispensers features Alex Cuervo (vocals, guitar), Tom Kodiak (guitar), and Alyse Mervosh (drums, backing vocals). This Austin, Texas trio plays music that is reminiscent of some of the later albums from The Ramones. Despite the fact that they play fast and loud, these guys' tunes are more pop than punk...ultimately catchy and invigorating. Ten songs crammed onto this 24 minute disc...including "H.D. Local 23," "Down in the Park," "Tentacles!," and "Arsenic Milkshake." Fun, funny stuff. (Rating: 4++++)


High Tension Wires - Midnight Cashier (CD, Dirtnap, Rock)
High Tension Wires features members of Riverboat Gamblers, Marked Men, and The Reds. The sound and style of the songs on Midnight Cashier remind us very much of Wire's Pink Flag album. Perhaps the band name itself is a dead giveaway of their influences...? In any event, this short album clocks in at just over 22 minutes...and yet these guys manage to revive the spirit of punk past with surprisingly genuine energy. By keeping things stripped down and simple, the fellows in this band manage to sound believable and credible...despite the fact that they are playing a style of music that was popular three decades ago. The band crams eleven songs onto this short disc...and they're all keepers. Driving, persistent, pulsing tracks include "Hibernate," "Not Enough For Me," "Outsider," and "Glasses For the Blind." Cool stuff. (Rating: 5)

Alan Hull - Phantoms (CD, Market Square, Pop)
After leaving the critically acclaimed Lindisfarne and releasing two solo albums, Alan Hull created another short lived band called Radiator and released one album (Isn't It Strange). Not long afterward, most of the tracks from that album were repackaged and released as Hull's third solo album Phantoms. This CD features all of the tracks from both albums (deleting any track duplication) and adding five previously unreleased demos from 1975. We were big fans of Lindisfarne way back when...but Hull's solo albums somehow escaped us (probably because his material has never received widespread distribution in the United States). We are surprised at how poppy and commercial these tracks sound. Whereas Lindisfarne seemed to be a band driven by artistic expression...Phantoms seems to be an attempt to make hit tunes. Some of the tracks work...while others seem to flounder a bit. We were a bit disappointed by this CD until...we got to the final five tracks. These unreleased demo recordings from 1975 are definitely the high point of this disc. Instead of overproduced pop, these recordings present Hull playing it simple and letting his songs stand on their own. While the original Phantom album didn't blow us away...the demo recordings definitely do. A mixed bag that will remain an interesting piece of history... (Rating: 4+++)


Edward Ka-Spel - Dream Logik Part One (CD, Beta-lactam Ring, Progressive/experimental)
Obtuse, odd, unpredictable...and ultimately lacking any sort of obvious commercial appeal. Edwark Ka-Spel is best known for his work with the band The Legendary Pink Dots. Hardly a commercial entity, since their inception the Dots have managed to release over 70 albums. And that's not counting the 20 solo albums that Ka-Spel has recorded and released (!). Dream Logik Part One probably won't come as a surprise to anyone familiar with this man and his work. For those who haven't been exposed...this album is bound to confuse and probably alienate. It seems that purely artistic music has waned a good bit in the twenty-first century. As such, it is certainly reassuring to know that there are folks in the world like Edward...folks who don't give a rat's ass about selling units and making money...and folks who don't have the slightest interest in playing formulas. Cool obscure cuts include "Threshold," "Backyard," "Laughing Gas," and "Revolution 834." Unorthodox and totally strange... (Rating: 5++)

Kompjotr Eplektrika - Darrk Circuits Fadead Waves (CD, Celebrity Lifestyle, Electronic/noise/experimental)
Hmmm...the first track on this CD ("Blikktztunddonner") sounds something like a vinyl album stuck in the lead out groove...while a storm is brewing outside. Things get a bit more musical...and definitely a good bit spookier...during the second cut ("Skeleton Gong")...sounds a bit like Scorn at times. The remaining seven tracks on Darrk Circuits Fadead Waves feature a wealth of confusing styles and sounds. Kompjotr Eplektrika is an interesting project in which electronic snippets are combined and manipulated to create puzzling, otherworldly sounds. Most of the pieces are rather subdued and lack much recognizable percussion...while the more rhythmic tracks seem to have been influenced by some of the more obtuse industrial artists from the 1990s. Our favorite cut is the extraordinarily sparse and distant "Gradient Curse"...which features some very subliminal space-oriented material. "Dead Waves" is also rather intriguing...with its droning, persistent synthesized waves... We certainly can't recommend this CD for casual listeners. But folks focused on electronic sound and experimental recordings will find some intriguing material here... Packaged in a seriously plain solid black jewel case with no artwork. Is this artsy...or what...??? (Rating: 5)

Slap your child
When it is nursing
And it will learn.

(Rating: 1)

Line - They Took Great Pride In Their Work (CD, SuperFi, Progressive)
Compelling, intuitive, slightly jazzy progressive music from Great Britain's Line. More than any other band, these folks' recordings remind us of Ticonderoga mainly because the music is driven by artistic integrity...but also because both bands' music features odd angular guitar riffs. Six tunes are presented here "Egg Shaped Pit," "Jenny Its Your Birthday," "Of Course I'll Be Your Dad," "All Unnecessary Video," "Two Coats Colder," and "Love in the Trenches." All of these tracks are peculiar mood-inducing pieces that sound better with repeated doses. The album is packaged in a beautiful minimalistic cardboard sleeve. Extraordinarily unpretentious...and quite moving... (Rating: 5)

The Lonely H - Hair (CD, Control Group Co., Pop/rock)
The first thing that everyone (including us) is going to mention about The Local H is the fact that all five of the band members are in high school in Port Angeles, Washington. And that is a shame because...these guys' music could compete out there in the marketplace without the unnecessary sidenote. We've heard a lot of good high school bands over the past few years...but they usually play harsh thrash/punk dribble that really doesn't require very much talent. That is perhaps why these guys' music stands out. Instead of playing harsh noise, they play real songs with real melodies...and they are totally credible players as well. There are plenty of twists and turns in the songs on Hair that prevent them from ever sounding dull or samey. The songs have much more in common with 1970s rock music than schmaltzy twenty-first century pop/rock. This, the band's second release, is certain to raise eyebrows and create a cool buzz. Neat tracks include "You Don't Know," "The Drought," "Captain," and "It's Not Right." (Rating: 4+++++)


Low In The Sky - We Are All Counting On You, William (CD, Abandon Building / Pattern Based, Progressive)
This is a very different sort of album that is rather difficult to describe. Some of the softer, more ambient pieces are reminiscent of artists like Brian Eno, Robin Guthrie, and Harold Budd. But as a whole, We Are All Counting On You, William has much more variety than what one normally hears on a purely ambient album. Low In The Sky is the five piece band consisting of Curt Brown, Jim Franklin, Matt Horak, Kendra Minadeo, and Krista Tortora. This band is an obvious and total artistic endeavor for these folks. Rather than making music that might appeal to college students or become instantly popular on the download circuit...these folks seemingly write and record music for the pure enjoyment of it. Though these tracks lack commercial appeal...they are certainly aesthetically pleasing and surprisingly smooth. Peculiar tracks include "Hello Wide Morning," "Horton," "Dialogue With a Shadow," and "A Hum on the Pond." Quite dreamy...slightly surreal... (Rating: 5)

Mancino - Manners Matter (Independently released CD, Progressive pop)
After releasing a well-received EP in 2005 (Dear International), the folks in Mancino took their time recording this, their debut full-length album. Manners Matter is a heady and complex batch of progressive underground pop tunes filled with overdubs and unusual sounds. Listening to this album gives us the same feeling we get when we are driving on mountain roads. These folks' winding, weaving melodies are unpredictable...yet somehow strangely soothing and familiar. In some ways this band's music fits neatly into the category of alternative underground pop. But because of the odd surprises that frequently pop up...we aren't quite sure how to explain and/or describe these tunes. Catchy and peculiar, one thing is certain...Manners Matter is indeed a remarkably effective album. Top picks: "Circus Scabs," "Definition of an Accident," "The Lavender Lake," "Motels." (Rating: 5+)

Carolyn Mark - Nothing Is Free (CD, Mint, Pop)
Carolyn Mark has paid her dues in the world of music...but thus far she has yet to burn out or lose her zest for what she does. She first made her mark on the world as a member of the band The Vinaigrettes before forming The Corn Sisters (with Neko Case). Only then did Carolyn opt to embark on her solo career. Nothing Is Free is Mark's sixth album for the Mint label...and it's another keeper. What has always impressed us...and still does...about Carolyn's music is how remarkably unpretentious it is. In an age when so many artists are trying so desperately hard to sound and look different, Carolyn seems to just follow her natural instincts...which allows her to just be herself and create music that comes straight from her heart. Her songs combine elements from 1950s country music with modern soft pop/folk...and Ms. Mark always makes things sound completely effortless. Nothing Is Free features nice, sparse arrangements and top notch players (Paul Rigby, Paul Pigat, Diona Davies). Enchanting tracks include "The Business End," "Pictures at 5," "Pink Moon and all The Ladies" (our favorite), and "Destination: You." Great stuff, recommended... (Rating: 5++)

Daniel Menche - Bleeding Heavens (CD, Blossoming Noise, Electronic/noise)
You are about to enter...The Twilight Zone... Sounding something like the soundtrack to a weird sci-fi film, Portland, Oregon's Daniel Menche has created an odd and intriguing CD. Although the tracks on this album were created from "deconstructed organ and trumpets"...don't expect to hear anything that even remotely resembles either instrument. Bleeding Heavens features four unnamed tracks...all of which are eerie and peculiar noise pieces. Unlike a lot of noise recordings, however, we find Heavens to be ultimately listenable. This is one of those cases where the sounds on the disc definitely create a mood. Granted, these particular mood enhancers may not appeal to very many folks...but for those who don't mind feeling a bit uncomfortable and squirmy, there's a lot to love here. Hypnotic and dreamy, these cuts make us feel as if we are living on another planet... Really cool stuff that produces a cool mental high. Highly recommended for folks wishing they were in another universe. (Rating: 5+++)

Jesus helps those
Who help themselves to
Meth.

(Rating: 1)

The Mirrors - Somewhere Along the Wall (Independently released CD/no artwork, Pop/rock)
MINIBLURB*:
Really nice sounding commercial pop/rock played with balls and conviction. The guys in this Long Beach, California quartet have a cool, thick sound and super catchy songs. Wish we could provide a web site here...but apparently the band only has a Their Space [sic] web page at present. Would've been nice to see the entire package on this one... (Not Rated)
*A miniblurb is a short descriptive summary of a disc that we found intriguing. We did not have sufficient time to write a proper review but we did not want the disc to go unnoticed. Note that miniblurbs are not rated...but we encourage readers to check out releases receiving miniblurbs because, in some cases, these discs may very well turn out to be the best releases of the month.
The Mission UK - God Is A Bullet (CD, Cooking Vinyl USA, Pop)
Who would've thought that when Wayne Hussey and Craig Adams formed The Mission UK in 1986 from fragments of The Sisters of Mercy...that the band would still be around today...? Strange but true, and this band has had a great deal more commercial success...racking up fourteen top 40 hits in the United Kingdom. God Is A Bullet is a good album full of slick melodic pop tunes. The music is extremely radio and download friendly. The only problem we have with later releases from The Mission UK (including this album) is the fact that the music is so slick and full of overdubs...that the songs themselves almost tend to get lost. This album is still a nice spin...but it would have been a lot more effective with more stripped down arrangements. Includes the bonus tracks "Whetherman," "Cheslea Blue," and "Thine." (Rating: 4+++)


Mommy's
Middle-aged piglets
Still living at home
Sucking on breasts
That dried up decades
Ago.

(Rating: 1)

Monster In The Machine - Butterfly Pinned (CD, Emotional Syphon, Progressive pop)
The first song on this album ("Fear of the Mind") didn't impress us much. The tune sounded far too much like a thousand other twenty-first century bands. Thankfully we skipped to the next track instead of tossing this album aside because...once you get past the first track...there are some really meaty nuggets to be found. Butterfly Pinned is the debut album from Monster In The Machine and also one of the first releases on James "Munky" Shaffer's newly formed Emotional Syphon label. The band consists of Shannon Crawford (vocals, keyboards, guitars), Doug Ardito (bass), and Josh Freese (drums). But don't be deceived. For a three-piece band, these guys have a really big sound...which may be because Crawford already paid his dues during his time in the 1990s Virgin band Cellophane. After the band dissolved, Shannon turned to painting for awhile...before eventually returning to music in this band. Butterfly Pinned features some great, melodic, moody progressive pop tracks with interesting arrangements. The tunes feature a slick sound without ever sounding too slick. The vocals are great throughout...but in the end it is the songs themselves that make this disc such a cool spin. Top picks: "Helicopter," "Under Your Shadow," "Shut the Door," "Burns Inside Me." (Rating: 5)

Fill your hole
With music
Until it starts to bubble.
Music is like
Life itself...
Just a bunch of
Trouble.

(Rating: 1)


Two-faced hypocritical
Lame-brain cheeseballs
Oppose the war and
Support the troops.


(Rating: 1)

Orchestra Luna - Orchestra Luna (CD, Market Square, Progressive pop)
The first album from Orchestra Luna offered for the first time ever on CD. This album probably confused a lot of folks when it was originally released in 1975. At a time when most bands were playing heavy metal and pop, this seven-piece Boston band played an odd style of music that combined elements from Broadway musicals, progressive rock, and pop. Nowadays such a conglomeration would not be so unusual...but way back in the mid-1970s this group's approach was, to say the least, rather unconventional. Over the years, this album's influence has grown in different circles...mainly because this group was so far ahead of its time. Orchestra Luna is a complex album that features nine artsy tracks. All the these compositions are impressive, with the exception of "Heart" which seems strangely out of place. Our favorites are "Miss Pamela" and "Boy Scouts." (Not Rated)
Popeye the Sailor - Volume One: 1933-1938 (Four DVD Box Set, Classic Cartoons DVD / Warner Video)
This is easily the most intriguing, inspirational, and essential DVD box set to be released in 2007. Popeye the Sailor Volume One: 1933-1938 has been eagerly awaited by animation fans for decades. A comprehensive collection of the original Fleischer Studio cartoons was apparently an impossibility for many years because of legal issues. Perhaps as a result of Popeye's 75th birthday, these matters have now been resolved...and the original, remastered, uncut cartoons from the mid 1930s are finally available here. This set is bound to confuse many folks because of the age of the cartoons. As a word of warning...if you are expecting the mass produced color cartoons from the 1960s you will not...repeat WILL NOT...find them here (!). These are the original legendary black and white cartoons created by Max and Dave Fleischer. The cartoons have been remastered and now appear in their clearest form probably since the time they were created. Volume One features a whopping 60 shorts...all appearing so clear and clean that you will be left breathless. Unlike the later color Popeye cartoons that were mass produced for a mass audience, these early cartoons are extremely bizarre and surreal. A couple of facts that many folks may not be aware of... Popeye was the original superhero...he came along well before Superman ever even existed. Secondly, in the 1930s Popeye cartoons were much more popular than Mickey Mouse. The Fleischer brothers were the men behind the incredibly influential Betty Boop cartoons (Betty even makes an appearance here in the very first Popeye short). If you've never seen Popeye from this time period, you are in for a real treat. We're not trying to slam Walt Disney here...but these films are light years beyond what Disney was producing at the time. Watching these cartoons may give you the feeling that you are inside an M.C. Escher print that is living, moving, and breathing. The long reaching influence of the Fleischer brothers is undisputable. Fans of Warner Brothers' Looney Tunes will no doubt see where many of those ideas originated. There are apparently a handful of cartoons from this time period that were, sadly, lost in a fire...but thankfully most of them survived. Thus, this is as complete of a time capsule as is possible. It is intriguing to watch Popeye develop. At first he is an almost straightforward character...but once Jack Mercer takes over as the voice, the bizarre little sailor's personality really develops. The odd scat singing and nervous mumbling quickly become an essential part of the character. Olive Oyl is like an elasticized mass of eels stretching and wrapping herself around everything in sight...while Popeye and Bluto pummel each other with unrelenting joy. Feminists may very well be quite troubled by Olive's frequent beatings and abuse (!). The outer box warns that this material may not be suitable for children...but we sure hope most adults do share this stuff with their kids. In a world full of modern drab copycat computer animation, this stuff easily stands out as some of the most wildly imaginative stuff ever produced. This set was created with loving care and acute attention to detail. Not only do you get the 60 shorts...but there are tons of bonuses as well. Extras include I Yam What I Yam: The Story of Popeye the Sailor (a wonderful documentary), a collection of early odd shorts from the 1910s, 1920s, and 1930s, Forging the Frame: The Roots of Animation 1900-1920 (another great documentary), several short Popumentaries, and more. We haven't been this blown away by a box set since Warner Brothers began releasing their incredible Looney Tunes Golden Collection series a few years back. For anyone who ever loved Popeye...or even for those who never cared for him at all...this box set is absolutely ESSENTIAL. Highly recommended. Now we can only hope and pray that Betty Boop receives the same type of royal treatment in the very near future... (Rating: 6+)


God doesn't have the
Power to do
Anything.

(Rating: 1)

RF & Lili De La Mora - Eleven Continents (CD, Rowing at Sea / Time Release, Soft, dreamy pop)
Beautiful, delicate, subtle, soft, dreamy pop with a difference. RF (Ryan Francesconi) and Lili De La Mora invited several artists to join them in recording Eleven Continents. Thus, while this release is by a duo, the sounds in the tunes are quite varied. The serene, introspective pieces on this album are sometimes similar to the first couple of releases from Azure Ray...except the arrangements are more complex and the tunes more fully orchestrated. This duo's music is so meticulously crafted that it gives the listener the feeling of dreaming and/or being hypnotized. RF drives the music with guitar, bass, and rhodes piano...and then adds layers of other intriguing sounds (harp, viola, cello, flute, trumpet, and various percussion). De La Mora's subdued breathy vocals are extremely light and playful...almost whispered... There is something very childlike about the songs on Continents that is difficult to describe. Despite the fact that the music is quite complex and advanced...there is a strange innocence in these tunes. Cool compositions include "Through the Trees," "Miles and Miles," "Newt Crossing," and "Eleven Continents." Very different, involved, and exotic...recommended... (Rating: 5+++)

Romantica - America (CD, 2024, Soft pop)
Beautiful, soft, smooth, lush, melodic pop. This is the second full-length release from Romantica. We had to spin America several times before the music had its intended effect. While at first the tracks on this album might seem like nothing more than generic soft pop...a few additional spins reveal compositions with a great deal more substance than first meets the ears. Irish singer/songwriter Ben Kyle writes tunes that definitely have a great deal in common with American bands, thus the title of this album seems particularly appropriate. His soft, subdued voice is perfectly suited for his style of music. America was recorded using just the right amount of studio polish and features the extraordinary talents of pedal steel guitarist Eric Heywood. In addition to Kyle, the band is rounded out by James Orvis (drums), Jessy Greene (violin), and Luke Jabobs (bass, guitar, backing vocals). We have listened to this disc about twelve times so far...and it just keeps sounding better and better and better. Truly beautiful stuff. Recommended. (Rating: 5++)

Salt your vagina
And do it today.
If you don't salt it
Your hair will turn
Gray.

(Rating: 1)

Seth Tiven - Solitude (CD, Raedell, Pop)
The first solo album from Dumptruck's Seth Tiven. In some ways it seems odd that Tiven chose to release Solitude as a solo album because, to our ears, this album seems like a logical extension of ideas first explored on Dumptruck's 1987 For The Country album. That album was vastly underrated in the late 1980s but has become a cult favorite over time. Solitude finds Seth sounding as smooth and confident as ever...and his voice still has that innocent childlike sound. The album was recorded over a two year period with overdubs added in various places around the country. These eleven tracks are smooth, pensive, and thoughtful...smart, hummable, melodic pop for the thinking listener. This album should please Dumptruck fans...as well as anyone who enjoys pure classic pop music. Genuinely rewarding tracks include "Believe," "Everybody Says," "Memories Faded," and "Solitude." (Rating: 5)

Alina Simone - Placelessness (CD, 54 40 or Fight!, Progressive pop)
Alina Simone sounds something like a sparse cross between PJ Harvey and Bjork. Born in the Ukraine and raised in Boston, Massachusetts...Simone only began her singing career when she moved to Austin, Texas. This, her second full-length release, is a slow and moody collection of modern pop compositions. Producer Steve Revitte gets bonus points here for making Alina's vocals the centerpiece of the music...while allowing for all kinds of interesting musical arrangements in the background. Most of these pieces are rather stark and distant...our favorite sections are those with strings. It'll be interesting to see where this young lady goes from here. Will she continue creating music as art...or will she mold and adapt her music to suit a larger audience...? Only time will tell. Interesting tracks include "Velvet Painting," "Swing," "Nightswimming," and "County of Two." (Rating: 4+++)


Testa Rosa - Testa Rosa (CD, Latest Flame, Pop)
The music of Milwaukee, Wisconsin's Testa Rosa sounds something like a more soft and subdued version of The Pretenders mixed with a more modern and moody sounding Dusty Springfield. This album immediately caught our attention, as the lead track ("Ollie & Delilah") sounds like some great lost 1960s AM radio hit that should have sold millions...but somehow got lost in the vaults. Formed from the ashes of the band The Mustn'ts, Testa Rosa consists of Betty Blexrud-Strigens, Damian Strigens, and Paul Hancock. This is an extremely strong debut album that features classic modern pop tracks. The three band members deliver their tunes with dignity and style...and we can guarantee that this is one album that you will want to spin over and over and over again. Delightful tracks include "Book About Clouds," "Easy For You To Say," "Rostock," "Only To Fall Again" (an incredibly beautiful tune), and "Illubye." The only negative here is the fact that the band included a second version of the lead track (sung in dutch) and one of those irritating hidden tracks at the end of the disc. Other than these two minor flaws, this CD is a direct HIT. (Rating: 5++)

Thee Majesty - Vitruvian Pan (CD, Blossoming Noise, Progressive)
MINIBLURB*:
Another peculiar release from Blossoming Noise...but much more musical than normal. This limited edition CD (only 1,000 were pressed) features music created by Bryin Dall and Genesis Bryer P-Orridge. Features a bit more talking than we normally tolerate, but still seems initially intriguing in its execution. Diehard fans of P-Orridge will no doubt want to get their hands on this. (Not Rated)
*A miniblurb is a short descriptive summary of a disc that we found intriguing. We did not have sufficient time to write a proper review but we did not want the disc to go unnoticed. Note that miniblurbs are not rated...but we encourage readers to check out releases receiving miniblurbs because, in some cases, these discs may very well turn out to be the best releases of the month.
True West - Hollywood Holiday Revisited (CD, Atavistic, Pop)
This band is usually lumped in with a group of 1980s California bands referred to as the Paisley Underground which also includes the bands The Dream Syndicate, Rain Parade, Green on Red, and Long Ryders. Hollywood Holiday Revisited includes all the songs from the band's first two albums (Hollywood Holiday and Drifters) plus three bonus tracks that were produced by Tom Verlaine. The guys in True West weren't as commercially successful as some of the other Paisley bands, probably because their music was more angular and sparse...and less catchy. The band's sound featured loopy guitars, spoken/sung vocals, and rhythms that are sometimes reminiscent of new wave artists. Of particular interest here are the tracks produced by Verlaine ("Burn the Roses," "Look Around," "Throw Away the Key"). An interesting look back... (Rating: 4+++++)


The Twilight Sad - Fourteen Autumns & Fifteen Winters (CD, Fatcat, Pop)
Unlike many Scottish bands of the past few years, the folks in The Twilight Sad actually sound like they are from Scotland. Fourteen Autumns & Fifteen Winters features an interesting mix of tunes that range from accessible pop to artsy, underground, slightly-experimental rock. This album follows on the heels of the band's 2006 self-titled EP. The more adventurous this band gets...the better they sound. We like their hummable, upbeat pop...but we are much more impressed by the wilder drone/sound explorations. This disc features nine curiously-titled compositions including "Cold Days From the Birdhouse," "Walking for Two Hours," "Mapped By What Surrounded Them," and "I'm Taking the Train Home." This album is bound to be a hit among critics and fans of the underground... (Rating: 4++++)


Two Hours Traffic - Little Jabs (CD, Bumstead, Pop)
Cool Canadian pop that sounds something like a cross between The Shoes (the super smooth melodic vocals are quite similar) and The Strokes (because of the interesting dual guitar riffs). This is the second full-length release from this Canadian band...and it is a HIT. The guys in this band seem to be doing just about everything right...without falling prey to the common cruddy things that cause most bands to sound common and generic. You won't find any hip-hop elements creeping in at the seams here...and no generic, aimless twenty-first century flailing. Two Hours Traffic might best be described as a hard pop band. Sure, their tunes are smooth and melodic...but thanks to a driving rhythm section and some really juicy electric guitars the band's music has some real punch. But what ultimately makes this band's music so appealing is the fact that the melodies and lyrics are so goddamn catchy. Eleven cool tracks here...and there's not a clunker in the bunch. Standout tracks include "Nighthawks," "Stuck for the Summer," "Whenever We Finish," and "Arms Akimbo." (Rating: 5+)

God and Family.
Two things
That shouldn't matter to
Anyone.

(Rating: 1)

Turzi - A (CD, Kemado / Record Makers, Progressive)
Turzi is Romain Turzi...a young French fellow whose music does not follow traditional paths or trends in music. A is an intriguing collection of compositions that combine ideas from the past with present and future sounds. We can only recommend this album for folks with an adventurous spirit, because the music is neither catchy nor immediately accessible. Turzi combines rock with electronics and throws in heavy doses of improvisation...which result in some rather heady and spontaneous recordings. Describing this album is a difficult task because the songs do not sound like any one particular artist. Our guess is that Turzi is influenced by a wild variety of folks from all over the globe...although it is anyone's guess as to who these artists might be. A word of warning...these tracks will take some time to fully sink in. So if you're looking for an immediate fix and don't have the time and energy to spend well...these songs may leave you trailing in a confused cloud of dust. Here in babysueland...we just love crazy stuff like this. Cool hypnotic tracks include "A," "Alpes," "Animal Signal," "Amadeus," "Allah Delon," and "Axis of Good." Wildly inventive music. Recommended. (Rating: 5+++)

Wildbirds - Golden Daze (Advance CD-R, Universal, Rock)
Excellent straightforward rock music played with vibrant intensity. The appropriately titled Golden Daze features tunes that are reminiscent of simpler times when rock music was played with simple, powerful aggression. In an age when almost every artist on the planet is guilty of overproducing their music to death, this band's simple driving rock sound is a breath of fresh air. Daze was recorded in northern Wisconsin with producer Greg Fidelman and engineer Greg Gordon. These guys managed to capture The Wildbirds' energy...while providing just enough polish to make the songs accessible enough for the general public. This album features eleven neat rockers including "421," "Shake Shake," "All Get Away," and "Please Don't Go." Recommended for fans of The Strokes. (Rating: 5)

Also - It was fine to be kind
Amit Chatterjee - The body is too slow for me
Architecture in Helsinki - Places like this
Arizona - Fameseeker and the mono
Art In Manila - Set the woods on fire
Paige Aufhammer - Paige Aufhammer
Kirlian Aura - Kirlian Aura
Avagami - Metagami
Birgit - True stories i made up
Bittova Iva - Superchameleon
Blackberry River Band - Santa Fe
The Breathers - I'm still currious
Brothers Dimm - To oblivion
Cool Cee Brown - Magnificent bastard
Canon - Wide awake
Captain of Industry - Gold teeth EP
Challenger Deep - Challenger Deep
Chancers - A calling out
Child Bite - Gold thriller
Antic Clay - Hilarious death blues
Dead Betties - Nightmare sequence
Dead Betties - Malls of the midwest
Dear Tonight - We're not men
Val Denham & Oli Novadnieks - Raw powder
Virgil Dickerson and Kyle Pedersen - Not so quiet on the country western front
Digable Cat - Letters from my dreams
Drifting In Silence - Fallto
Drug Rug - Drug Rug
Eastern Conference Champions - Ameritown
Family Force 5 - Business up front party in the back
Fast Computers - Heart geometry
Fourth of July - Fourth of july on the plains
Luca Franceschini - It's not a straight road
Gipsy - Romano hip hop
Grace Basement - New sense
Kelly Greene - You leave me here
Guff - Symphony of voices
Mick Harvey - Two of diamonds
Hayseed Dixie - Weapons of grass destruction
Heartbreak Club - Lamecore
Helena Maria - Serene
Hillstomp - After two but before five
His Mischief - Summer's eve
Charlie Hustle - Celebration for the bride
Jet Lag Gemini - Fire the cannons
Joy Electric - Workmanship
Joe Shithead Keithley - Band of Rebels
Tomas Kocko & Orchestr - Poplor
Ks - Can't get it together
Landoon - Defying hte stereotypes
Lejeune - For club and country
Trevor McShane - Sizzy
Mendoza Line - 30 year low
Merzbow - Zophours
Metaform - Metaform
Mock Heroic - Dignified exits
Mojomatics - Songs for faraway lovers
Jenny Morgan - The songs i've sung
Mr. Smolin - The crumbling empire of white people
Mystery of Two - Arrows are all you know
Matt Nathanson - Some mad hope
Northern State - Can i keep this pen?
Jakob Olausson - Moonlight farm
Onward Pilgrim - Get what you wanted / Fourteen rings
Joshua Path - Headlight in the sun
Peter Pan Speedrock - Spread eagle
Pistol Disco - Radiation
Raising the Fawn - Slight of hand
Fionn Regan - The end of history
Robbers On High Street - Grand animals
Saemskin - A simile for murder
Seizure 17 - She owns you
Serengeti & Polyphonic - Dont give up
Sharp Things - A moveable feast
Shepherdess - Shepherdess
Silver Cities - Power and strife
Josh Small - Tall
Some Monastery - Welcome to the symmetry
Son of the Velvet Rat - Loss & love
Stanleylucasrevolution - Greatest hits
Starcode - Hum
Tanner Horn and the Astronauts Before Breakfast - Tanner Horn and the Astronauts Before Breakfast
Luke Temple - Snobeast
Tokyo Rose - The promise in compromise
Traband - Pritel cloveka
Tractor - Tractor
Two Loons For Tea - Nine lucid dreams
Uh Huh Her - I see red
Vanessa Van Spall - Cotton-poly blend
Various Artists - Athfest 2007
Various Artists - Dorm Sessions, Volume 4
Various Artists - Twisted TV DVD, Vol. 1 (Go-Kart Records)
Verona Grove - The story thought over
Kate Walsh - Tim's house
Whitney Wolanin - Loud and clear
Kathryn Williams - Leave to remain
X27 - Antilover
Micheal Yonkers - Grimwood
Michael Yonkers - I think / The drain / Ice age
You - Flashlights
Adam Zwig - Cast iron letters

Home | Table of Contents | The babysue Store
©2007 LMNOP®