August 2016 Comics and Reviews by

*Top Picks =
Getting Your Ideas Across
It is extremely important to voice your opinions to the world. In person, on telephones, on television, on the radio, or on social media...anywhere you can get your point across. And the more pushy and loud you are, the better. Ignore the views of others. Concentrate on your own thoughts and feelings. If anyone disagrees with you, express hostility toward them or delete them from your list of contacts. But the most important thing is to make sure that your voice is HEARD. Loud and clear.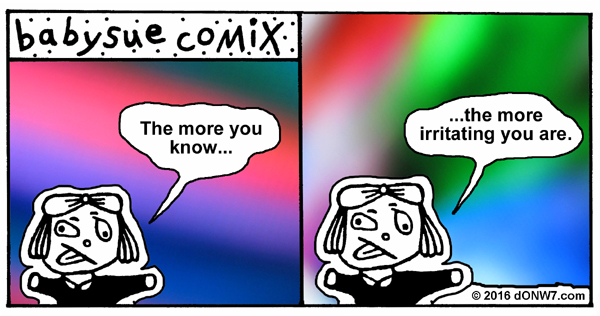 Armonite - The Sun Is New Each Day (Independently released CD-R, Pop)
Complex modern progressive rock injected with threads of classical music. The band Armonite began in 1996 and released their first album in 1999. But shortly afterward the band split up and that's where things stood for about fifteen years. At that point, composer Paolo Fosso and violinist Jacopo Bigi decided to join up forces again and they adopted the same band name as before. The duo then joined with bass player Colin Edwin and drummer Jasper Barendregt and recorded the tracks for their brand new album. The Sun Is New Each Day seems influenced by progressive rock bands from the 1970s, but the overall sound is decidedly twenty-first century. Produced by Paul Reeve, this album has a nice big thick sound and it showcases the impressive talents of all four musicians. The band is currently offering their music for free, so visit their web site (link above) for details. Nine well-crafted tracks including "Suitcase War," "Sandstorm," "Satellites," and "Insert Coin."
The Chairman Dances - Time Without Measure (CD, Black Rd, Pop)
If you love the sound of some of the cooler underground guitar pop bands from the late 1980s and early 1990s, you're likely to fall in love with the music created by the folks in The Chairman Dances. The tracks on this album were created using classic instruments, so there's nothing to date the sound. This Philadelphia-based band released their debut EP (Samantha Says) in 2015...a release that pleased a lot of folks. The group's music has been compared to The Smiths, the Decemberists, and Belle and Sebastian...so this gives you some idea of where they're coming from. One thing is certain. These songs sound very much out of place in today's musical climate. And that, of course, is a very good thing. The compositions on Time Without Measure have nice pensive qualities and an overall warm and friendly sound. This is something like a set of stories, as each song is devoted to different individuals. The vocals are particularly appealing here...very subtle, almost as if the person is directly communicating with you through your speakers (or earbuds). Superbly executed cuts include "Dorothy Day and Peter Maurin," "Fannie Lou Hamer," "Kitty Ferguson," and "Dietrich Bonhoeffer." Recommended. Top pick.

Cotton Mather - Death of the Cool (CD, Star Apple Kingdom, Pop)
We haven't heard these guys' music since they released the deluxe version of their Kontiki album way back in 2012. We liked what we were hearing then, but the group's newly recorded material is far more impressive. Cotton Mather is driven by the songwriting skills of Robert Harrison and also includes Whit Williams, Darin Murphy, George Reiff, Dana Myzer, and Josh Gravelin. Harrison has been influenced greatly by the I Ching of late, which is what inspired him to write and compose a great deal of new material. Listeners should note that these songs do not sound like what you might think. Rather than sounding like spiritual songs, these tracks are basically pure pop in overall sound and style. Robert's material sounds something like a cross between The Beatles and Redd Kross. His songs are upbeat and intelligent...ultimately catchy and very inspired. This is easily one of the best pop albums we've heard in 2016. Intelligent lyrics, great vocals, killer melodies...and arrangements that are a perfect fit for each track. Kickass cuts include "The Book of Too Late," "Close The The Sun," "The Land of Flowers," and "The End of DeWitt Finley." Recommended. TOP PICK.

Danielle French - Miss Scarlett & The Madmen: Dark Love Songs (Independently released CD, Pop)
Although not yet widely known, Calgary's Danielle French has been creating music now for about two decades. Ms. French's music is moody and slightly peculiar and has been compared to classic artists like Kate Bush and Tom Waits. The strangely-titled Miss Scarlett & The Madmen: Dark Love Songs might just be the album to catapult Danielle's career to the next level. Most of these tracks were recorded at two different locations in Wisconsin, but one ("Splinters") was recorded in Calgary and another ("Black Sunday) was recorded at Peter Gabriel's Real World Studio in England. French has a rather amazing voice. She's able to conjure up images and feelings that go far beyond the words she's singing. This is a short album that clocks in at just over twenty-six minutes. Nine impeccably recorded tunes including "Last Goodbye," "Black Sunday," and "This Is Why We Drink."

Eric Gales - A Night On The Sunset Strip (CD + DVD, Cleopatra Blues, Blues/rock)
Eric Gales is a modern blues/rock guitarist who sounds something like a cross between B.B. King and Jimi Hendrix (more the former than the latter). Amazingly, this fellow began playing guitar when he was only four years old (!). Gales got his big start in 1990 when he signed a recording contract with Elektra Records. Since that time, he's released an amazing amount of material and has played with some amazing artists. A Night On The Sunset Strip documents Eric's well-received performance at the Viper Room in Hollywood in 2015. This double disc set shows why Gales has become such a popular figure in the world of music. Instead of calculated processed cheese (which is what most popular musicians provide), the listener is treated to real music played with real instruments. There's a lot to chomp into here. The audio disc features over seventy-seven minutes' worth of music. For those wanting to see (as well as hear) the concert, this slick l'il package also includes a DVD of the show. Eleven classy cuts including "Make It There," "The Open Road," "Swamp," and "Good For Sumthin'."
Go West - Live Robin 2-2003 (CD + DVD, Angel Air, Pop)
The guys in Go West had bunches of huge hits in the 1980s and 1990s. This CD and DVD present the duo playing live at the Robin 2 in Bilston, England in 2003 to a sold out crowd that was obviously loving every minute of it. Go West is Peter Cox and Richard Drummie who met one another way back in 1974. After years working together, they recorded and released a couple of singles under the name Go West...and success immediately followed. This lengthy concert features seventeen tracks and presents the duo and their backing band playing for over seventy-eight minutes. This double disc set contains the audio from the concert as well as a DVD for those wanting the complete experience. Tracks that will definitely take fans back include "Don't Look Down," "Goodbye Girl," "Innocence," and "The King of Wishful Thinking."

Heaven For Real - Kill Your Memory (CD, Mint, Pop)
Ahhhhhh...this one sounds SO DAMN GREAT. From the moment we started listening to this we were reminded of Teen Men...one of our top favorite bands of the past couple of decades. Although these songs fit within the pop category, they are by no means conventional or accessible to most people. These folks are creating artsy pop that has some peculiar qualities but is ultimately very listenable and totally addictive. This Canadian band is comprised of fraternal twins Mark Grundy and Scott Grundy along with Cheryl Hann and Nathan Doucet. This is one of those rare cases where the band is doing virtually everything right. The songs are killer, the vocals are a perfect fit for the style of music, and the arrangements are wonderfully creative and unusual. This will easily end up being one of THE BEST ALBUMS of 2016...without a doubt. True, it is a short album. But in about thirty-two minutes Kill Your Memory accomplishes what other albums never could. Every time this one ends we feel compelled to hit repeat, repeat, REPEAT over...and over...and over. Kickass cuts include "Subliminal," "Kill Your Memory," "Hotel #55," and "Misfire." Highly recommended. TOP PICK.

Jeremy & The Harlequins - Into The Night (CD, Yep Roc, Pop)
Five young guys who have captured the hearts and imagination of music fans in New York City. And now with the release of this, their second full-length album, they seem ready to transfer that success to the rest of the world. The band is comprised of vocalist Jeremy Fury, guitarists Craig Bonich and Patrick Meyer, drummer Stevie Fury, and bassist Bobby Ever. The first thing we noticed here was how focused these guys are. These five guys are truly in synch with one another, and that's probably what gives their music that extra punch. The band released their well-received debut (American Dreamer) in 2015. Into The Night borrows sounds and ideas from the past, while updating them and making them completely relevant in 2016. Groovy guitars, inspired vocals, and toe tapping rhythms abound on this album. From the sound of these recordings, our guess is that these fellows had a grand ol' time recording these tracks. Their love of music comes through loud and clear on all ten tracks. Our initial favorites include "Into The Night," "Let Her Run," "Big Beat," and "Oh Yeah (I Did It Again)." With a bit of luck and the right timing, these guys could be huge.
Hunger - For Love (Independently released CD, Pop)
Super smooth accessible modern pop. A word of warning. These guys have a super processed, perfect digitally tweaked sound...so if that's not your kind of thing this may be a bit too slick for your taste. Hunger is the Vienna-based trio comprised of Daniel Rumpel (guitar), Johannes Herbst (bass, keyboards), and Lucas Fendrich (vocals). The three originally got together to record music for movie soundtracks. But after composing some compositions that had a great deal of catchy appeal, the three decided to team up with producer Dan Weller to record this, their debut full-length album. This album spins very much like a collection of hits. Super slick modern pop with a huge sound, and plenty of layered vocals that add heavenly qualities to the music. This isn't pushing any envelopes or breaking any new ground...but that doesn't seem to be the point here. These guys are making music that can be appreciate by most music fans. And with that goal in mind, they have achieved total success. Cool hummable cuts include "Amused," "For Love," Bubbles," and "Magic."
Hymn For Her - Drive Til U Die (Independently released CD, Pop/rock)
Hymn For Her is the duo of Lucy Tight and Wayne Waxing, After spinning this album listeners may be asking themselves 'Are these folks guitar rockers or pensive popsters?' Well in actuality, they're really both. Produced by dual producers, Drive Til U Die effectively captures both sides of this couple's music. The more rockin' tunes were produced by Vance Powell in Nashville, TN while the softer tracks were produced by Mitch Easter in Kernersville, NC. Lucy and Wayne spend a lot of time on the road. Check out their web site (link above) to see their touring schedule. These folks obviously love being on the road. And, at least when they're on this continent, they travel around in a real cool Aistream trailer. Drive Til U Die is a nice solid album full of well written and well recorded tracks. Whether they're rockin' out or showing their more subtle contemplative side, these folks always manage to entertain and satisfy. Smart melodic cuts include "Devil's Train," "Mazzy Star," "One Big Achin Heart" (our favorite), and "The Road Song."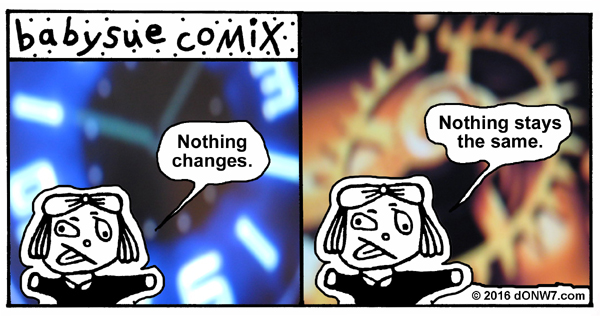 The Last Ditches - Spilt Milk (CD, Hyperspace, Rock/pop)
Those seeking a direct shot without all the unnecessary junk that is usually injected into music in the twenty-first century may very well want to check out the latest album from The Last Ditches. This group plays straightforward rock/pop that pumps and chugs along like a finely oiled locomotive. Call it no-frills rock or power pop, but whatever you call it...these guys have plenty of magnetic energy that should work their listeners into a frenzy. The band is comprised of Randy Pratt (bass), Binky Philips (guitar), Walter Lure (guitar), and Bobby Rondinelli (drums). There's a lot of spontaneous energy happening here. And that's probably because these songs were written on the spot in the studio and recorded immediately afterward. Spilt Milk spins very much like a greatest hits collection, as most of these songs have a great deal of commercial potential. The players who are completely in synch with one another in every way. Cool rockin' cuts include "Excuse Me," "So So-So," "I Made a Mess," and "Throw the Dog a Bone."
Marley's Ghost - The Woodstock Sessions (CD, Sage Arts, Americana/bluegrass/country/pop)
This album is being released to celebrate this West Coast group's thirtieth (!) anniversary. These guys have become critics' favorites over the years, impressing many with their unique ability to play roots rock, blues, bluegrass, country, and gospel...seemingly completely comfortable and at ease with whatever genre they choose. Marley's Ghost is comprised of vocalists/multi-instrumentalists Dan Wheetman, Jon Wilcox, Mike Phelan, Ed Littlefield, Jr., Jerry Fletcher, and Bob Nichols. Produced by Larry Campbell, The Woodstock Sessions has the warmth and feel of analog recordings from the past. To achieve the right sound, Campbell took the group to the Levon Helm Studios in Woodstock, New York. There are lots of artists and bands playing roots music these days. But very few who can begin to capture the realistic genuine sound these guys have. These thirteen tracks have true resonance and personality, and will probably be inspirational to a whole new generation of musicians. Well-crafted cuts include "Blind Fiddler," "Stone Walls and Steel Bars," "In The Pines," and "Uncle Joe."
Onsen - Earthquake Weather (CD, Cosmic Dreamer Music, Pop)
This is a different sort of album with a different sort of sound...which makes it kinda difficult to describe. Usually when we can't pinpoint something it means there's something truly credible or unique going on. And that seems to be the case here. Onsen is the band/project created by Los Angeles, California's Drew Straus. The band was originally a one man endeavor but has now grown and expanded to include other artists and musicians. The first thing that caught our attention about this album was one of the song titles ("Peggy Lee"). She's always been one or our top favorite female vocalists so we were impressed that Straus named a song after her. It took several spins for the songs on Earthquake Weather to totally sink in. This guy is really good. Instead of a collection of predictable pop, these songs seem more like paintings that were created by true inspiration. Although some tracks have commercial appeal, this is overall one of those cases where artistic expression seems to have been the main motivator. So many great tracks here...but our initial favorites are "What Fortunes," "Own Advice," and "Let You In." This will definitely end up being one of our favorite albums of 2016. Highly recommended. TOP PICK.

The Original Cast & Friends - The Ones That Got Away (CD, Angel Air, Soft pop)
This is a different sort of reissue. Rather than an entire album from the past, The Ones That Got Away collects songs recorded by the band The Original Cast in the 1970s as well as various solo tracks recorded by the members that were uncovered for inclusion on this album. The Original Cast was comprised of Tony Burrows, David Martin, and Sue & Sunny (sisters Sue Glover and Sunny Leslie). Burrows is best known as the lead vocalist on Edison Lighthouse's "Love Grows" single as well as the White Plains hit "My Baby Loves Loving" (one of our favorite bubblegum hits from the 1960s). Martin was in the 1970s band Butterscotch and has had his songs recorded by a whole slew of well-known artists including The Carpenters, Elvis Presley, and David Essex. Sue & Sunny were session singers whose voices backed up tons of big names like Elton John, Mott The Hoople, David Bowie, Marc Bolan, and Donna Summer. But this album isn't about all the well-known connections, this album was created to shed light on the music created by Tony, David, Sue, and Sunny. If you love the light and sunny 1970s pop sound that can be found on the Rhino Records Have A Nice Day various artists collection, The Ones That Got Away will be right up your alley. These nineteen tracks are sure to take you back to another time and place when music was simpler and folks weren't quite so sarcastic and jaded about everything. To bring things full circle, the album closes with a new track recorded in 2016 that includes vocals by Ron Dante (of The Archies). A fascinating journey into the music of four exceedingly talented artists.
The Pop Group - The Boys Whose Head Exploded (CD + DVD, Freak R Us, Rock/experimental)
We love the incorrect wording in the title of this release. So few people seem to be brave enough to break the unenforceable rules of grammar. We've heard about The Pop Group, but this is (at least to our knowledge) the first time we've been exposed to their music. Our first reaction to this was...this is a 2016 release? It sure doesn't sound like it. But things began to make sense when we read the press release, which explained that these recordings are from 1979 and 1980...a time when bands and artists were much more noisy and aggressive. The music of The Pop Group sure seems out of place in the safe and samey world of music in the twenty-first century. The live tracks on this CD are rough and raw, but effectively capturing some guys who apparently were just having a great time raising hell with their music. This double disc set is different from what we normally see/hear. Instead of both discs (CD +DVD) featuring the same tracks from the same concert, these discs have music from different shows. All housed in a nifty triple fold cardboard sleeve (complete with foldout poster), this is one helluva fun, energetic, and upbeat experience.

The Rave-Ups - Town + Country (CD, Omnivore Recordings, Pop)
The folks at Omnivore Recordings continue reissuing some of the grooviest music from the 1980s, and this one was a real surprise. The label has reissued the Town + Country album by The Rave-Ups in its entirety, complete with with eleven bonus tracks. This disc offers over seventy-eight minutes' worth of music. So fans of The Rave-Ups are in for a real treat here. This group's sound seems perfectly suited for revisitation by music fans, as these guys had an Americana pop/rock sound that was way ahead of its time. We have to admit we had forgotten about this group, But we immediately recognized the lead track ("Positively Lost Me") which was a huge hit on college radio stations in the 1980s. The guys in this band were originally based in Pittsburgh, Pennsylvania but eventually made their way to Los Angeles, California where they held day jobs at A&M Records (which is also where they recorded the tracks for this album). This reissue may very well find an entirely new audience for these feelgood toe tappers. Cool pop/rock cuts include "Positively Lost Me," "Remember," "In My Gremlin," and "You Ain't Goin Nowhere."
Chelle Rose - Blue Ridge Blood (CD, Lil' Damsel, Pop)
We have to admire Chelle Rose. She really puts herself and her feelings out there for all to hear, understand, absorb, and appreciate. This talented lady's been through a lot, and that is reflected in her words and music. Plus, she's the real deal. You won't hear any processed country/pop or synthesized Americana on Blue Ridge Blood. This album features real music that comes straight from the heart of a lady who seems to thrive on sharing her experiences with her fans. Rose made quite an impression on lots of folks with her 2012 released Ghost of Browder Holler. But our guess is that Blue Ridge Blood is the one that's going to really push her career to the next level. Chelle has a super cool deep voice that really makes her songs cook. And when she delivers her lyrics you can tell that she means what she says. Produced by George Reiff, these eleven tracks have a nice thick organic sound that is warm and appealing. The more we spin these tracks the better they sound. Sometimes when she's speaking/singing, Rose sounds a bit like Patti Smith (!). This is some of the best music we've heard from the state of Tennessee this year. Groovy cuts include "Paintsville Table," "Not Your Girl," "Hidin' Hole," and "Sing Pretty." Top pick.

Owen Sartori - Nobody Gives A Damn (Independently released CD-R, Pop)
The second full-length release from Minneapolis, Minnesota's Owen Sartori. This talented fellow got started in music in the 1980s playing drums for some well known artists. After many years of hard work he eventually got his big break and every artist's dream...a recording contract. But things weren't meant to be. The timing wasn't right and things just didn't go as planned. So at that point Owen decided to co-own a recording studio, and F5 SoundHouse was born. Now it its fourth year of operation, the studio has become a big hit...recording and producing a large number of diverse artists. But with his own music still flowing through his veins, Sartori decided it was time to record a new album. So if Nobody Gives A Damn has the sound of a seasoned artist with plenty of experience, that's because this guy has had a great deal of experience. These tracks have a nice slick sound. But the production never detracts from the songs. And songs are what make this album such a cool and pleasing spin. Sartori is a master at writing catchy smart melodies and lyrics. And he's got a voice that really works magic on listeners. This is one of those cases where accessibility meets artistic integrity. Even though these songs have a great deal of hit potential, they still sound great. Ten well-crafted cuts here including "At Best, This Will End In Complete Disaster," "Dublin Sky," "Digging On You," and "Come Back." Recommended. Top pick.

The Shondes - Brighton (CD, Exotic Fever, Pop)
Instantly friendly and fresh melodic modern pop. The folks in this band make music that is a completely upbeat feelgood experience. If you enjoyed very early stuff from bands like Blondie, The Go-Gos, and The Pretenders...you'll find a lot to appreciate here. This band impressed people with their debut album (The Garden) that was released in 2013. In 2015 the band recruited drummer Alex Smith and guitarist Courtney Robbins...and that seems to have propelled the music to the next level. Brighton is all about energy and melodies, and you'll find plenty of both of this cool ten track album. But while this disc mainly features danceable, driving tracks, the band also lets their more subtle, soft side come through at times as well. Original band members Louisa Solomon (vocals) and Elijah Oberman (violin) have come up with a winning sound and style here. Solomon's vocals are so solid that we can't help but think this young lady will very soon be playing to huge audiences. She's got that kind of charisma and sound that could ultimately catapult her into super celebrity status. Ten captivating cuts including "Everything Soon," "The Clearing," "My Ghost," and "Nightwatch." Top pick.

SPCECO - Anomalies (CD, Saint Marie, Pop)
Of all the bands we've heard on the Saint Marie label, SPCECO (pronounced Space Echo) has the most commercial potential. But that's not to say that this is a particularly commercial sounding album, because it's not. This band is the duo of Dean Garcia (formerly of Curve) and Rose Berlin. Together the two create modern dreamy atmospheric trip-hop that is ethereal and provocative. If you love groovy tripped out electronics and subdued female vocals, Anomalies just might be your favorite new album. Garcia and Berlin turned a lot of heads with their last release (Dark Matter). But our guess is that this is the one that's going to really push their music over the top. We were already digging these tracks on the first couple of spins. But the third time around we turned the volume up really, REALLY loud and...WOW. This stuff is pure magic. And it's bound to be a hit with underground fans as well as those wanting something more substantial than what the world of commercial music has to offer. Nine magical cuts here including "Out of My System," "Your Own Way," Think Twice," and "Lost In a Crowd." Recommended. Top pick.

A
Ryan Adams - Heartbreaker (deluxe edition)
Ryan Adams - Dustjacket (relaxed edition)
Additional Items Composed - Reversal of radishes
Additional Items Reversed - Back to the additional items
Adele - My frisky rat puppy done ate my head off
Alice Copper - Lob it to Seth
Allman Brothers - Crackdown concert 1986
Shirlette Ammons - Language barrier
Anohni - Hopelessness
Anthrax - For all kings
Antlers for Booboo - Oh no not that tired old runt again
Apples Got Smushy - Train smush
Athens Is Not A City - Trauma for the bush animals
Augusta Is Not A City - Wilma for the plush panels
B
Bad Bump - Banana tread
Badfigure - Crooked down
Bambi Dambi - Lambi
Ballerina Pumps - Blackass
Barge - Limpy
Beadulls - Desmocker
Beatles - Medium rare
Bee Numb - Numb bee
Beyonce - Sorry
Beyonce - I can dance even if I can't do anything else very well
Beyonce - If all you want is an ugly body and face, I've got both
Beyonce - Don't you get tired of hearing my stupid name all the time
Beyonce - I'm really a boring old hag who looks terrible without thick layers of make-up
Beyond the Beyonder - Blander and blander
Bjork - Vulnicura live
Black Tabitha - Pastor of senility
Butler Pudding - Lippity gris gris
C
Car Mump - Dazed and refused
Cast of Cast - Lastly
Cat Grave - Mickey's laboratory
Cesula - Maid in martians
Chance The Rapper - Coloring book
Chicago - Love songs
Chump - Malaria
Chunks of Paisley Pumps - Lordy the snore is a plaza burn
Eric Clapton - I still do
Phil Collins - No jacket required
Come To Lulu's Nurse - Romp and the bumpy tum tum
Confederate Railroad - Happy to be alive
Conscious Or Not - Grumpy lazy
Crosby, Stills & Nash - Survival Sunday
Crunchy Links - Switches and prawns
D
Dae Dae - Mae Mae
Daisy Days - Freezing
Deftones - Gore
Diets Are For Dimwits - Lassie's lost pudding cup
Dion - New York is my home
Dirty Pennies - Flocks and pimps
Doves That Die Today - Lassie
Ducks for Ducks - Nine hundred ponies
E
Eat The Bounty Feathers - Naptime
Elephant Muff - Beneath the blurry knob
Elves and Bumpy Thumpers - Original motion picture soundtrack
Empty - Flow
Enter the Entrance With Lockets - Glasses on the puddle
Eventually We'll All Die With Nothing - Pom poms
F
Far Out Far In - Farin
Faxes Forever - Limp little pixies
Five Times Fifty-Five - Live
Four Times Four Is Four - Five times
Foxes - All I need
Fume - Lumps
Funky Laminate - Parking
Fur For Francis - Pouches
G
Gas Pumps - Last primper
Gauge Rage - Now cow
Germany's Burp - Lamp drill
Get Your Begging Done - Tower bitch
Vince Gill - Down to my last bad habit
Goo Goo Dolls - Boxes
Graham Slackers - Naturally grabby
Ariana Grande - Into you
Josh Groban - Stages live
David Guetta - This one's for you
Guns N Roses - Acoustic session: Radio broadcast 1987
H
Hell for Humans - Happiness is a dumb puppy
Help the Hopeless - Bloody hearts get you nowhere
Ian Hunted - Punts and nuttters
I
Ian - Jackknife
Icky - Picky, picky, picky
If It Dies Don't Touch It - I offered more than they wanted and they took it
If You Knew Nothing You Would Be Nothing - Drips
Inky Doll - Dampness and dryness
It Stays Warm - Square butter
J
Michael Jackson - Off the wall
Michael Jackson - Nosey dopes
Jerry's Apple - Towers
Jerry's Crud - Narry a buster
Jersey is Swervy - Translustre
Jethro Toil - Sick as a tick
Elton John - Wonderful crazy night
Jones Is A Donkey - Drammamine
Judas Priest - Battle cry
Junk Is Just Junk - Lady trunk
K
Kalesh - Kaos
Kandy and the Ks - Lassie's drool
Krazy Cow - Lots of tips
Krunchy Krunch - Captain's caps and tons
Kudzu's Lamp - Drastic
KWKWERA - Lists
L
Ladies For Pretzels - Louder than the other thing that we had discussed earlier
Lamb Peppers - Smuppy
Cindi Lauper - Detour
Laxative Preamble - Naps and snappers
Let There Be Let - Now there be meow
Lisa Said - First time, long time
Lists - Stop the Lists
Loretta Lynn - Full circle
Lumineers - Cleopatra
Lumps - Lousy mouses
M
Manners and Nanners - Tablets for pokey
Masta Ace - The falling season
Matchbox - Going down there
Math for Math's Sake - Plazas
Maze Lops - Trazzler
Mazer's Big Torch Bucket - Lipsy
Millie's Pork Bucket - Boxes won't go away
Monkey Chuck - Arlene
Monkey Davis - Nervous
Monkey Pauline - Damnable
Moo Moo the Bow Wow - Trouser's ain't fresh no more
Motorhead - Clean your clock
Mrowl - Prowling for mrowl
Murphy and Nop - Dammy and slop
Murphy's Paw - Plaid and dumb
N
David Nail - Fighter
Nasal and Tonsil - Lasers and urchers
Ned and the Headrumpers - Trowels
Aaron Neville - Apache
Newsboys - God's not dead
No More Blouses - Farmy
More More Cactus - Deal or no no
Now Cows - Blouses and thermometers
Numb's Fumbler - Town and mouth
O
Octorub - Norbie
Oh No That Old Shithead Is Here Again - Rotten old schmucks with no manners
Oooh - Uuuuuh
Oooh Oooh - Uuuuuh uhhh
Opposite of Opposite - Lopposite
Orange Floyd - Sharp glide of the goon
Osmosis - USB #7
Other Muzzles - Howdy Pops
Oz and the Schnoz - Pow wows and monkeys
P
Painted Fuss - Nope
Pants and Pantless - Rainy press
Part Blub - Fran is ugly
Paws With Fingers - Ink bus
Pet Shop Boys - Super
Poodle Powder - Dust of the dawgie
Mike Posner - At night, alone
The Puddles - Nappy load
Punk Biscuits - Sap
Punk Noodles - Take this noodle and cook it
Puny - Runny infection
Q
Quacks - Trippy truck
Quails and Trucks - Lamb power
Query - Stop the questions
Quest for Dope - Smoking snuff
Quails Got Drunk - Beer and tissue paper
Quicker Than Daffy - Cords that don't work
Quiet Little Worm Thing - Never thought about it and never want to now
Quiz Germs - Links that don't work
R
Radiohead - Daydreaming
Debbie Rafter - Lemme after
Red Hot Chili Peppers - Dark necessities
Reel to Raoul - Mouthpiece
Reform Club - Never yesterday
Rely On Relish - Candy dash
Mick Rhodes & The Hard Eight - Paradise city
Rihanna - Anti
Rolling Bones - Get your mama's kraut
Runny - Tippy's revenge
Rush - Beneath, between and behind
S
Larry Samual - Barney doesn't have hugs for me
Santa Died Last Night - Presenting...
Santana - Santana IV
Blake Shelton - If I'm honest
Blake Shelton - If you're into what I do you're obviously on the wrong web site
Blake Shelton - If people think I'm handsome they must really be confused and retarded
Blake Shelton - If I'm dishonest
Shotgun Louise - Rampy dim
Shotgun Tina - Lousy lamps
Shotgun Zappa - Mouses and mouses
Smuppy - The tatters that ground pepper
Snoop Dogg - Coolaid
Sparse - Kim's Ono spy mouse
Rick Springfield - Rocket science
Bruce Springsteen - Roxy night
Mavis Staples - Livin' on a high note
Steely Dan - Doing it in California
Barbra Streisand - Encore
Styx - Suite madame blue: Radio broadcast 1977
Sultans of Swing - Subcontinental drift
Swap and Change - Loudness weird
Swenter - Flowers
T
Talking Sheds - Lambs forking up tonsils
Tea For Lunch - Massachusetts isn't a country
Teepee Tupperware - Laura's butter pand
Telltale - Taller toll
Thuds - Ready for emperors
Thunder - All you can eat
Justin Timberlake - Can't stop the feeling
Trunk Idiots - Laugh when it's all over
Tummy Bus - Lambs and prawns
Tunker - Lassie's paw
Twisted Sister - Rock 'N' Roll Saviours: The early years
Steven Tyler - We're all somebody from nowhere
U
Ugly Banana - How do the hussy wink
Ugly Orange - Do the mouse
Ultraplucks - Eyebrow mania
Umbrella Vision - Church of tassle
Uncle Duck - Mushed
Uncle Pregnant - Does and rodents
Keith Urban - Ripchord
V
Various Artists - A collection of dull dribble that no one will ever notice
Various Artists - We stopped makin' em because they stopped buyin' em
Various Artists - No one buys these kinds of compilations anymore so that's why we keep producing 'em
Various Artists - Tribute to someone whose name we can't remember
Various Artists - Trying to get something heard never works
Various Artists - The most boring bands you never cared to hear

W
Wally Is Near - Stamp that thing goodbye
Wanda and the Wandas - Limp
We Don't Get It - Now is the now
Well I Guess This Is Just Another One - Lumps
Whether Or Not - Lousy weather
Lucinda Williams - Ghosts of Highway 20
X
X-ray Pecs - Lookie away
Xzistance - Lift down
Y
Yanni - The dream concert
Yell All The Time For Whatever You Pay For It - Taxi service
Yellow Floyd - Park wide until noon
Yesterday's Potties - Damp portions
Yes We Will Be Bananas - Trap doors
Yoyos for Panama - Sharp
Z
Zappa and the Zappettes - Trown
Frank Zappa - How flowers got in the potty train