October 2013 Comics, Recipes, and Reviews from


aka

*Top Picks =
Agony Aunts - Big Cinnamon (Independently released CD, Pop)
Agony Aunts is a side project created by K C Bowman, Karla Kane, Khoi Huynh, and Charlie Crabtree who are also in the band The Corner Laughters. But unlike some side projects begun as an artsy outlet, the mission here seems to be to present ultra melodic pure pop tunes with a great deal of commercial appeal. These folks write and record music that is decidedly out of step with current trends in the world of music (and of course we love that...!). The songs on Big Cinnamon feature wonderful winding melodies, heavenly harmonies, and an overall sound that may be inspired by some of the more inventive British pop bands from the 1960s. This album features some way cool guest artists including Allen Clapp, William Cleere, Jeri Sykes, Gil Ray, Bradley Skaught, and Anton Barbeau. Twelve totally groovy tracks here including "Twenty-Four Mergansers," "Back To Back Bill," "You're So Vague," and "Trouble Was Born." Truly neat stuff, recommended for fans of The New Pornographers.
Animal Parts - Six Arms To Hold You (Independently released CD EP, Americana/pop)
Nice heartfelt organic mid-tempo pop from Toronto, Canada's Animal Parts. Funny how Canadian artists have managed to beat us at our own game. We've heard more...and better...Americana coming out of Canada over the past few years than in our own country. Animal Parts is the band driven by the voice and songwriting skills of Joshua Cockerill. Joshua released a solo album in 2010 before forming Animal Parts. Since that time he and his band have managed to impress a growing number of listeners and writers. We were impressed with the video on the band's web site, a nice warm gathering of the players on a porch playing unamplified. Certainly seems to give the viewer/listener an instant impression of what matters most here. Six smart pensive cuts with cool reflective lyrics. Neat stuff.
Bailterspace - Trinine (CD, Fire, Rock/pop)
Whew...this is just the kinda mindbending stuff we needed to hear today. When the guys in New Zealand's Bailterspace got back together last year a lot of folks were probably surprised. After all, the return couldn't have been motivated by money. The band's fans could probably be described as a limited underground cult following at best. Fortunately everyone isn't motivated by money, some are motivated by the desire to create. And our guess is that this is ultimately what caused these guys to start making music together again. The 2012 album Strobosphere sounded decidedly out-of-place in the sometimes dull and predictable twenty-first century landscape. And fortunately, the same is true for Trinine. Although we're not sure why, over the past few years more and more bands and artists seem to be playing it way too safe. It could be because of the general tendency of people to become more dull and predictable over time. Or it could be because more and more folks are desperate to try and make a living playing music. In any event, there's a severe lack of super loud and heavy bands on the planet these days. And that truly is a goddamn shame. Fortunately there are folks out there who continue to make music that is exciting and alive. Twelve killer rockers here including "Trinine," "In The World," "Silver," and "TapenZloop." Long live Bailterspace...! TOP PICK.

The Bongos - Phantom Train (CD, JEM Recordings, Pop)
The JEM Recordings label...has resurfaced after so many years...interesting... (!). We enjoyed many albums released on JEM long ago...and we have the feeling they're going in the same exact interesting direction this time around. Or so it seems...because this long lost album from The Bongos sure is a nice pleasant shot in the arm. In a move that probably surprised a lot of folks, the band recently reformed and has begun touring again. Recorded in 1985, Phantom Train was never released...until now. And upon hearing this, we cannot understand why (?). The album was recently remixed by band frontman Richard Barone...and time has certainly been kind to these recordings. For a period in the 1980s this band was riding the wave of huge popularity on the then blossoming college radio circuit. This will probably be well-received by Bongos fans as well as anyone else who loves good solid pop music. Thirteen of these tracks are originals...but the album also includes a surprisingly solid interpretation of Donovan Leitch's "Sunshine Superman." Other cool tracks on this album include "My Wildest Dreams," "Run To The Wild," "Tangled In Your Web," and "Town Of One."

Jason Lee Bruns Jazz Collective - Live at Catalina Jazz Club (CD, Panout Music Group, Jazz)
This group is an eight man Los Angeles, California-based collective founded in 2009 and led by Ohio-born percussionist, drummer, and composer Jason Lee Bruns. The band is comprised of faculty and alumni from the University of Southern California's Flora L. Thornton School of Music. Since 2009 the group has been steadily building their reputation not only through their recordings but also in live performances. Recorded live at the Catalina Jazz Club, this album showcases the solid talents of the players. The band currently consists of Jason Lee Bruns (drum set, pandeiro), Mahesh Balasooriya (piano), Edwin Livingston (upright bass), Angelo Metz (guitar, Portuguese vocals, scat, culca), Kevin Bachelder (English vocals, scat), Kim Richmond (alto sax, soprano sax), Jason Gamer (trumpet, flugelhorn), and Jacquez Voyemant (trombone). Slick tracks include "Cissy Strut," "It Could Happen To You," and "Waltz For Desmond." Cool classy stuff played with integrity and style.
---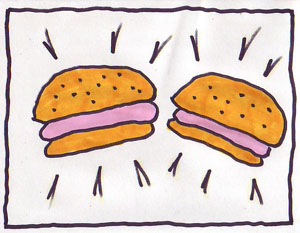 BUBBLEGUM 'N SUGAR BURGERS
Ingredients:
6 lbs. of Pink Bubblegum
10 lbs. of Sugar
5 bottles of Corn Syrup
27 Squirts of Artificial Sweetener
1 Tiny Tablespoon of Ground Beef
Salt

Pull out one super large bowl and place on the counter. Put the PINK BUBBLEGUM, SUGAR, and CORN SYRUP into the bowl and then squirt the ARTIFICIAL SWEETENER all over the top. Massage well with all of your fingers before adding the TINY TABLESPOON OF GROUND BEEF. Continue to massage well until all ingredients are properly mushed all the way up. Add a pinch of SALT and then form the mixture into burger shapes. Now look at your arms. They don't look quite right anymore now, do they? And what about your legs. You can't walk anywhere without falling down. Think about all the things that you've lost over the past few years. And think about all the things you could have done but never did. There's not a lot to look forward to out there in the real world anymore. Things never work out like they should and for good reason. The lessons and activates you seek are mission-like in their endeavors, aptly stringing along the cognitive averages for Coco and Minion. There are, however, only six objectives that react. And these objectives are collected into several companions that will never ever see the light of day. So go on and make things in your kitchen. Make really great things that no one will ever see and no one will ever eat. In the end, it won't really matter. But hey, howzabout we git back to those damn burgers we were making... Cook the damn things and serve 'em up real nice and hot. Allow a long long time for dinner because it might not never end with all the damn chewin' that's gonna be 'a goin' on. Ultra delightful for everyone's natural consumption.
---
Caprica - Original Soundtrack to the SYFY Television Series: Music by Bear McCreary (Limited edition double CD, La-La Land, Soundtrack)
Bear McCreary. You see and hear the name all over the place. This creative composer is one of the most prolific in the world of soundtrack recordings in the twenty-first century...writing and recording a seemingly endless well of cool creative music for film and television. McCreary first made a name for himself worldwide with the music he created for the Battlestar Galactica television series. So it only seems fitting that he has also done the music for the Caprica series as well. The show is "...television's first science fiction family saga" and tells the tale of two rival families set in the future. The series demanded a lot from a composer, particularly in terms of sounds and styles. As such, McCreary recorded a national anthem, gangster rap, drag queen burlesque, an opera...and more (?!!). Released by the fine folks at La-La Land, this limited edition double CD presents a wealth of material that goes all over the map and back. Bear's fans will no doubt be delighted by this one...as well as anyone else who appreciates the world of modern science fiction. A whopping 43 tracks here...and they're all inventive and slick.
Sergio Cervetti - Wind Devil & Co. (CD, Navona, Instrumental)
Remember when trance bands and artist seemed to be reproducing like rabbits on a hot tin roof in the 1990s? We loved the whole trance thing so it's been kinda disappointing that the world seems to have lost most of it's trance artists in the twenty-first century. Although not recorded specifically to fit within the trance genre, Sergio Cervetti's Wind Devil & Co. certainly gives us the same cool hypnotic effect we felt from 1990s trance. These tracks were commissioned by choreographers and dance companies who have performed to the music all over the world. The album is divided into seven sections with a total of fourteen tracks. Some of these compositions may remind listeners of Philip Glass, but they are far less repetitive than such a comparison might suggest. Cervetti is a master at his craft, combining elements from dance, classical, and electronic music into one cohesive whole. Killer compositions include "Wind Devil," "Cantata #84," "Out of the Rolling Ocean," and "Requiem."
The Chills - Somewhere Beautiful (CD, Fire, Pop)
The Chills is the ongoing project spearheaded by artist/musician Martin Phillips who began the band way back in 1980. Unlike a lot of musicians from the past century who are no longer recognized or relevant, Phillipp's influence seems to have grown over the years. Fans will welcome this live album as further indication that The Chills will always be around. There's a lot of material here...twenty tracks that clock in at just under an hour. Currently playing in the band with Martin are Erica Stichbury (keyboards, electric violin, rhythm guitar, backing vocals), Oli Wilson (keyboards, backing vocals), James Dickson (bass, backing vocals), and Todd Knudson (drums). This album proves that The Chills are still alive and kickin'. And that, of course, is a very good thing.
The Conjuring - Original Motion Picture Soundtrack: Music by Joseph Bishara (CD, La-La Land, Soundtrack)
We're a bit late getting to this album as the disc was actually released on July 16, 2013. The soundtrack for the film The Conjuring was composed by Joseph Bishara who was once the guitarist and keyboard player in the industrial heavy metal band Drown. The film "...tells the horrifying tale of how world renowned paranormal investigators Ed and Lorraine Warren were called upon to help a family terrorized by a dark presence in a secluded farmhouse." We haven't seen the movie yet but it's on our list of things to see. Bishara is quickly becoming an in-demand composer in the world of horror soundtracks. He's made quite a name for himself, already having composed music for the films Mortal Kombat: Annihilation, Heavy Metal 2000, and John Carpenter's Ghosts of Mars. This soundtrack is wonderfully spooky and surreal...full of energized music that provides the perfect backdrop for some super scary moments. This twenty-six track disc contains plenty of mentally challenging music that sounds great when turned all the way up. Our favorite cuts include "Dead Birds," "Hanging Drop," "You Look Very Pretty," and "Doll Box."
The Contrast - A Sinister Flick (CD, Angel Air, Pop)
The seventh full-length release from The Contrast. This band was recently chosen by Overend Watts to open up for Mott The Hoople at the Manchester Apollo in November so that will no doubt ignite even more interest in the band. This sixteen track album features plenty of catchy accessible pop/rock tracks driven by cool guitars and driving rhythms. The band's overall sound reminds us in many ways of later recordings by 1980s icons The Psychedelic Furs. But these songs are actually much more commercial than such a comparison might imply. The band is comprised of David Reid, Richard Mackman, Kieran Wade, and Thorin Dixon. If you aren't familiar with The Contrast, A Sinister Flick will serve as an excellent introduction. Slickly produced potential hits include "We Are The Monsters," "Mr. Antenna," "Johnny The Torch," "Ghost Man," and "There's Always A Chance."
Peter Cooper - Opening Day (CD, Red Beet, Pop/country)
The third full-length release from Nashville, Tennessee's Peter Cooper, who has also released three additional albums in conjunction with his pal Eric Brace. And he's managed to record and release all six albums over the past five years. Cooper is one prolific guy. But rather than just release anything, Peter manages to always maintain quality and integrity in his music. He's worked in supporting roles for some big names over the years, but he's quickly making a name for himself as well. Grazing over his web site prior to writing this review, we quickly realized what a keen sense of humor this guy has. If you want some real hearty chuckles go to his web site (link above) and read the biography section...funny stuff (!). Some of the songs on Opening Day are funny as well. But, for the most part, these songs are sincere and heartfelt compositions that could easily become very popular hit recordings. The album has a nice slick sound without ever seeming overproduced or schmaltzy. Cooper's got a great voice for country/pop music, and he always manages to sound like he means the words he's singing. This album presents a man who is at the top of his game...and surely destined for even greater things in the future. Eleven expertly-crafted songs here including "Much Better Now," "Feels Like Home," "Grandma's Tattoo," and "Part Time."
Couloir - Wine Dark Sea (CD, Ravello, Classical)
Couloir is the Canadian duo of Heidi Krutzen (harp) and Ariel Barnes (cello). This, the debut album from the pair, is a strangely stark and intriguing spin. Harp and cello aren't usually played together as a duo so that sets this music apart right from the start. But the compositions themselves, as well as the way they are played, make this a wonderfully puzzling listening experience. The album is divided into three sections: "The Birds Breathe The Morning Light" composed by Jocelyn Morlock, "Drifting Seeds" composed by Baljinder Sekhon, and "A Monk, Dancing" composed by Glenn Buhr. This music is strange and magical, and it makes us wonder why harp and cello aren't paired together more frequently...? Krutzen and Barnes have started out on excellent footing here, presenting music that is precise, credible, and inventive. Destined to become a classic. Top pick.

Ernesto Diaz-Infante - At The KSE 6th Anniversary Concert (Independently released limited edition CD-R, Experimental)
We've covered music from San Francisco-based experimental recording artist Ernesto Diaz-Infante in the past so we were pleased to receive this album in the mail. This limited edition release (only 133 copies have been produced) features two lengthy tracks. The first ("Emilio Live") features Ernesto alone, playing a solo bajo sexto. The second track ("Resonance") presents music created by Ernesto and his associates Lisa Cameron and Lee Dockery. This music is truly spontaneous and experimental, so if you need things like singalong choruses and danceable beats...you probably won't understand any of this. But folks out there who enjoy the more adventurous side of music are sure to find Ernesto's music challenging and ultimately inspired. Strange stuff, to be certain.
Dog Society - Emerge (Independently released CD, Pop)
Some folks out there might remember a New York City-based band called Dog Society that released an album on the East-West/Atlantic label many years ago. After going through a self imposed exile, the band finally decided to get back together and record a second album. And thus, Emerge was born. This album has a surprisingly fresh sound, and the band's guitar-driven pop tunes are friendly and inspired. The band is comprised of Brian Schnaak (vocals), Rich Guerzon (bass, vocals), Joe Ranieri (drums, percussion), Bruce Erik Brauer (guitar, vocals), and Glenn Sherman (guitar, vocals). This band's sound reminds us in some ways of babysue favorite Redd Kross...mainly due to the driving rhythms and urgent vocals. These guys might not have hit the big time the first time around so we can only hope that they have even more success with Emerge. Twelve smart well-crafted cuts here including "Being Here," "A Good Friend," "Pink Sun," "Aleja," and "Salt." Good stuff. Top pick.

---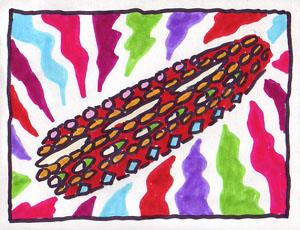 DRUGS ON THE COB
Ingredients:
50 Hits of Blotter Acid
50 Valium Tablets
20 Marijuana Joints
50 Hydrocodone Pills
10 Sniffs Worth of Molly
10 Lines of Bath Salts
50 Hits of Ecstasy
10 Lines of Crystal Meth
50 Hits of Mescaline
10 Real Juicy Cobs of Corn
1 Polite Stick of Butter
10 Perfectly Infinite Sprinkles of Salt


There's nothing better than corn on the cob, is there? That may have been the case once upon a time. But times have changed. And now there is something better. And that thing that is now better is called DRUGS ON THE COB. It's a lot like corn on the cob. But it's much, much, much better. And you can bet your very best store bought booties that every single one of your goddamn friends will want seconds. It's so easy to make, too. So easy that you hardly even have to think. Boil the REAL JUICY COBS OF CORN until they are all the way done. Remove them and dry them off with a colorful little dish towel. Now remove one of the horizontal rows of kernels from each cob and replace it with the HITS OF BLOTTER ACID (five per ear). Leaving the next row of kernels intact, remove the next row and replace with the VALIUM TABLETS (five per ear). Once again leave the next row of kernels intact and remove the one next to it. Then replace it with the MARIJUANA JOINTS (two per ear). Cooking is kinda boring and irritating so go ahead and treat yourself to one hit of acid, one valium tablet, and one joint. There now, you're starting to feel a whole lot better. Once things start kicking in, get right back to work leaving another row of kernels intact and then removing the next one. Replace the empty row with the HYDROCODONE PILLS and SNIFFS WORTH OF MOLLY (five pills and one sniff per ear). Hell, why not go ahead and treat yourself to a pill and a sniff while you're at it. After all, what's the point of cooking if you can't enjoy it...? Now stare at those ears of corn really hard so that they appear to stay real still. Leave a row of kernels once again and remove the next row. This time, fill up the empty space with BATH SALTS, HITS OF ECSTASY, and LINES OF CRYSTAL METH (one salt line, five hits, and one meth line per ear). Go ahead and treat yourself to some of each. Hell, why not? There's nothing better to do. Besides, you can always get more. Now get a big sharp knife and carve away one last line of those huge pulsating kernels. Funny, they weren't vibrating and turning different colors a few minutes ago. Oh well, that's just how corn is these days. Now insert the HITS OF MESCALINE where the row of kernels once was (five per ear). You can sit down on the floor now and stare at the ceiling for a few hours. Your guests won't be arriving until later tonight anyway. There are so many things happening all the time when none of them really make a difference in the big scheme of things. Why is the world so difficult and pointless? And why does everyone seem to misinterpret everyone else's thoughts and ideas? How can everyone be so incredibly stupid, all at the very same time? Will things ever stop moving around? And what was supposed to be happening originally today anyway? When you regain consciousness, rub each cob down with the DAINTY STICK OF BUTTER and top off with some PERFECTLY INFINITE SPRINKLES OF SALT. Serve on paper plates and provide plenty of napkins. Serves two, five, ten, a dozen, or something like that...maybe animals, maybe machines, maybe mushed, maybe perforated. Serve to anything that gets near you and invite it to stay for a very long time. There will never be a need to cook ever again after today. Remember this as you lose consciousness, never to be seen or heard from again.
---
Gordon Duthie - Multimedia Monster (Independently released CD-R, Pop)
Intriguing upbeat modern pop music from Gordon Duthie. This independently released CD-R has a really great overall sound and vibe. Duthie writes and records technology-driven modern pop that has a classic sound. But although the overall sound of these songs is strangely familiar...we can't come up with any appropriate comparisons here (?). And that is a good thing...because it usually means that the artist isn't trying to copy or ape the sound of others. This CD-R is housed in a beautiful color digipak sleeve so it looks nothing like your average independently released album. This smart fellow has managed to succeed where others fail...coming up with cool inventive tracks that will stand up to many repeated spins. Our favorite cuts include "A Simpler Time," "A Cynical Mind," and "The Music Artist."
Nathan Felix - The Curse The Cross & The Lion (Independently released CD, Classical)
Nathan Felix is a modern classical composer, but he hasn't always been. Prior to the recording of this album Felix was involved in the world of punk and indie rock. But after becoming somewhat disillusioned by the genre, he chose to switch paths...opting to try his hand at classical music. So with the release of The Curse The Cross & The Lion his dream is now a reality. Featuring six movements, this is an impressive classical composition that sounds nothing like someone trying their hand at a new musical style. And there are virtually no traces of punk or indie to be found here. This half hour disc features New York's Cine Symphony and it's got a great big sound...and plenty of complex melodies. You have to hand it to a guy who can make such a big switch in his musical universe and succeed. The album is set to be released November 5, 2013.
Jenn Fiorentino - From Darkness To Light (Independently released CD, Pop)
Instantly likable direct guitar-driven pop from Canada's Jenn Fiorentino. While this is a pop album, Jenn was inspired to make music by punk bands from the past. This may explain why she chose to present her songs simply, without unnecessary overdubs and instrumentation that could clutter her cool melodic compositions. Ms. Fiorentino writes mid-tempo pop songs that feature nice winding melodies and smart lyrics, and she's got a great voice that really grabs the listener. This is a very strong debut from a young lady who's obviously starting off on the right track. Smooth intelligent cuts include "Of Flesh & Blood," "Foreign Convictions," "Reflections On The Screen," and "Uniform Fear."
Ezra Furman - Day of the Dog (CD, Bar/None, Pop/rock)
Ezra Furman is an intriguing up-and-coming pop artist whose music has a definite edge. We went to Mr. Furman's web site (link above)...but found very little in terms of biography and background. So...all we know for sure is that Day of the Dog has just been released...and it's a refreshing jolt of modern pop/rock played without unnecessary frills. Ezra's got a cool, slightly gravelly voice that sometimes reminds us of Jeff MacDonald (Redd Kross). What strikes us most about this album is how unprocessed it sounds. We don't hear any of the generic digital effects that make everything sound homogenized here. Instead, these tracks sound very much like a real band playing (with some overdubs, of course). We really dig the slightly loose sound here...after hearing way too many artists who all sound the same lately...this album is surprisingly fresh and real. Ezra and his band The Boy-Friends are currently out touring to support this record...and our guess is that they probably put on one helluva show. Thirteen groovy cuts including "I Wanna Destroy Myself," "My Zero," "And Maybe God Is A Train," and "Cherry Lane."
Tom Goehring - A Reflected Journey (Independently released CD, Jazz)
Talk about credentials. New York's Tom Goehring has enough credentials to stretch clear around the globe ten dozen times or more. Goehring has been playing in and around the New York City area for the past two decades and is a member of Darcy James Argue's Secret Society and the Jamie Begian Big Band. He has also had four of his recordings nominated for the Charlie Parker Award / Manny Album Commission. A Reflected Journey features the jazz group comprised of Goehring (trumpet, flugelhorn), Roger Rosenberg (baritone and soprano saxophones, bass clarinet), Dave Leonhardt (piano), Matt Parrish (bass), Roy Cumming (bass), and Paul Wells (drums). The album presents four originals and five standards...and they're all rather remarkable. Goehring and his associates play with flair and finesse...and each and every member's ideas were a critical part of the recording process. Nine classy tracks here including "A Reflected Journey," "Clarion Call," "The Walkdown," and "Grazing In The Grass."

Hickoids - Hairy Chafin' Ape Suit (CD, Saustex Media, Rock/pop)
The Austin, Texas-based band Hickoids is now back in full force...with their first full-length album of new material in years. The band made a big splash from 1984 to 1991 when their music was given such names as cowpunk, white thrash, glambilly, hard-corn, psychobilly, and more. But to us the songs just sound like good solid garage rockers played with complete and total conviction. The band is driven by the voice and songwriting skills of Jeff Smith. While the band was dormant, Smith has been occupying himself by creating and running the always entertaining Saustex Media label...one of the few remaining Austin labels whose mission still seems to be presenting credible, original, underground artists. But over the years the urge to write and play took hold...and eventually the band went through several reformations before finally culminating in the current line up. Hickoids is now comprised of Tom "Tony" Trusnovic (guitar), Jeff Smith (vocals), Davy Jones (guitar, vocals), Rice Moorehead (bass, vocals), and Lance "Slowpoke" Farley (drums, gong). The long awaited Hairy Chafin' Ape Suit (which the band began discussing as far back as 1989-1990) is a fine return to form, featuring the cool, loose, aggressive country-tinged rockers the band's fans have come to know and love. You won't hear any of that trite and annoying digital perfection here. This album sounds like a real band playing real music. Ten kickass tracks including "Fruit Fly," "If Drinkin' Don't Kill Me, Kill Me" (great song title), "The Working Man's Friend," and "Mo'Hair." If you search the band name on YouTube you can find some really great live videos. The band has already began touring again in support of the album. Catch 'em if you can... Top pick.

Ice Cream Mission To Mars - Ice Cream Mission To Mars (CD, Toy Moon, Synthpop/psych/glitch/ambient)
Will MacLean impressed a lot of folks (including us) with his last band/project Variety Lights. This time he delivers what might best be described as a curve ball with the release of Ice Cream Mission To Mars. These tracks were recorded using vintage analog synthesizers. As such, the sound is strangely reminiscent of decades past when electronics hadn't advanced to the stage they're at now. We used to hear more artists delving into this territory but over the past few years that initial surge seems to have declined. Because so few folks are treading in this terrain this album will immediately stand out in the minds of listeners. This disc is short, clocking in at just over twenty-four minutes. Ten ultimately creative and inspired tracks with all the blips, bloops, thumps, and clicks that only vintage equipment can provide. Clever and cool stuff from start to finish. Our favorite tracks include "Blast Off!", "Loopteeloo," "Dr. Evermor and the Forevertron," "Sci Fi Cafe," and "Sleeping Dream Monsters."
Ironbridge - Ironbridge (CD, Angel Air, Pop)
After years and years the one and only Ironbridge album has finally been issued on CD by the fine folks at Great Britain's Angel Air label. This band was formed from the remnants of The Birds And The Bees and Fluff. Fluff released five singles prior to Ironbridge being formed. This album was the Shropshire-based band's last stab at stardom...and they almost had it. This self-titled album was very well received in France. Over the years it has attained somewhat of a cult status. Listening to this, we can't help but feel the guys in this band should've and could've had a long and rewarding career if they had chosen to stick to their guns. This album features twelve impossibly catchy pop/rock tracks that sound decidedly ahead of their time. We can hear traces of bands like Badfinger and Big Star in several of these songs. The melodies are smart and inventive, the lyrics insightful and true, and the vocals are just...outasight. This really is one of the great lost treasures out there in the world of music...and a whole new audience can now appreciate the songs of this obscure group. Kickass cuts include "Just A Day," "Making It Hard," "Simple Man," and "Shanty." This disc also includes the bonus track "Just A Day (Strings Version)." Great upbeat pop stuff... TOP PICK.

---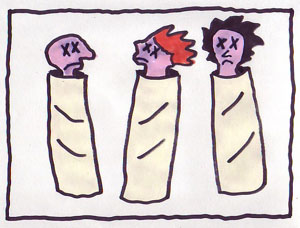 IRRITATING PEOPLE ROLL UPS
Ingredients:
1 Person Who Has No Clue About What Personal Space Means
1 Lady Who Is So Goddamn Fat She Can't Even Walk Correctly
2 Children Whose Parents Should Never Have Had Children In The First Place
1 Airhead Whose Main Mission In Life Is Pushing For Gay And Lesbian Rights
3 Wirey Old Men Who Are In Desperate Need of Baths, Haircuts, and Skin Lotion
1 Critically Obsessed College Girl Who Uses The Word Green Constantly
2 Friends Who Always Want To Be Heard But Never Want To Listen
1 Greedy Pig Who Thinks That Earning Money Is The Most Important Mission On Earth
1 Stinking Old Bitty Whose Offensive Body Odor Could Level An Entire Continent
1 Nervous Retarded Moron On The Road Who Thinks He Must Always Drive Two Or Three Inches Behind Other Vehicles
4 Aging Old Lesbians Whose Lives Are Centered Around Herbs, Prisms, and Humus
15 Big Ripe Solid Apples
A lot of Tolerant Cooking Oil
A Stack of Flat Rice Circle Things
Pepper


Even if you're not hungry, you can bet your nuts that IRRITATING PEOPLE ROLL UPS are fun as heck to make...plus they make the world a little more tolerable for the rest of us! Grab the PERSON WHO HAS NO CLUE ABOUT WHAT PERSONAL SPACE MEANS and beat it mercilessly with a meat cleaver. Place it aside. Next, place the LADY WHO IS SO GODDAMN FAT SHE CAN'T EVEN WALK CORRECTLY onto the counter and pound until it is tender. Place it aside. Now get hold of the CHILDREN WHOSE PARENTS SHOULD NEVER HAVE HAD CHILDREN IN THE FIRST PLACE. Batter them from head to toe with the meat cleaver until they stop moving. Place them aside. Now take hold of the AIRHEAD WHOSE MAIN MISSION IN LIFE IS PUSHING FOR GAY AND LESBIAN RIGHTS. Place it inside a large plastic bag until it stops breathing. Now beat with the meat cleaver and place it aside. Get your hands on the WIREY OLD MEN WHO ARE IN DESPERATE NEED OF BATHS, HAIRCUTS, AND SKIN LOTION. Beat them with the cleaver, really hard. Then place them aside. Now hold the CRITICALLY OBSESSED COLLEGE GIRL WHO USES THE WORD GREEN CONSTANTLY and push hard down upon the counter. Beat with cleaver. Place aside. Next, take the FRIENDS WHO ALWAYS WANT TO BE HEARD BUT NEVER WANT TO LISTEN. Beat them until they are tender and place aside. Now grab the GREEDY PIG WHO THINKS THAT EARNING MONEY IS THE MOST IMPORTANT THING ON EARTH. Beat and place aside. Next take the STINKING OLD BITTY WHOSE OFFENSIVE BODY ODOR COULD LEVEL AN ENTIRE CONTINENT. Wash and beat thoroughly and place aside. Now grab hold of the NERVOUS RETARDED MORON ON THE ROAD WHO THINKS HE MUST ALWAYS DRIVE TWO OR THREE INCHES BEHIND OTHER VEHICLES. Beat and place aside. Finally, take the AGING OLD LESBIANS WHOSE LIVES ARE CENTERED AROUND HERBS, PRISMS, AND HUMUS and place on the counter. Beat with meat tenderizer for one hour or until tender. Place aside. Now take the BIG RIPE SOLID APPLES and cram one inside each of the mouths of all of the above ingredients. Then place each ingredient inside one of the FLAT RICE CIRCLE THINGS and roll up super tight. Toss on a splash of TOLERANT COOKING OIL and place in a frying pan. Cook for five hours on high heat. Then sprinkle with PEPPER and...you're done.
---
B. A. Johnston - Mission Accomplished (CD, Mammoth Cave Recording Co., Pop)
Although B. A. Johnston is already an underground phenomenon in Canada, very few folks around the rest of the world seem to know him at this point. And considering what a strange character he is, you'd think with the Internet and all word would have gotten around by now. Our guess is that Johnston has mainly made a name for himself with his live shows, so that may explain the situation. Look his name up on YouTube and you'll find some really funny live videos. In concert, B.A. is something like GG Allin...minus the nudity and violence which have been replaced by funny upbeat acoustic-guitar driven songs and a totally goofy sense of humor. Running out into the audience to directly connect with listeners is an ongoing theme. The man is completely uninhibited (to say the least). If you've never heard Johnston's music before, the two themes most commonly found in his songs are television shows and fast food. And as you might guess, this makes for some rather hilarious lyrics. Mission Accomplished contains more material to delight B.A.'s continually growing base of fans. Seventeen peculiar cuts you will either love or hate. We always find something to appreciate in this man's music. He's certainly a one-of-a-kind individual...(!). Our favorite cuts here include "Get Cheque," "No Pancakes In Heaven," "Rollin On Empties," and "The Dishwasher Stands Alone."
Dave Keener - Slugger (Independently released CD, Pop)
Instantly lovable guitar pop with infectious melodies and a cool overall vibe. Dave Keener is a very busy guy. He plays in a whole handful of different bands and teaches folks how to play instruments...plus he writes and records his own solo material. Our first reaction here is that Keener's sound and style is slightly reminiscent of babysue favorite Neil Innes. The smooth thoughtful tunes on Slugger are genuine and real and there's some subtle humor threaded into the lyrics. Keener's been playing in and around the New York area since the early 1990s, and continues to host the Songwriter Deathmatch showcase there. The press release that accompanied this album mentioned several influences...but the one that sticks in our mind most is Nice Lowe. Keener's melodic insightful mid-tempo pop tunes easily recall Lowe's work, both in overall sound as well as execution. This twelve track album is chock full of classic sounds and ideas from the past, while retaining a decidedly current sound. Our favorites include "When" (this one would be a megahit in a perfect world), "Linear Larry," "Second Rate Rainbow," "Gather Round," and "All This And Heaven Too."
Jordan Klassen - Repentance (CD, Nevado, Pop)
The debut full-length release from Canada's Jordan Klassen. Even though in the very early stages of his career, this young fellow has already impressed a lot of folks with his voice and presence. His 2012 EP Kindness was an introduction to his world of music and now Repentance offers more of what Klassen's fans want. Produced by Jonathan Anderson, this album features what might best be described as orchestrated pop. These songs feature a wide array of instruments and voices and yet...the songs never get buried underneath the arrangements. Jordan's songs are smart and reflective and are anything but throwaway pop. A lot of time and energy was obviously spent recording these tunes. The attention to detail is staggering at times. Twelve intriguing tracks here including "Sweet Chariot," "The Horses Are Stuck," "Strengthen Me With Raisins," and "I Am A Collector." This album is difficult and yet ultimately friendly and familiar.
Kim Lenz and The Jaguars - Follow Me (CD, Riley, Rockabilly/pop)
This is a comeback album of sorts for Kim Lenz. Several years ago she was a rising star in the roots/rockabilly scene in the United States before opting to take a break to start a family. But now she's back picking up where she left off and her fans will no doubt be delighted. Lenz began her career back in 1998 and had two of her albums released on the Hightone label. She spent a great deal of time touring which apparently garnered her a very devoted cult following. Kim has the voice and look of a true celebrity. With her deep red hair and photogenic face, she could easily go far in the world of music. And she's got a voice that really cuts through the mix. We've heard very few female rockabilly artists over the years...and rarely have we heard a voice this credible and effective. This is a short album clocking in at just over thirty-three minutes. Twelve hot cookin' tunes here and they all hit the target. Our initial favorites include "Pay Dearly," "Whiplash," "Number One Reason," and "Trust No One."
Lo Fine - Want Is A Great Need (Independently released CD, Pop)
This album is WONDERFUL. Rarely do we have such an extreme reaction to an album on the very first spin. But after hearing Want Is A Great Need only once we can say without reservation that this is easily one of the best albums of the year. Lo Fine is the band/project created by Northampton, Massachusetts-based artist Kevin O'Rourke. This is O'Rourke's sixth release and it is indeed a pop lover's dream. Anyone who ever loved the best recordings made by Teenage Fanclub and Big Star will go apeshit over this stuff, although the material is actually a lot more mature and complex than such comparisons might imply. Kevin's influences include Fugazi, Richard Buckner, Mark Eitzel, Eliot Smith, Sebadoh, Dinosaur Jr., Pavement, Guided By Voices, The Dirty Three, Geoff Emerick, and Brian Eno...and we can hear traces of all of these (and more) in his music. This twelve song album is classic pop overall but the essence actually goes much deeper than than. These songs are smart and inspired and they have a wonderful warm vibe that will surely stand the test of time. All of the songs are knockouts...and Kevin's voice is absolutely incredible. As we're completing this review, we've already spun this one two or three more times...and it just keeps sounding better and better. Fantastic tracks include "All We Need Is Hell," "Lie In White," "Be Very Careful," "Hugo's," "My Moonlight," and "As You Turn Your Brim." This one gives us chills. TOP PICK.

Zachary Lucky - The Ballad of Losing You (CD, Missed Connection, Folk/country/pop)
Soft pensive introspective folky pop from Canada's Zachary Lucky. Clocking in at just under forty minutes, The Ballad of Losing You features ten sparse reflective tracks. The emphasis is on vocals and lyrics, and those are two areas where this man's understated music truly excels. In our current age of excess, we appreciate artists who choose to place music first (rather than technology). Because of the simple presentation, Zachary's songs come across sounding genuine and real...more the product of a man and his mind rather than a man and his computer. These songs are smart and memorable and Lucky has a cool deep voice that is magnetic and real. In some ways this man's overall sound reminds us of 1970s iconic folk singer Bert Jansch...interesting. Our favorite cuts here include "Ramblin' Man's Lament," "Salty Air," "Morning Words," and "Sun's Coming Up."
Meisha & The Spanks - Girls, Like Wolves (CD, Saved By Vinyl, Rock/pop)
We seem to be on a constant mission these days to try and locate bands and artist whose music has balls. For some strange reason music in the twenty-first century tends to be tame and gentle. Which is probably why we always have an appetite for music that bites. This month the prize for gutsy music goes to Canada's Meisha Louie because thank Heavens above...this album rocks like holy hell. Recorded at a cabin on a lake in Kananaskis, AB, Girls, Like Wolves has the spark that made so many bands from the 1990s so explosive and exciting. The guitars are loud and aggressive, the rhythms driving and sometimes explosive, and Meisha's vocals always hit the spot. This ten track album is just the jolt we needed to wake us up this month and realize there really are some artists out there who know how to make some real noise. Our favorite cuts include "Please Don't Blow," "Somethin'," "You Didn't Show," and "Girls, Like Wolves." TOP PICK.

---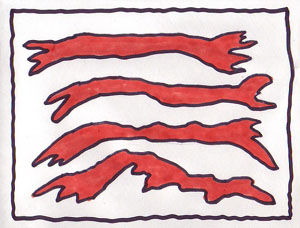 MINKY DUMPLIN'S WAGGY PUNKIN STRIPS
Ingredients:
1 cup of Frozen Hire
1/2 cup Waggy
2 pints Crawly Sass
3 quarts Puttered Meow
2 tablespoons Waaa
1 sprinkle of Teenie Li
1 Very Large Overdone Punkin
1 bottle of Prod Mush
Some Magic Swish

Long before she died on the planet edge, MINKY DUMPLIN was remembered far and near for creating some of the best eating things that was ever come up with. But there ain't no doubt that her best remembered meal was for those unforgettable WAGGY PUNKIN STRIPS. The recipe was way too damn secret for many, many years. But just some weeks ago there was some investigation somewhere that turned up the original hand-wrote recipe. And lo and behold how the skies parted and shifted, just enough so that the recipe could be shared with those arms that waved to and fro across the scarlet-like magical sky. The good news is that you don't need magic to create these strips although just a teeny tiny bit of it sure will help. Grab up your biggest fry pan and slam it on your biggest stove eye. Make sure it's right on the middle so that the heat will be evenly distributed. As the pan heats all the way up, put you in some FROZEN HIRE and WAGGY, being sure to mix it a little bit along the way. As they begin to get hot, put in the CRAWLY SASS and PUTTERED MEOW. Allow to get sizzly, even if it means some smoke goes rallying around in the neighborhood. Gently trindle in the WAAA and TEENIE LI as you begin saying different words real loud. Now comes the good part. Cut up one VERY LARGE OVERDONE PUNKIN and cut it into nice tight strips. Lay them inside the damn frying pan and gently ladle with the PROD MUSH. Then grab some different utensils and do all kinds of MAGIC SWISH everywhere in the kitchen to cause important stuff to occur. Allow the strips to cook for three minutes then serve. Allow your friends to eat. And be sure to remind them what eating really is.
---
T. Hardy Morris - Audition Tapes (CD, Dangerbird, Pop)
Up to this point in time T. Hardy Morris is best known as a member of the bands Dead Confederate and Diamond Rugs. This solo outing was recorded in Nashville, Tennessee by the Cosmic Thug duo of Adam Landry and Justin Collins. The songs on Audition Tapes have a cool loose sound that is a far cry from your average twenty-first century digital recording that has been tweaked to dull perfection. This album will find an audience that is immediately receptive to be certain...but our guess is that it will only be fully appreciated as the years go by. It will probably end up being a cult favorite, much like the first three Big Star albums. Morris comes up with nothing but winners here. These songs are presented simply without any unnecessary ingredients getting in the way of the melodies and lyrics. The wonderfully sparse arrangements allow the listener to concentrate on the subtle nuances of the melodies and Morris' voice. Songs are the main draw here however...and songs are what will bring listeners back to this one over and over and over again. This has been one great year for music...and this album is easily one of the best pop albums we've heard. Ten smart memorable cuts here including "Lucky," "OK Corral," "Share The Needle," and "Own Worst Enemy." Highly recommended. Top pick.

Mrenc - All Around Surround (CD EP, New Granada, Pop/rock)
Mrenc is the latest project created by Eric Collins who was previously in the bands Denison Marrs and The Dark Romantics. The songs on the All Around Surround EP have a sound that is instantly appealing. Mrenc is a one man project in which Collins writes, performs, produces, and records everything himself in his own studio in Lakeland, Florida. But upon hearing the urgent rockin' sounds on these tracks...you'd never know one guy was responsible for everything. Cool pop rock cuts include "The Architects," "Your Call," and "Dying Over You." An intriguing glimpse of things to come...
The Muppet Movie - Original Soundtrack Recording (CD, Disney, Soundtrack)
Things just haven't been the same in Muppetland ever since Jim Henson passed away. To celebrate the 35th anniversary of the film, the folks at Disney are reissuing the original Muppet Movie soundtrack. This CD marks the first time that this soundtrack has been made available in a digital format. As such, Muppet fans will be thrilled to add this one to their collection. The soundtrack album features ten songs from the film including "Rainbow Connection," "Movin' Right Along," "Can You Picture That?", "America," and "Finale: The Magic Store." Listeners will immediately recognize the voices as they have become a permanent part of the American audio landscape. The remastering job on this one is fantastic, making it sound like these tracks were recorded yesterday. This disc is housed in a beautifully designed slick digipak sleeve that features Kermit and Miss Piggy enjoying a relaxed moment in a boat on the cover. Hard to believe it's been 35 years (?!) since this film was first released.
Tim O'Brien and Darrell Scott - Memories and Moments (CD, Full Skies, Roots/bluegrass/country/Americana)
The long awaited second full-length release from Tim O'Brien and Darrell Scott. Way back in 2000 these guys released an album entitled Real Time that was universally praised by critics and fans. Afterward, the two went on to concentrate on their solo careers...and they've both made some amazing connections since that time (far too many to mention within the brief confines of this review). Recorded in only three days, Memories and Moments is, in a word...superb. For the most part, these tracks feature O'Brien and Scott just playing together live in the studio with hardly (if any) overdubs or fixes. As such, this album sounds very much like two real human beings playing music together and just enjoying themselves. The album includes five originals from each songwriter, one joint collaboration, and covers of songs by Hank Williams, George Jones, and John Prine. These recordings were a true collaborative effort. Even the record label name (Full Skies) is a combination of words from each individual's own label (Howdy Skies & Full Light). Even though they have solid connections to the world of the rich and famous, O'Brien and Scott don't seem inclined to follow the traditional celebrity path (i.e., they don't look or act the part). If you've grown tired of processed music and want to hear some real stuff that comes straight from the heart and soul...you won't do much better than this. Cool melodic cuts include "Time To Talk To Joseph," "It All Comes Down To Love," "Keep Your Dirty Lights On," "Free Again," and "On Life's Other Side." Highly recommended... Top pick.


Tim O'Brien and Darrell Scott - Live performance, September 21, 2013, The Franklin Theatre, Franklin, TN
We were fortunate enough to attend a special live performance by Tim O'Brien and Darrell Scott given to celebrate the release of their Memories and Moments album (see review above). Tim and Darrell made the wise decision to play at The Franklin Theatre in Franklin, Tennessee (just south of Nashville) that has been recently renovated and now features live concerts. It's a great space...large enough to hold a good crowd but small enough so that everyone in attendance has a great seat in the house. And the theater features a state-of-the-art light and sound system. Any cool artists heading through the Nashville area should consider playing this space (see link above)...it is a truly top notch venue. This show was completely sold out, which goes to show what a loyal following these two fellows have in the area. O'Brien and Scott both have made incredible connections in the music community over the past few years, having played with and/or written material for some mighty big names. On this special evening they played two lengthy sets, the majority of which consisted of material from the new album. Tim made it clear early on that the duo had opted to go kayaking earlier in the week rather than participate in the AMA festivities happening around the city. These two men are obviously playing the game by their own set of rules. They don't look or act like celebrities. But because the music speaks for itself, they probably don't have to. Scott played acoustic guitars while O'Brien switched from mandolin to fiddle to dobro with such ease that it was hard to believe any one person could be so proficient on all of these instruments. As was mentioned above, the new album was recorded mostly live in the studio without overdubs and additional accompaniment. So, accordingly, this concert featured the same...just two talented guys playing together without any backing musicians. Considering this, it was amazing what a big sound these guys have. They can both play circles around one another with lightning speed and each has a super resonant voice that listeners won't soon forget. The concert was videotaped so if you weren't there you can see the video at some point in the future on the internet. Scott mentioned during the show that the new album was mainly funded by a Kickstarter campaign so the fans played a major role in helping to get this album released. He also mentioned that they have just released a video of the tune "Keep Your Dirty Lights On," which was one of the many highlights of the evening. Tim and Darrell's material could probably best be described as roots music although it actually incorporates elements from bluegrass, country, folk, jazz, Americana, and even pop. We should note that the pair receive not one...but two standing ovations at the Franklin Theatre. And they were well deserved because these two fellows played their hearts out for the crowd. We couldn't help but think there were quite a few local artists present who were there to possibly decide what new songs they might be covering on their next albums. In addition to originals, the pair also played a Hank Williams cover, a George Jones cover, and a particularly heartfelt cover of John Hartford's "Gentle On My Mind." But the O'Brien and Scott originals were what the audience really came to hear, and they got plenty of 'em. If you think you've heard some speedy bluegrass picking in the past, you've probably never heard any two individuals who can play like these guys. When the mood hits they can play at a blistering speed. O'Brien's fiddle was another of the many highlights on this night, as well as Scott's beautiful deep voice that literally oozed with heart and sincerity. This year these guys made the wise decision to get back together to play and record after a break of about thirteen years. Folks seem even more receptive to the new album than the last, possibly because of the impressive accomplishments that both individuals have achieved over the years...or more likely perhaps because the songs are just so damn good. After the second set the men came out and performed one song as an encore. But if they'd kept on playing the audience would've stayed there all night long. They really did have their listeners in the palms of their hands the entire evening. Folks who have grown tired of the excesses of twenty-first century technology-driven music will be instantly drawn into these guys organic heartfelt sound. If you love music that pours directly from the soul, there are few artists who can provide it with such integrity and style. Our guess is that Tim and Darrell will probably continue working together on a more regular basis now. Not only because they've developed a web site specifically devoted to their act (see link above) but also because folks are almost certain to demand more of the magic that happens when these two men make music together. Top pick.

Olekranon - Danaus (Limited edition CD-R, Inam, Experimental)
Yet another bizarre mind-bending release from Olekranon. There are only one hundred of this limited edition CD-R being offered. The disc is housed in a beautifully designed cardboard foldout sleeve that features some way cool artwork by Megan Abajian. As with all Olekranon releases, Danaus is a strange spin. The tracks on this disc are not music in the traditional sense of the word. Ryan Huber (the man behind the music) uses sound like paint, creating audio landscapes that challenge the mind while providing pure entertainment. Some of these tracks have a science fiction sound...others are more subtle...while others have a gritty industrial feel. Folks either love or hate this kinda stuff. We dig everything we've heard from Huber...and this is another direct shot of his pure creativity. Eleven odd cuts including "Transfixed," "Bellow," "Danaus," and "Delicate Times."
Pistol George Warren - Hoots Deuce (Independently released CD EP, Pop)
The fourth release from Sudbury, Ontario's Pistol George Warren. The guys in this band are taking a slightly different approach from your average up-and-coming twenty-first century band. Instead of playing peculiar artsy stuff, these guys plays songs that are straight-from-the-hip...and they have a truly nifty overall retro sort of sound. The press release that accompanied this disc compared the band's music to Sly and The Family Stone, The Rolling Stones, and Yukon Blonde...all of which hold true. The band's lead vocalist has a great masculine voice that is instantly appealing and real. Six groovy tracks here. Our favorites are "High School Blues," "No Love," and "Can You Get To That?"

Howard Quilling - Dedication: The Music of Howard Quilling (CD, Navona, Classical)
This album features the complex and sometimes chilling compositions of Howard Quilling who has written over 200 pieces over the years. Rather than copy the sound of masters from the past, Quilling has his own sound and style...and some would say some of his music is slightly dischordant and peculiar. The first two compositions ("Sonata II for Violin and Piano: Shapiro" and "Sonata I for Violin and Piano: The Dahl") feature Clayton Hoener on violin and Hannah Shields on piano. These two moody pieces are somber and reflective...and the subtle nature of the recordings allows the listener to appreciate the nuances of the two instruments. "Suite for Alto Saxophone and Wind Orchestra" has a much bigger sound and is presented by the Moravian Philharmonic Orchestra with Jan Kucera conducting. This piece really shows off Howard's ability to create unusual moods and sounds. The piece also features the exacting talents of Zbigniew Kaleta on alto saxophone. The album closes with "Trio for Violin, Cello, and Piano." Playing on this piece are Amy Barlowe on violin, Bruce McIntosh on cello, and James Cook on piano. Intriguing material here. Click on the album web site (link above) for extended liner notes, study scores, and more things related to this album.
Mathew Sawyer - Sleep Dreamt A Brother (CD, Fire, Pop)
Mathew Sawyer is a British artist and musician with a different sound and style. Sawyer has previously released albums with his band The Ghosts but chose to release this album as a solo endeavor. Sleep Dreamt A Brother was written after Sawyer experienced the loss of three friends. Shortly afterward his son was born. Different people deal with the subject of death in different ways, and this fellow's words certainly come from a unique perspective. Sawyer's music has somewhat of a medieval sound. The songs are sparse and slightly odd...very subtle and yet they manage to perfectly get the ideas across. This is a different sort of album with a different perspective as well as a different overall sound. Not only do we love this guy's music but we also get a major charge out of his paintings (click on link above to see examples). This artsy album may not be for everyone. But folks who appreciate what this guy is doing are bound to become fans for life. Reminds us slightly of later releases by The Television Personalities, except the music and lyrics are much more intellectual. Groovy tracks include "New Bird To Be," "The Forgetting Head," "Another World," and "How To Work" Peculiar, reflective, and ultimately very smart. TOP PICK.

Scary Cherry and the Bang Bangs - Girl (Independently released CD, Pop/rock)
Fresh bouncy modern guitar pop/rock that's driven by glitter and punk vibrations. Scary Cherry and the Bang Bangs is the Dallas, Texas-based trio comprised of Scary Cherry (lead vocals), Tony Coke (lead guitar), and Minx the Jinx (guitar, bass, keys). According to the band's web site, this album is "...a raw, sometimes disturbing, but ultimately empowering journey through the eyes and life of a girl." But if you think that means you're going to have an artsy experience here, think again. These three individuals rock out like holy hell on Girl. The songs are, for the most part, buzzsaw pop/rockers played with intensity and wild energy. But the band isn't afraid to throw in some curve balls as well. Most notably, the sixth track ("Cut Off Your Head") sounds very much like an outtake from a Betty Boop cartoon (?!!). We love these folks' sound, style, energy, and image (the band photos in the booklet are grrrrreat...they kinda remind us of The G.T.O.'s...). We're always on a search for bands with a major league punch...and this band DELIVERS. Well-crafted ultra catchy rockers include "I Don't Wanna," "Glitter," "Crazy Jane," "Anita 69" (this one's crazy intense!!!), and "Frankie 45." Way fun ballsy stuff. Top pick.

simakDialog - The 6th Story (CD, Moonjune, Progressive jazz/rock)
We should first mention here that this is not a typo...the band name actually is simakDialog (one word with no capitalization of the first letter and capitalization on the "D"). It's taken the guys in this band a while to record the follow up to their well-received 2009 album Demi Masa...but it was worth the wait. Fans will be highly rewarded by these recordings. These musicians play modern progressive jazz/rock that glides and weaves around all over the place and back. The playing is precise and meticulous...and the compositions feature plenty of peculiar time signatures and unexpected twists. simakDialog is comprised of Riza Arshad (Fender Rhodes electric piano, acoustic piano, synth, soundscapes), Tohpati (electric guitar), Adhitya Pratama (bass guitar), Endang Ramdan (Sudanese kendang percussion), Erlan Suwardana (Sudanese kendang percussion), and Cucu Kurnia (assorted metal percussion). The folks at Moonjune continue on their mission to expose the world to credible new progressive band that might otherwise never be heard by a larger audience. This spellbinding album contains nine intelligent cuts including "Stepping In," "What Would I Say," "As Far As It Can Be," and "Ari."
Sunday Guts - Leave It Go (Independently released cassette EP & download, Pop)
We've actually spinning a CD-R that was kindly provided by the band, but this EP is actually being offered as an independently released cassette (that includes a "special cassette rewind tool" which is actually a hexagon pencil...hyuk hyuk!) and as a download (link above). Sunday Guts is the Bethlehem, Pennsylvania-based duo comprised of Billy Kilgannon (vocals, guitar, programming) and Victor Berger IV (bass, vocals, keyboard). The two have been involved in various bands over the years so at this point they have a sound that is distinct and focused. Four cool underground pop songs here with a heavy emphasis on melodies and arrangements. Super catchy stuff with substance. We can't help but think that a full-length release might be in the works for these two talented artists in the near future. Our favorite cuts include "Alone In My Principles" and "Edge of the Universe."
Tadzio - Queen of the Invisible (Vinyl LP, Edible Onion, Progressive/modern classical)
The folks at Edible Onion are quickly becoming important notables in the undercurrents of music in the United States. Every time we receive something from this label it is always rather remarkable and brilliant. And we never know quite what to expect because the label doesn't seem to have an exact sound. The roster tends to go all over the map and back. Tadzio is the duo of vocalist/violinist Mandy Katz and pianist Ross Lipton along with assistance from Darian Scatton, Sean Ali, Jeff Russ, Benjamin Schurr, Etienne Rigo, Gabrielle Smith, Sam Parry, and Darian Scatton. We can think of few reference points to describe this music. The only possible comparison that comes to mind is Slapp Happy and Henry Cow, two bands that we've always loved although they remain almost completely obscure and unknown. Queen of the Invisible features five strange tracks that you won't be hearing soon on any commercial outlets...but don't let that scare you away. This stuff is truly creative and inspired and is a far cry from what the average listener is accustomed to hearing out there in the often dismal world of commercial music. And now a word about the packaging... This cover of this vinyl LP is nothing short of fantastic. Completely free of words, the cover is a die cut image of trees with the inner sleeve providing the rising (or setting) sun in the background. And the album is pressed on ultra thick vinyl which makes it feel like an old album from the 1960s. Beautiful magnetic music that's coming from a completely different universe. Beautiful, well-crafted, and unique... Top pick.

Third Of Never - Downrising (CD, Jam, Pop)
New Jersey-based band Third Of Never is comprised of Jon Dawson (guitars, percussion, keyboards, xylophone, drums), CJ Grogan (vocals, guitars, keyboards, piano), Vince Grogan (bass), Mike Polilli (drums), and Kurt Reil (vocals, guitars, keyboards, percussion). The songs on Downrising immediately reminded us of The Grip Weeds before we began reading about the band and realized why...the band has direct ties to the band (the band includes current/former members and was recorded at the Weeds' own House of Vibes recording studio). There's a lot of material to take in here. This thirty-nine plus minute album features fourteen catchy melodic pop rockers...and they all stick in the mind like mental glue. These tracks are chock full of smart lyrics and cool vibes...and should appeal to just about anyone who loves totally groovy guitar pop. Kickass cuts include "Phaedra," "Green Roses," "So Long," and "On My Way."
Pat Todd & The Rankoutsiders - 14th & Nowhere... (CD, Rankoutsider, Rock/pop)
Pat Todd is known to most as a member of the critically acclaimed Los Angeles, California-based band The Lazy Cowgirls. The band released material on cool underground labels like Crypt, Bomp!, and Gearhead...before eventually disbanding. Too bad, because so many folks seemed to be behind what they were doing. Well never fret, dear friends...because lead vocalist Pat Todd continues the grand tradition with his new band The Rankoutsiders. Produced by Earle Mankey (we're big fans of this guy), 14th & Nowhere... is one nice big slice of gripping guitar-driven rockin' pop. Todd's been around making music for many years and yet...from the urgent cool sound of these tracks you'd never ever know it. This album has all the fresh energy of a band that's just learned to play...and those instantly identifiable vocals sound as great as ever. The band is comprised of Todd (vocals), Nick Alexander (guitar, vocals), Kevin Keller (guitar, vocals), Keith Telligman (bass), and Bob Deagle (drums). This killer no-frills album features fifteen kickass cuts including "Carry'n A Torch," "Back To The Wind," "Dirty Thoughts & Busted Hearts," and "The Ambulance Is Here." Neat rockin' stuff with balls. Top pick.

Narada Michael Walden - Thunder 2013 (CD, Tarpan, Rock/pop/funk)
Narada Michael Walden is one busy man. He's a producer, a songwriter, an instrumentalist, and also runs his own record label. Walden got his start many years ago replacing drummer Billy Cobham in the Mahavishnu Orchestra when he was only nineteen years old. Since that time he has produced and worked with an astounding array of well-known musical artists from all over the globe. Thunder 2013 was inspired by Walden's recent involvement with the Jeff Beck Band on their recent two year tour. The album combines elements and sounds from rock, pop, soul, and funk into a modern rockin' mix that should appeal to a wide range of listeners. This fifteen track album spins like a best of collection, with each and every song sounding like a potential single. These tracks have a huge polished sound and feature some of the best players in the business such as Nikita Germaine, Frank Martin, Angeline Saris, and Matthew Charles Heulitt. If in the past Walden has mainly been known as a supporting artist, this album will probably be the one that changes all that. Well-crafted cuts include "Thunder," "Shirley Mae," "We Belong Together," "Don't Wanna Let You Go," and "Power."

Wise Girl - You'll Just Have To Wait (Independently released CD, Pop)
Nice snappy upbeat effervescent guitar pop from New York's Wise Girl. After releasing a well-received self-titled EP, the folks in this band didn't wait very long to release this, their debut full-length album. You'll Just Have To Wait is a straight dose of highly melodic power pop, played with guts and style. These groovy songs remind us of the mid- to late-1990s when guitar bands with female vocalists seemed to be dominating the college radio circuit. This band is comprised of Abby Weitz (vocals), Chris Fasulo (guitars, bass), and Harry Keithline (drums, percussion). This album features songs that stick in the head like glue. And Weitz has a voice that you won't soon forget...her voice is absolutely captivating and spot on at all times. Add some totally groovy fuzzed out guitars and infectious rhythms...and you've got a band that's bound to turn on popaholics all over the globe. If you like feelgood guitar pop, you're bound to dig this one. Though this is a short album that clocks in at just over thirty-five minutes, in that amount of time these three musical artists prove they are a real force to be reckoned with. All ten tracks rock like holy hell, but our initial favorites include "You'll Just Have To Wait," "I'm A Freak," "I'm Not Ready," and "Wishful Thinking."
The Worthless Son-In-Laws - No. 8 Wire (CD, Orchard Hill Media, Pop)
We've been fans of North Carolina pop bands for years...so we weren't too surprised to find what a groovy sound and vibe the folks in The Worthless Son-In-Laws have. Produced by Mitch Easter (quite possibly our favorite North Carolina pop artist of all time), No. 8 Wire presents twelve smart melodic pop cuts delivered with integrity and style. This is the band's second release and it's a keeper. Unlike much modern pop music, these songs are not driven by technology. Instead, they are driven by chords, melodies, lyrics, and simple arrangements that are a perfect fit for each individual song. The band is driven by the songwriting skills and voice of Jimmy Davidson, a fellow who has a real knack for coming up with memorable melodies...plus he's got a great voice. The songs on this album sometimes recall classic artists from the past like Chris Stamey and Fountains of Wayne...without ever sounding too much like either. The best thing about this album is that the songs grow on you over time. We liked the music on the first spin. But by the fifth or sixth spin we found ourselves really being drawn in by these tracks. All twelve songs hit the target but our own particular favorites include "All Your Might," "And Now For The Good News," "New York Times," and "Still Life With Cake." Cool resilient stuff that will stand the test of time.
A
A Clever Con - Mannequin love part I
James Adler & Friends - James Adler & Friends
Africa - Original television soundtrack
After Earth - Original motion picture soundtrack
A Good Day To Die Hard - Original motion picture soundtrack
Aina Haina - Aina Haina
Alias Means - Light matter
Verden Allen's Soft Ground - Love you & leave you
Allusions - Evocative chamber works
BJ Anders and The Buccaneers - BJ Anders and The Buccaneers
Angry - Wild ox shangri-la
AnnaLee - Gatsby's green light
Animals At Night - Animals At Night
Aoede - Is love a fairy tale?
Apple Dot - Dot the dot
Aquarotten - Aqua is a rotten color
Architect - A chamber opera
Arjun - Space
David Armo - Poets on the wall
Mike Arroyo Jazz Organ Trio - Full circle
A.S. - Exile
Ayala Asherov - Cycls of the moon: Chamber works
Dave Askren & Jeff Benedict - It's all about the groove
Badi Assad - Between love and luck
Aurah - Summon the sky
Avengers - On a mission
B
Bachmann, Kreimer, Graves, Wilsey - The july amalgam
Steven Bakur - Sooner than later
Bardo Pond - Peace on venus
Matt Barron - Matt Barron
Offiong Bassey - Offiong Bassey
Beekeeper - Shout at people
Lilly Bell - Try to tune the goddamn thing
Rusty Belle - Common courtesy
Jeff Berlin - Low standards
Brandon Bernstein Trio - But beautiful
Robin Bessier - Other side of forever
Big ol' Nasty Getdown - Volume 1
Big Sandy and his Fly-Rite Boys - What a dream it's been
Mary Black - No means no: Going nowhere (book)
Black Watch - The end of when
Jacob Blazer - I am Jacob
Jason Blum - Radio dial
Bolts - Wait 'til we're young
Bone of Contention - Bone of Contention
Megan Bonnell - Hunt and chase
Philip Boone - A light and a line
Greg Boring - Heavy syrup
Boss - Original television soundtrack
George Bouchard Group - Listen to your dreams
Brand New Trash - Brand New Trash
Breadwinter - Breadwinter one
Breaking Laces - Come get some
Del Bromham - Nine yards
B'Shnorkestra - Go to orange
Dewa Budjana - Dawaii in paradise
Burning Condors - "Love On The Rocks" b/w "Folsom Prison Blues"
Burning River Gamblers - To color a fool
C
Cable Car - Ride
Alan Callahan - Shower of grace
Camera - The panic and the permanence
Brooke Campbell - The escapist
Rob W. Carlson - You better call someone
Marc Carroll - Stone beads and silver
Shuana Case - Some kind of fairytale
Glenn Cashman's Southland Nonet - Music without borders
Steven Casper & Cowboy Angst - Trouble
Catbirds Say Yeah - Catbirds Say Yeah
Raquel Cepeda - I'm confessin'
Chapin Sisters - A date with the Everly Brothers
Chapter One - Chapter One
Cherry Bluestorms - Bad penny opera
Chestnuts Roasting On A Stove - Dumb nuts
Chicago Arts Orchestra - Al combate
Kyong Mee Choi - The eternal tao: A multimedia opera
Chronos Band - Boots the cat
Churchwood - 2
Citadel Besieged - Creation/damnation
City of Prague Philharmonic Orchestra - The film music of Howard Shore
Clara May - American desi
Nels Cline / Elliott Sharp - Open the door
Coal Men - Escalator
Coals - A happy animal
Coastwest Unrest - High times on lowly streets
Preston Cochran - Stumble into tomorrow
Paul Colilli - Hieroglyphs of the soul
Como Asesinar A Felipes - Comenzaras de nuevo
Convergence - The music of Stewart & Gershwin
Ryan Cook - Wrestling with demons
Copernicus - Worthless!
Copernicus - L'Eternite immediate
Copper Gamins - Los ninos de corre
Copper & Glass - Copper & Glass
Larry Corban - The circle starts here
Laura Cortese - Into the dark
Cosmic Suckerpunch - Breathe
David Courtney - Midsummer madness/Shooting star
Crankshaft and the Gear Grinders - What you gonna do?
Crashdollz - Crashdollz
Blair Crimmins and the Hookers - Sing-a-longs
Cross Connection - Selected works of Henry Wolking & James Scott Balentine
Crummy Band - This is the life worth dying for
Michael C. Cunningham - Gallry
Cuscino - Eternality
D
Dances of Eternity - Works for orchestra
Dangfly - Good luck, curiosity
Jason Daniels - Dashboard visions and rearview reflections
Dark Lark - Dark Lark
Lizzie Davis - Latitudes
Voo Davis - Vicious things
Dear Dumb Diary - Original motion picture soundtrack
Death Songs - Sung inside a house
Deckchair Poets - Who needs pyjamas?
Robert DeGaetano - DeGaetano concerto No. 1, Chopin concerto No. 1
Donna De Lory - The unchanging
Rick Devin - Old school 2: Rock hits of the 60s & 70s
Dialeto - The last tribe
Diemakers - Detroit recordings
Digital Noise Academy - Synemy
Dim Past - Black dolphin
Dio - Finding the sacred heart: Live in Philadelphia 1986
Doctor Who - The Krotons
Dolls On Fire - Ladies and gentlemen...
Sarah Donner - Fossil of girl
Dorothy Doring and Phil Mattson - Compositions by Duke Ellington and Billy Strayhorn
D.P. - While we're still young
Dream Logic - Dream Logic
Drgn King - "Holy Ghost" b/w "Son of Wolfman"
Gordon Duthie - Shire and city
Mia Dyson - The moment
E
Eggs Are Eggs - Drippy thugs on corn
Eksi Ekso - Archfiend
Amos Elkana - Casino umbro
Electric Shepherd - The imitation garden
Elf Power - Sunlight on the moon
Holly Elle - Leopardess
El Perro Del Mar - Pale fire
Emperors of Wyoming - Emperors of Wyoming
Richard Tyler Epperson - Falling between the stars
Glenn Eric - Blanket of stars
Escuela - Are we rolling?
Gene Ess - Fractal attraction
Every Day Is Picture Day - Every Day is Picture Day
F
Fabulous Rudies - Labor of lust
Faco - Em si bemol
Fat Opie - Victoryville
Stephen Fearing - Between hurricanes
Felsen - I don't know how to talk anymore
Julian Fernandez - Mi conciones
Michael Feuerstack - "Shadow" b/w "Wolves"
Fights - The formal institute of great hit tunes
Fletcher - Open arms
Focus Features 10th Anniversary - A collection of film score
Lisa Forkish - Bridges
Olivia Foschi - Perennial dreamer
Josephine Foster - Little life
Josephone Foster - I'm a dreamer
Fred Fried and Core - Core Bacharach
Further To Fly - Wave mechanics union
Fusion - Till i hear from you
Fussy Fussy - How many things can go?
G
Holly Gentry - So much more
Georgia's Horse - Weather codes
Susie Glaze & The HiLonesome Band - White swan
Go Around - Restating the question
Mac Gollehon - La fama
Good Intentions - Travelling companion
Go Time! - Tight like wood
Jess Grant - Innocent invader
Grassmarket - You are for the ocean
Great Divide - Great Divide
Grisley Hand - Country singles
H
Gregory Hall - Composition improvisations from the mysteria, vol. 1
Halle & The Jilt - Three roads home
Ryan K. Hamlin - Run
Kyp Harness - The wrong way
Harris Group - Errands
Rebecca Harrold - The river of life
Kathleen Harkard - Where the land meets the sky
Haunted West - Postlude
Haymaker - Now now now
The Heat - Original motion picture soundtrack
Joe Henly - The fall comes early
Henry Wagons - Expecting company?
Pamela Hines - 3.2.1.
Hissing Makes Us Hissy - Hisses
Dillon Hodges - Rumspringa
Holy Folk - Motioning
Home By Hovercraft - Are we chameleons?
Honey Island Swamp Band - Cane sugar
Dan Hubbard - Livin' in the heartland
Hunter - Pressure
I
Il Sogno del Marinaio - La busta gialia
Inside Insects - How we done got ate up
Intestines - The force is forceful
Invader - Original motion picture soundtrack
Dan Israel - Live on
Issy Missy Pissy Woss - Widdle biddle noodle poodle
It Men - Greatest its
J
The JAC - I see things differently: Greatest Xmas Hits Vol. 1 2001-2012
The JAC - Record store
Jackpot Donnie - Mayday!
Craig Jackson Band - Sweeter songs
Jim Jacobi - If the show fits...
Brendan James - Simplify
Jeepers Jeepers - The whopper in my panties
Alan Jeffries - Coffee 'til midnight
JLStiles - Presents house of murmurs
Lynn Jolicoeur and the Pulse - World behind your eyes
Shawn Jones - Struggle makes you stronger
Jumpy Jerks - Jumpy on the beddie bye
JZ's Bobo Truck - Baddest in the binto-box
K
Red Russell Kamp - Night owl
Judy Kang - Judy Kang
Brendan Kelley - Quicksand
Lili Kendall - Beginnings
Stan Kenner - The behavior of vibration
Killigans - Another round for the strong of heart
Kine - Meditations in april green
Kinky Boots - Original Broadway cast recording
Aarison Kirby - Aries
Lee Koch - Whole heart
Zack Kouns - The Deacon family tree
Gerald Krampl - Wonder way
Levi Kreis - Imagine paradise
KuKu - Dumma kawwa muh kookoo
L
Shannon Labrie - Just be honest
Lady Antebellum - Own the night world tour
Lady Antebooboo - Own the day tiny tour
Dave Lalama Big Band - The Hofstra project
Daniel Lantz Trio - Plays Bond
Lapland - Lapland
Las Kellies - Total exposure
Late Cambrian - Peach
Juan Sebastian Lach Lau - Islas
Kait Lawson - Until we drown
Lead Mule - Lead Mule
Aaron Lebos - Reality
Lee Boys - Testify
Pat LePoidevin - American fiction
Jim Libby - Made in USA
Life of Pi - Original motion picture soundtrack
Lift - Lift
Lily - Life of Lily
Frances Livings - The world i am livings in
Elisa Lovelie & The Device - Undertow
Loves It - All we are
Loveskills - Multiplicity
John LT - Suburban superstar
M
M1, Brian Jackson, & The New Midnight Band - Evolutionary minded
Doug MacDonald Band - Mr. bones
Andy Macintyre - Ruby
Brad Mackeson - 1945
Madlife - 21st century megalomaniac
Mad Men On The Rocks - Music from the television series
Madonna & Rose - Bank cormorants
Magic City - Songs and score from the series: Score by Daniele Luppi
Tim Mahoney Band - Shine through
Anya Malkiel - From the heart
Mike Mangione & The Union - Red-winged blackbird man
Marbin - Last chapter of dreaming
Marina - Believe in love
Adam Marsland - The owl and the full moon
Bex Marshall - House of mercy
Michael Mauldin - The last musician of UR
Alison May - Earnest keep
Ian McFeron - Time will take you
Stephen McQuarry Trio - Azure
Memory - Electric city
Michael and the Lonesome Cowboys - Bottle cap sky
Midas Fall - Wilderness
Gabriel Minnikin - Parakeets with parasols
Mission Dorado - Yannash nahollo
Mood Indigo - Symphonic music of Erik Lotichius
Carol Morgan - Retroactive
Tom Morgan - Orange syringe
Morningbell - Boa noite
Moto Perpetuo -Moving works for cello
Moxi - In my dreams
Muy Cansado - Let it go
Myopic - We were here
Myrasky - License II love
N
John Nagle's Distractions - John Nagle's Distractions
Ned Van Go - Lost in the trouble
Neighbours - Prime numbers
New Day Dawn - Rise above this
New Standards - Sunday morning coming down
Karen Nielsen - Woman
Ninners are for Ninners - Something for dinner
NocturnalSol - In this together
No Escape For The King - 13 fjords
Nova - Socikety of composers, Inc.
Nowherenauts - Warned you
O
Robin O'Brien - Dive into the end of the world
Ocean Floor - Falling star castle
October Gold - Bridge of the sun
Kanji Ohta & The Jazz Family - Kanji Ohta & The Jazz Family
Onoono - Yokoyoke
Oops - See daisy
Orflop - Bannie toe wishes
P
Paper Beat Scissors - Tendrils live at St. Matthew's Church
Paper Bird - Rooms
Paperhaus - Lo hi lo
Para Vista Social Club - Scott & charlene's wedding
Charlie Parr - Barnswallow
Matthew Patrick - Blue sun
Rodney Patterson - Love > fear
Nick Peay - Feathers & fables
Perceptions - Points of oview for small ensemble
Dan Phillips BKK Trio - Bangkok edge
Chris Picco - The beach
Pickled Okra - Sounds like chicken
Garrett Pierce - City of sand
Patrice Pike - The calling
Paul Pierce Project - Pierce my heart
Pine Barons - Pine Barons
Please Please Me - Shake a little harder
Pint of Pint - How to quart the quart
PLS PLS - EP EP
Kevin Presbrey - Dust unto dust
President Lincoln - The sinking of the President Lincoln
Pretty Little Demons - Flowers
Brianna Lea Pruett - Gypsy bells
Mark Andrew Pudas - Mark Andrew Pudas
Q
Quick & Easy Boys - Make it easy
Quiet Parade - Old haunts
Q utt - Bras for no one
R
R.A. The Rugged Man - Legends never die
Red Dawn - Original motion picture soundtrack
Redmond Langosch Cooley - Compared to what
Red Sammy - These poems with kerosene
Dulcinea Renee - Smoke and mirror
Rosonance - Introductions
Edward Ricart / Tim Daisy - Yiu ja ley
Marga Richter - Poetic images beyond poetry
Fimbombante - Maria has lost her soul
Troy Roberts - Nuu-jive 5
Rob Roper - The other side of nowhere
Rockabye Baby - Lullaby renditions of Blur
Rockabye Baby - Lullaby renditions of Muse
Rockabye Baby - Lullaby renditions of Rush
Peter Rodocker & So It Is - We're still here
Arrica Rose & The . . . 's - Lucky
Rose Phantom - Abandon
Rumper Rump - How to dump the rump
Run 8 Rider - Tenderfoot
S
Arian Saleh - Undone
Sasha's Bloc - Melancholy
Micky Saunders / Dan Susnara - Known & better tomorrows
Save The Date - Original motion picture soundtrack
Garrett Sawyer - Chronicles and vanity
Martin Schlumpf - Streams
Marcus Schwartz & Monvelyno Alexis - Vo-duo nou la
Scott & Charlene's Wedding - Two weeks EP
Andy Scott - The solo singles
Eric Scott - Where the water runs deepest
Ridley Scott - Music from the films of Ridley Scott
Second Wind - Eudora
Secret City - Secret City
Seven Psychopaths - Original motion picture soundtrack
Shakespeare's Memory - Shakespeare's Memory
Sideman Sez - A Rob Loyot project
Sidleys - Bittersweet
David Sills - Blue's the new green
Silver Linings Playbook - Original motion picture soundtrack
Keaton Simons - Beautiful pain
Skiggy Rapz - Satellites
Sky Thing - Virgin Journalist
Helen Slater - Myths of ancient Greece
Slowpoke - Slowpoke
Smith III - Diamond in a rock
Smoking Flowers - 2 guns
Snitch - Original motion picture soundtrack
Alex Snydman - Fortunate action
Spellbound - Captivating works for orchestra and large ensemble
Spiral System - Be
Andrew St. James - Doldrums
Jeffrey Stadelman - Messenger and other works of Jeremy Stadelman
Stand Up Guys - Original motion picture soundtrack
Star & Dagger - Tomorrowland blues
Star Trek - Music from the video games
Steel Cranes - Ouroboros
Heather Stewart - What it is
Stomacher - Clara
Stone Foxes - Small fires
Straw Dogs - No dividing line
Nora Jane Struthers & The Party Line - Carnival
Sugarman - After the blackout
Summarily Dismissed - To each!
Summer Hours - Closer still
Sunshine - Sunshine
Super Zeroes: Get Awesome - Soundtrack and movie
Swallows - Witching & divining
Phil Swann - Age of opportunity
Patrick Sweany - CLose to the floor
Amber Sweeney - The starting line
Sweet - Live at the marquee 1986
Sweet Honey in the Rock - A tribute
Sweet Knievel - Collapsible
T
20 Something - 20 Something
2 The Nines - Oblivion
Aly Tadros - The fits
Tapestry Ensemble - New York moments
Teen Beach Movie - Original soundtrack
These Animals - Pages
This Is Thunder - 10" Vinyl EP
Thornwill - Requiem for a fool
Thought Transfer - Light my way
Tomfun Orchestra - Earthworm heart
Jay Trainer Band - Jay Trainer Band
Chandler Travis Three-O - This is what bears look like underwater
Joe Treewater - The ice cream social
Nicholas Tremulis Orchestra - For the baby doll
Tune Into My Mind Radio - A tribute to multi-talented vocalist Kelly Keeling
Two Hours Traffic - Foolish blood
U
UFU - Mozie
Ugly Guys - Lost in the badlands
Unscratchable Itch - A tribute to little fyodor
Universe - Chances
Up The Up - Down down down
Urp - Slop it up with a mop
V
Bobby Jo Valentine - Home
Various artists - Made IN Iceland VI
Various Curelties - Various Cruelties
Jacob Varmus - Terminal stillness
Ray Vaughn - Way down low
Voices of Earth and Air - Works for chorus
Thisbe Vos - Under your spell
Vulnerable - We're not
VYIE - Nightingale
W
Tim Warfield - Jazzy christmas
Way Back - Way Back
Weaver At The Loom - Before now was then
Hope Wechkin - Leaning toward the fiddler
Whitewater Ramble- Roots & groove
Widowmaker - Widowmaker
Wig Party - Glass girls
Ira Wiggins - When freedom swings
Wiggy's Popo - Flowers for Wiggy's Popo
Wiseguys - Scallywags
Sterling Witt - Sterling loves U
Words In Flight - Words In Flight
Rustsy Wright Band - This, that and the other thing
X
XXX Means Dull - Pornography stinks
Y
Yacht Rock Revue - Yacht Rock Revue
Young Sinclairs - You know where to find me
Your Future Lovers - Eat. play. leave.
Yup - Nope
Z
Zamora Rose Project - Stand true
Zeezee - Weewee
James Zollar - It's all good people
Chris Zurich - Black ink
Zzinn - Wullywoo