May 2013 Comics, Recipes, and Reviews from


aka




*Top Picks =
Anchoress - Set Sail (CD, Defiled Under Music, Hard rock)
Loud abrasive hardcore thrash played with so much intensity that you'll think you're reliving the 1990s all over again (!). Anchoress is the Vancouver, Canada-based quartet comprised of Rob Hoover (vocals), Keenan Federico (guitar), Ricky Castanedo (bass), and Chris Lennox-Aasen (drums). Set Sail is an assault on the senses. No generic limp-wristed twenty-first century technology crap here. These guys play real instruments...and they play them like the world's going to end at any given minute. This debut album is not for the faint of heart. The band plays fast and loud...and vocalist Rob Hoover has a growly scream that sounds like no one else. When you consider how much anxiety and anger there is in the world now...it seems peculiar that there aren't as many loud aggressive bands as there once were (?). These guys must put on one helluva incredible show...they've got the chops, the attitude, and the balls to drive fans into a heated frenzy. Intense rockers include "Murder In The Sky Over Burnaby," "Zombies On A Plane," "Foul Bay," and "Grease Fire." Mighty wild stuff...whew...
Bad News From Houston - In the Valley of the Cloudbuilder (CD, Post-Consumer, Progressive/experimental/modern classical)
This is a puzzling release that's not easily defined or put into categories. Our first inclination was to describe this as progressive or experimental (which are both appropriate in many ways)...but then we began to wonder if this might more accurately fit into the modern classical category (?). Doesn't matter...because whatever genre this fits into...this is some intriguing credible stuff that's sure to puzzle and entertain. Bad News From Houston is the duo of John Dieterich (Deerhoof) and Thollem McDonas (TSIGOTI). Appropriately released by the fine folks at Post-Consumer, In the Valley of the Cloudbuilder is a bizarre listening experience. But even though these songs are experimental in nature...they are surprisingly listenable and inviting. This thirty seven minute disc is chock full of strange sounds and perplexing audio avenues. We can't come up with any possible artist comparisons here (?). Ten intelligent cuts including "Red Dirt Meet," "Changery," "Middle Man Problems," "Invisible River," and "Mile HighDesert Meadow Tea." Recommended. Top pick.

Beams - Just Rivers (Independently released CD, Pop)
The debut full-length release from Toronto, Canada's Beams. This is a rather large band comprised of seven members: Anna Mernieks, Keith Hamilton, Martin Crawford, Heather Mazhar, Dave Hamilton, Craig Moffatt, and Mike Duffield. The songs on Just Rivers have a nice organic sound and feel...and they're purely driven by smart lyrics and heartfelt vocals. Mernieks is the chief songwriter in the band...and she has an impressive ability to come up with cool flowing melodies and words that seem to come from a genuinely personal place. We particularly like the overall sound of these recordings (courtesy of producer Peter J. Moore)...these tracks have a sound that harkens back to the 1970s and 1980s...before everyone started making recordings that sound way too trebly. The folks in this band are playing a style of music that is somewhat reminiscent of lots of other bands and yet...there's something undeniably different about their music. It could be the inherent sincerity and direct delivery. Twelve well-crafted cuts here including "Be My Brother," "Let's Not Keep It Open," "I'm Not Human," and "End of the Bar."

Blue Cheer - Rocks Europe (Double CD, Rainman, Inc., Rock)
Talk about a release that is aimed at a specific audience... Many folks credit Blue Cheer as the 1960s band that probably best laid the groundwork for the entire heavy metal genre that followed. What a lot of folks probably don't know (and we have to admit that includes us)...is that the band continued on playing for the next four decades (!). This CD presents the band's final concert recorded for the Rockpalast TV show in Bonn, Germany on April 11, 2008. Dickie Peterson, Andrew "Duck" MacDonald, and Paul Whaley were absolutely on fire that evening...so it seems fitting that this should be their final complete show playing together. This must've been one helluva loud concert...because when you turn up the volume you can really feel the overdrive on those guitars. In addition to the entire concert performance, this double disc set also includes two previously unreleased studio tracks ("Alligator Boots" and "She's Something Else"). This is an absolute must for Blue Cheer fans. Instead of sounding like a band past it's prime...these guys play with true intensity. Turn this l'il sucker up loud...
Eric Brace & Peter Cooper - The Comeback Album (CD, Red Beet, Pop)
We were impressed by the last album we heard from these guys (You Don't Have To Like Them Both). Since that album was released, Eric Brace and Peter Cooper have been spending their time touring the United States and Europe...and they even produced a children's album that earned them a Grammy nomination. Now they're back doing what they do best. The humorously-titled The Comeback Album is chock full of smart country flavored pop songs with a heavy emphasis on melodies and smart lyrics. There's so much schmaltz coming out of Nashville, Tennessee these days...so it's truly refreshing to hear stuff coming from Music City that is genuine and truly inspired. This twelve track album features nine originals and three covers of tunes by Tom T. Hall, Karl Straub, and David Halley. There are several original tracks that could easily become hugely popular hits...not the least of which is the opening track "Ancient History"...which lists numerous people and places that are known by names other than their own. Our favorites this time around include "Ancient History" (of course), "Ponzi Scheme," "Johnson City," "Kissing Booth," "Boxcars," and "Sailor." Cool heartfelt music played with passion and style...
The Call - Original Motion Picture Soundtrack: Music by John Debney (CD, Lakeshore, Soundtrack)
The Call is a new film starring Halle Berry who plays a 911 operator who answers a call from an abducted girl and then has to confront a killer from her past to save the girl's life. This, the soundtrack music for the film, was composed by John Debney who does an excellent job of creating music that is thrilling and full of suspense. Debney is probably best known as the man who created the music for Mel Gibson's The Passion of the Christ (which was nominated for an Academy Award). Lots of technology was involved in the creation of these compositions...and the precise attention to detail is obvious. There's over an hour's worth of material here spread across these twenty-two tracks. This can either be appreciated as the companion to the film...or just enjoyed on its own merits as a quality recording. Exciting tracks include "Intruder," "He Switched Cars," "The Cabin," and "It's Already Done."
---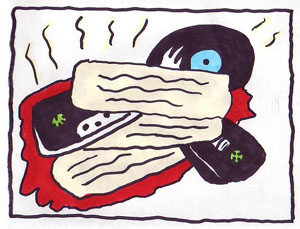 DISCONTINUED FORMAT LASAGNA
Ingredients:
6 Floppy Disks
3 8-Track Tapes
5 78 RPM Records
2 Laserdiscs
4 Beta Videotapes
2 VHS Videotapes
25 Playtapes
2 DATs
50 boxes 35MM Camera Film
12 sheets of Lasagna Stuff
1 Box of Individual Tomato
4 Strips of Rodent Cheese
1 Potato Skin

Remembering the past doesn't have to be expensive and difficult, it can be as easy as eating everyone's favorite dish...LASAGNA! To begin, place a large glass casserole dish on the counter and wet it good with some oily stuff. Then gently place one layer of FLOPPY DISKS on the bottom and put some SHEETS OF LASAGNA STUFF on top of them. Next, place a gentle layer of 8-TRACK TAPES on top and, once again, place a layer of LASAGNA on top. Now make a nice dense layer of 78 RPM RECORDS, LASERDISCS, and BETA VIDEOTAPES...making sure that each one is properly pushed up against the other. Then add another layer of LASAGNA. Now make a cool and thrifty layer of VHS VIDEOTAPES, PLAYTAPES, DATs, and 35MM CAMERA FILM before adding the final strips of LASAGNA. Then take the BOX OF INDIVIDUAL TOMATO and throw it over the top and then push the STRIPS OF RODENT CHEESE into it really hard so that it gets all mushy-like. Pop into a 450 degree oven for two hours, top with the POTATO SKIN and voila...DISCONTINUED FORMAT LASAGNA the entire family will love.
---
Doctor Who: The Caves of Androzani - Original Television Soundtrack: Music by Roger Limb and the BBC Radiophonic Workshop (CD, Silva Screen, Soundtrack)
The folks at the Silva Screen label continue in their mission to release cool soundtracks from the past that were never officially released or were released on some other format. This time around it's a real zinger...the soundtrack to what many fans consider to be the best Doctor Who shows of all time. This disc features thirty-five (!!?) mind-boggling tracks which were recorded using the (then new) sounds of the Fairlight Computer Music Instrument (CMI) and the (then new) Yamaha DX7. Although he has worked on numerous projects throughout his impressive and lengthy career, Roger Limb is probably still best known for the music he created for the Doctor Who series. Fans have no doubt been waiting for this one for a very long time. Smooth and smart technology-driven tracks include "Androzani Minor," "Next Time It'll Be For Real," "Stage Three," and "Is This Death?"
Ex Norwegian - Crack (Promo only CD-R, Limited Fanfare, Pop)
Ex Norwegian is easily one of the best pop bands of all time...and Crack is yet another resounding success. This is the band's fourth full-length release and it's full of the sinfully catchy upbeat pop/rock that their fans have come to love...and crave. We've played this band's last three albums completely into the ground...and you can bet your best Sunday booties that we'll be doing the exact same thing with Crack. It's odd...while Ex Norwegian songs actually sound similar to hundreds or even thousands of other classic pop artists...in the end there are some strange qualities that make the songs sound totally unique and vibrant. The main band members are Roger Houdaille (guitar, vocals), Michelle Grand (vocals), and Giuseppe Rodriguez (bass). These songs are the most polished and accessible that the band has recorded up to this point in time...and they retain the warm vibes that made us fall in love with the band's debut album years ago. Houdaille is a songwriter of the highest calibre. The man seems to write an endless well of classic pop songs that will most certainly stand the test of time. As usual, there's not a bad track on this album...but our own particular favorites include "Your Own Swing," "Bibi Kan Werk It," "I'm A Fighter Not A Lover," "Say What You Want," "Some Misery," and "Done." If you love guitar pop you should pick up every single one of this band's albums. [We should mention that (at least for the time being) Crack is only being offered as a download.] All Ex Norwegian albums truly are...the best. Brilliant and resilient...and HIGHLY RECOMMENDED. Top pick.

Fathom Lane - Down By Half (CD, Longplayer, Pop)
Nifty sparse modern pop from Fathom Lane. This band is driven by the skillful songwriting of Michael Ferrier, a young man with a natural knack for penning memorable melodies. Down By Half is, for the most part, a subdued relaxing spin. Ferrier's intricate weaving of lyrics and melodies is immediately effective and endearing as is evidenced by these nine songs. He's got a great voice...never pushes himself too far and never oversings...and Ashleigh Still's vocals provide the perfect harmonic component. We've spun this album several times...and we still can't come up with any comparisons or possible influences (?). This album's obviously catching on fast among reviewers in the United States...so it probably won't be long before it also catches on with the hippest of the hipsters. All of these tracks are cool...but our particular favorites include "Hope You Never," "Snowbride," "Ghost of Me," and "Moving."
Greg Friedman - Can't Talk Now (CD, Populuxe, Pop)
Super smart pop music...and our guess is...probably too smart for the average music fan. That isn't a cut, of course...it's a compliment. Can't Talk Now is one big intelligent slice of modern pop with superb lyrics, great gliding melodies, and a continually shifting focus in terms of sounds and styles. Greg Friedman is one smart guy with a decidedly different view of the world and how he fits in. He and his band come up with an impressive collection of cuts here...some of which are kinda peculiar...while others sound like instant hits. Even though many of these songs sound very much like songs we've heard somewhere before, we're having the hardest time trying to decide exactly who these songs sound like (?!). This album looks and sounds great. It looks great...because Storm Thorgerson did the artwork. And it sounds great...because it was mastered by Greg Calbi. A great deal of thought, time, and energy went into the recording of these songs...and yet they never sound overworked or cluttered. Nice, simple, direct modern pop with brains. Our favorite cuts include "Melancholy Melody," "Best I Can Do," "Wake Up," "Jago," and "Stories I've Told." Top pick.

GagaDilo - Odyssey (French import CD, Vocation, Pop)
This French eight person band is climbing up the ladder fast...touring the world...and self-promoting like there's no tomorrow. Perhaps that's why the folks in GagaDilo are making so many connections and pleasing so many critics and fans. That...plus the fact that they make some mighty fine compelling instrumental music that should appeal to just about anyone. Interestingly, the band is comprised of six musicians...but that number includes two sound and light engineers who are credited with being full band members...how cool is that?!. The tracks on Odyssey combine elements from ska, improvised jazz, balkan beats, and more...mixing and merging all the sounds and styles into one great big cohesive ball of fun. This fifteen cut album is sure to please anyone who ever appreciated good solid instrumental music. Our favorite tracks include "Spicy Blow," "Secret," "Romaniska," and "From London With Love."
Clinton Gregory Bluegrass Band - Roots Of My Raising (CD, Melody Roundup Music, Country)
Clinton Gregory's career is clearly back on track...and Roots Of My Raising is yet another direct and effective collection of country tunes with threads of bluegrass. A lot of heart and soul was obviously poured into the recording of these tunes. Gregory's music harkens back to the early days of country music when things were much simpler. Backing Clinton on this album are Shannon Mays, Doug Flowers, Scott Terry, and Scott Vestal...some incredible players who obviously really know their stuff. Raising features covers of songs written by Carter Stanley, Bill Monroe & Lester Flatt, Tommy Collins, and more...and the album (appropriately) closes with the one original number, "Crucifixion." Produced by Scott Vestal and Jamie Creasy, this album is chock full of feelgood vibes...probably the result of folks who truly enjoyed playing together. Twelve heartfelt tracks here including "How Mountain Girls Can Love," "Dark Hollow," and "Somehow Tonight."
Here Come The Mummies - Cryptic (Independently released CD, Pop)
Guys in mummy costumes...playing upbeat funk/dance pop music...? Yup, these guys are creating their own niche in the music community by combining two worlds that don't usually collide: Mummies and funk. What's even more interesting here...is that the songs on Cryptic could easily appeal to millions and millions of fans...which could mean that there will soon be mummy copycats running around all over the streets in a neighborhood near you. The band is comprised of Eddie Mummy, Java, K.W. Tut, Mummy Cass, Spaz, The Pole, Midnight, Mummy Rah, and The Flu (haw!). This is the sixth album from these entertaining folks...and it's bound to be a hit. Cryptic features the kind of ultimately danceable funk/pop that music lovers crave. This is most definitely a party album...so if that's what you seek this may just be your favorite new disc. Twelve classic cryptic cuts here including "You Know The Drill," "Petting Zoo," "Never Grow Old," and "Come Alive." Totally fun stuff with a definite sense of humor...
Iron Man 3 - Original Motion Picture Soundtrack: Music by Brian Tyler (CD, Marvel / Hollywood, Soundtrack), Heroes Fall: Music Inspired by the Motion Picture (CD, Marvel / Hollywood, Various artists compilation)
You've no doubt already heard the major buzz about the film Iron Man 3. This one's bound to be a major success around the globe not only because of the content...but also because Disney, Marvel, Hollywood Records, Paramount Pictures, and DMG Entertainment are all involved. The seventy-six minute soundtrack featuring music composed by Brian Tyler (no stranger to the world of film soundtracks) is most certainly an integral ingredient that will be crucial to the film's success. The twenty tracks on this album are slick and compelling...and chock full of excitement to support the plot of this film. Starring Robert Downey, Jr. and Gwyneth Paltrow, there's virtually no way this one can't be a box office smash. In addition to the soundtrack album, also being released on the Hollywood label is a various artists compilation entitled Heroes Fall: Music Inspired by the Motion Picture which features twelve tracks inspired by the film from artists Imagine Dragons, Neon Trees, Rogue Wave, Redlight KIng, Walk The Moon, The Wondergirls, and more. Yes indeed, there's a lot of money and talent behind Iron Man 3...and our guess is that film goers will be mesmerized this time around...
Gianna Lauren - On Personhood (CD EP, Forward Music Group, Pop)
Mix Leonard Cohen's style of songwriting with Suzanne Vega's voice...and you might begin to have some idea of what Canada's Gianna Lauren sounds like. This young lady has a sound and presence that could easily affect millions of listeners over the coming decades. Her songs are smart and ultimately very mature...and her voice is completely magical. The moody atmospheric pop compositions on this disc are compelling and just slightly unusual. After hearing tracks like "Trouble," "Thread," and "Power Failure"...you can bet your booties we'll be keeping our eyes peeled for future releases from this hypnotic up-and-coming artist... WOW.

Zanya Laurence - Always (Independently released CD, Pop)
The second full-length release from Zanya Laurence. This up-and-coming artist has a sound that could easily appeal to millions of music fans. Always presents seventeen (!) slick pop tunes that are easy on the ears. And at the heart of the music are some wonderfully effective vocals. Ms. Laurence has a voice that can melt the hearts of fans...and her vocal overdubs are always spot on. In addition to having a fantastic voice, Zanya's also a songwriter driven to create. She wrote every single song on this album and they all pretty much hit the target. If we were to compare Laurence to anyone it would probably be Amy Winehouse because of the slight funky undercurrents in terms of rhythms and overall vibe. Smooth catchy cuts include "Listen To Me," "Karma," "Enjoy The Ride," and "Times Traveler." Smart reflective stuff with cool vibes...
Alex Levin Trio - Refraction (Independently released CD, Jazz)
The Alex Levin Trio is comprised of Alex Levin on piano, Ben Cliness on drums, and Diallo House on bass. This New York City-based jazz combo is best known in their home town as well as in Japan where they apparently already have a very dedicated following. Refraction is the fourth full-length release from this trio...and it's chock full of smooth and inviting light jazz that is perfect for setting that exact mood during the evening hours. House and Cliness provide the exacting jazzy/funky backdrop as Levin's fluid keyboard playing takes center stage. These tunes have a classy and classic sound that should appeal to just about anyone who loves cool jazz artists from the 1940s, 1950s, and 1960s. Levin, Cliness, and House aren't trying to push the envelope here...instead preferring to simply play music that is soothing, resilient, and reflective. Eight groovy cuts including "My Romance," "If I Were A Bell," and "Everything Happens To Me."
Beth Levin - A Single Breath: Beethoven's Last Three Piano Sonatas (CD, Navona, Classical/piano)
Pianist Beth Levin has received glowing reviews in some very impressive places...and for good reason. Very early in her life Levin was determined to be a child prodigy in her hometown of Philadelphia, Pennsylvania. Since that time, she's created a solid and lengthy career based on her pure and obvious talents. On A Single Breath, Beth presents her interpretations of the last three piano sonatas written by Ludwig Van Beethoven: "Piano Sonata No. 30 in E Major, Op. 109," "Piano Sonata No. 31 in A Flat Major, Op. 110," and "Piano Sonata No. 32 in C Minor, Op. 111." Levin's precise, passionate playing really breathes new life into these classic compositions. Her playing is fluid and inspired...never overplaying and never adding unnecessary embellishments. Perhaps the best compliment here is that...these recordings would make Beethoven proud. Housed in a beautiful tri-fold digipak sleeve. Breathtaking.
---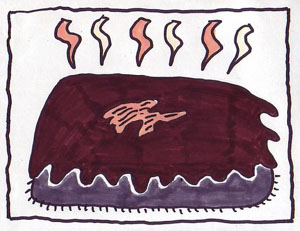 LIVER LOAF WITH WARM BROWN
Ingredients:
1 Cow Liver
1 Fox Liver
1 Eagle Liver
1 Mouse Liver
1 Trout Liver
1 Magic Liver
1 Finch Liver
1 Elephant Liver
1 Dog Liver
1 Woman Liver
1 Dalmation Liver
1 Parakeet Liver
1 Midget Liver
1 Slightly Disorganized Liver
1 Mystery Liver
1 Super Tender Liver
1 Big Tough Spotted Liver
10 Lovely Fresh Eggs
1/2 cup Disease-Free Milk
2 gallons of Warm Brown
2 tablespoons pepper

There is love in every barnish meal that you cook. For the best kitchen experience you won't ever do no better than to have an experience of creation for the mighty fine Liver Loaf With Warm Brown. It's easy...it's quick...it's efficient...and it's as TASTY as MAGIC MARBLES. To begin, lay a great big plastic Sears bowl on the counter real steady like. Now take all them damn LIVERS and flop 'em on top of one another in the bowl. Take an electric grinder and push it down hard into the real meat of the organs...allowing all the fibers of the tissue to mingle and mix together as though they are one. The grinding may take an hour or so to ensure that all the tissues are mushed up properly, but this is the most important part of the process so do not skimp or sway. Once all the LIVERS are properly mushed slowly add in the DISEASE-FREE MILK. Then beat the LOVELY FRESH EGGS in a separate bowl before adding them to the mixture. Now take your naked raw hands and squish everything around real good. The mess that gets caught underneath your fingernails is still edible stuff so remember to remove it and return it to the bowl before washing your hands. Now push all the livery stuff into a baking pan and push it into the oven for one hour. Next pour the WARM BROWN into a large saucepan and place on the stove. Allow to simmer for 30 minutes or until it is exactly 98.6 degrees. Sprinkle the PEPPER onto the WARM BROWN. Remove the LIVER LOAF from the oven and slowly ladle the WARM BROWN all over the top. Your loaf is now ready to serve...and it's always sure to please...
---
The Lucky Wonders - Lay Down My Arms (Independently released CD, Soft pop)
The two talented young ladies in Australia's The Lucky Wonders return with yet another completely captivating collection of smart introspective soft pop songs. This band is the duo of Emma Royle and Jessie Vintila...two young ladies whose music is slightly reminiscent of Athens, Georgia's Azure Ray...except their songs are much more precise and clear. Royle and Vintila record and play wonderfully melodic songs driven mainly by gently strummed acoustic guitars. Vintila has an incredible voice that is just amazing. Her depth and clarity may remind listeners of babysue favorite Alison Krauss at times. We're not exactly sure what sells in Australia these days...but we feel certain that if these ladies were to receive the proper exposure they would quickly be hugely popular in the United States. Lay Down My Arms features ten cool reflective tracks that should please even the most jaded listeners. Fresh and intelligent cuts include "Let Me Forget," "Sand & The Sea," "Anyway," and "Lift Your Feet." Highly recommended. TOP PICK.

Mara Donis - Altered Tunings (CD, Altone, Pop/rock)
If you dug the sound of alternative/underground guitar bands in the 1990s, there's a good chance you'll totally dig the happenin' sounds on Altered Tunings. These four guys have a loud refreshing sound that is vibrant, energetic, and inspired. The band is comprised of Tom Nastasi (guitar, guitar synth, keyboards, bass), Tim Bluto (vocals), Tom Bailey (bass), and Ryan Zygmont (drums, percussion). The range of sounds and types of expression on this album are impressive. Rather than going for one sound or style, the band seems to consider each song a statement in and of itself. As such, these guys deliver songs that range from hard rock to thrash to mid-tempo rock to pop...and no matter what style they're playing they sound convincing and real. If you dig big groovy guitars...you'll get plenty of 'em here. Eleven kickass tracks including "Homer," "Target Practice," and "Froggs."
Louis Matteo - Patchwork Pattern (CD, Neon Castle, Pop)
Cool, catchy, effective modern breezy pop from New York's Louis Matteo. We instantly fell in love with the warm and friendly vibes on Patchwork Pattern. The album features thick slick techno-driven smart pop tracks that are simultaneously danceable and warm. Matteo recorded this album at The Lovely Light with producer Saul Simon MacWilliams (The Age of Rockets)...along with backing artists Mike Tuccillo (bass, vocals, arranging), Elliot Jacobson (drums, percussion, arranging), and Rebecca Haviland (vocals). Even though there's a lot going on in terms of instruments and arrangements, songs are the real deal here...and Matteo manages to come up with truly impressive tunes that stick in the mind like glue. His vocals always hit the target (grrrrrrrreat voice)...and these tunes are consistently magnetic and friendly. If you're looking for some kickass upbeat pop to listen to while zipping around this Spring...this album is sure to please. Ten great tracks here including "Blossom," "You 'N Me," "Patchwork Pattern," and "Silk-Like-Lips/Patchwork Reprise." Top pick.

Madison McKenzie - A Part of Me (Independently released CD, Country/pop)
Wow...Madison McKenzie is certainly a breath of fresh air. So many up-and-coming country artists produce music that sounds exactly the same...but that is not the case here. Rather than use the same old tired formulas and sounds, McKenzie offers subtle and soothing reflective songs...and she never ever sounds like she's forcing things. The natural flowing nature of the songs on A Part of Me is instantly appealing and genuine. And man on man...what a voice. Madison has a velvety smooth voice that really resonates. All eleven tracks on this album sound like potential hits. This young lady has a sound and style that could quickly catapult her into superstardom overnight. Our favorite cuts include "My Friend," "This Is My Life," "When It Comes To You," and "Gone But Not Forgotten." Good quality music that comes straight from the heart.
Shannon McNally - Small Town Talk: The Songs of Bobby Charles (CD, Sacred Sumac Music, Pop)
Upbeat bluesy pop with some twang and funky undercurrents. Small Town Talk pays tribute to the music of Bobby Charles, a man who was instrumental in creating the swamp pop genre in the 1950s and 1960s. Shannon McNally has a voice and presence that are immediately effective and appealing. She's backed by some major players on this album including Dr. John, Vince Gill, Derek Trucks, and Luther Dickinson (whew!). Charles himself was even involved in this project before his death, helping to select the right material. This fourteen album features some mighty appealing heartfelt songs. Our favorite cuts include "Street People," "I Spent All My Money," "But I Do," and "I Must Be In A Good Place Now." Nice meaty music with heart and soul. Highly recommended for Joan Osborne fans.
Palenke Soultribe - MAR (Independently released CD, Afro-Colombian electronic pop)
Hmmm...can't remember the last time we received an Afro-Colombian electronic pop album...? Although such a descriptive term might sound a bit odd, the tracks on MAR are probably more normal and accessible than you might think. This album is an exceptionally upbeat experience...featuring hyperactive dance tracks that absolutely command movement. To try and describe the overall sound here...imagine hearing Bob Marley on speed playing at a rave...and you might begin to have at least some idea of what Palenka Soultribe sounds like. Twelve meaty tracks here. The first single being that's being released is "Move It"...which will certainly remind many listeners of the great tidal wave of techno dance bands from the 1990s. Other creative cuts include "I'm Missing Information," "Boom It Up," and "Africa Is The Mother Of The Beat."
Cam Penner - To Build A Fire (CD, Rawlco Radio, Progressive/folk/pop)
The fifth release from Canada's Cam Penner. According to the press release that accompanied this disc, apparently Penner has recently undergone some major changes in his life. Having recently moved away from the city to a home in the mountains with his partner and new daughter, Cam's new experiences are obviously having profound effects on his music. To Build A Fire is hard to pigeonhole. The songs contain elements of folk and pop music...but there are also some interesting sounds and arrangements that could best be described as...progressive. This fellow doesn't seem to be playing to any particular crowd and his songs aren't instantly hummable and catchy. Penner's fans will no doubt be delighted by these smart and inventive tracks. Smart melodies, introspective lyrics, and genuinely heartfelt vocals abound here. Our favorite cuts include "To Build A Fire," "This Could Be Your Anthem," "Gasoline Summers," and "House of Liars."
The Pirates - Land of the Blind (CD, Angel Air, Rock/pop)
Uplifting rock/pop recorded by The Pirates way back in 1996. This band was driven by the songwriting skills of Mick Green who formed the band back in the 1960s. Joining Green on these recordings are Romer Parol (drums) and B. J. Anders (bass, vocals). Land of the Blind features smart, punchy, guitar-driven rock/pop tunes that could have been hugely popular around the world. Most of the tracks on this album sound like potential hits. Mick had a great expressive voice that was tailor-made for commercial pop music. In the 1980s and 1990s this talented fellow also made a living as a supportive musician for major artists like Bryan Ferry, Van Morrison, and Paul McCartney. Sadly, Mr. Green passed away in 2010...but hopefully his music will live on and remind listeners of what a talented performer he was. This CD includes all the tracks that were on the original album plus three live bonus tracks that were also recorded in 1996.
Jeremy Porter & The Tucos - Partner In Crime (CD, New Fortune, Pop/rock)
Cool, melodic, and totally unpretentious. Jeremy Porter & The Tucos write and record punchy guitar-driven pop/rock that harkens back to the 1970s and 1980s when bands with this type of sound seemed to be dominating the airwaves. But instead of coming across like a retro act, this band has a fresh and inviting sound that is decidedly current and modern. These guys' sound recalls many different artists including (but not limited to) The Replacements, Fountains of Wayne, and Joe Walsh. The guitars are loud and fuzzy...the rhythms persistent and danceable...and the vocals have a cool friendly sound that immediately draws the listener in. Twelve cool tracks here and they all sound like hits. Our faves include "Castaways," "Pizza Girl," "Partner In Crime," and "You Owe Me A Heart."

Safe Haven - Sermon For No One (Independently released CD, Rock/pop)
The debut full-length release from the Chicago, Illinois-based band Safe Haven. The guys in this band have an instantly appealing sound that should appeal to anyone who loved good solid heavy rock bands from the 1970s...or anyone who just likes loud ballsy rock. These fellows seem to have a lot more in common with bands from the South than those around their hometown of Chicago. The songs on Sermon For No One feature threads of blues and some hints of country...and even some traces of heavy metal. The rhythms are solid and tight...the guitars loud and fuzzy...and the vocals have a cool Southern twist. We'd be willing to bet that these guys can really push audiences into a frenzy in concert. Nine kickass cuts here including "So Long," "I Steal," "Suburban Weekend," and "Eternal Farm." Good solid stuff that rocks.
Secret Colours - Peach (Independently released CD, Pop)
We totally dug the last release we heard from the folks in the Chicago, Illinois-based band Secret Colours. And the good news is...that we're just as impressed with Peach. This band has a dreamy slightly drony semi-psychedelic sound reminiscent of early recordings by The Charlatans UK. The vocals are subtle and subdued...the rhythms mainly mid-tempo and constant...the keyboards are dreamy...and the guitars have a cool heady sound. Peach is a mainly mellow experience...but the songs are by no means wimpy or meek. Secret Colours tunes absolutely command body movement...and the overall vibe that this band creates is immediately warm and appealing. The more we hear from these folks...the more impressed we are. Thirteen intoxicating tracks here including "Blackbird (Only One)," "Freak," "Who You Gonna Run To," "Me," and "Love Like A Fool." Highly recommended... TOP PICK.

---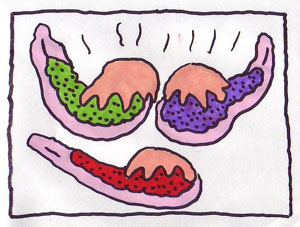 SHRIMPLOAD WITH CHIFFON SAUCE
Ingredients:
100 Super Extra Large Great Big Shrimps
1 Cup of Meat Load
1 Cup of Cheese Load
1 Cup of Vegetable Load
1 Cup of Variety Load
7 Fresh Chiffons
2 Cups of Instant Study Sauce

Peel those SUPER EXTRA LARGE GREAT BIG SHRIMPS as fast as you possibly can. Faster, faster, faster, FASTER...until they're all completely peeled and nekkid. Dump the damn things on a cookie sheet thing and grab a big metal spoon. Hold the spoon as tight as you possibly can and dip it real hard into the CUP OF MEAT LOAD. Spread open 25 of the SHRIMPS and push that stuff inside of them so that it stays still. Now push those SHRIMPS to the side and grab you up another 25. Now dip up some stuff from the CUP OF CHEESE LOAD making sure to get as much of it on your spoon as you can. Cram that stuff into the SHRIMPS with a nice stompy motion. Now push those to the side and grab your next 25. Double dip your spoon into the CUP OF VEGETABLE LOAD and cram it inside the crustaceans with determination and futility. Now push them to the side. Grab the last 25 and use your spoon to push the CUP OF VARIETY LOAD into each one so that it is popping out all over the place on all sides. Next, put all the stuff into an oven and let it cook all the way through...making sure that none of the LOADS get UNLOADED. While the cooking is taking place crush up the FRESH CHIFFONS and lob them into the INSTANT STUDY SAUCE. Simmer for two seconds. Remove the SHRIMPS from the oven and gently wet them down with the CHIFFON SAUCE. They're gonna taste great, goddamn it...absolutely GREAT. Eat 'em up nice and hearty-like with your most favorite mentally challenged friends.
---
Small Multiples - Small Multiples (Independently released CD EP, Pop)
Small Multiples is the duo of Craig Hartley and Eli Friedmann. Both have been involved in music individually before creating Small Multiples as a vehicle to share their love of electronic pop music. This self-titled EP features keyboard-driven modern pop that harkens back to the late 1970s and early 1980s when keyboard bands were topping the charts. This disc features five smooth melodic tracks with heavenly keyboard sounds and super smooth vocals. Lots of layering here...and it all works. Nifty cuts include "Know My Name," "Side By Side," and "Star Eyes."
The Smoking Gnomes - Eat My Cloud (Independently released CD-R, Pop/rock)
Musicians MYSTR Treefrog and Dr. Morpheus originally began hanging around with each other in Athens, Georgia decades ago before going their separate ways. Then in the twenty-first century (thanks to social networking sites) the two were reconnected...and decided to record an album together. Along with James Dail on bass, Chris Zogby on drums, and Alphonso "Hot" Coals on percussion, The Smoking Gnomes were formed. Eat My Cloud is a rockin' little album chock full of guitar-driven catchy rockers. Based on these tracks it sure sounds like all these folks had a great time recording these tunes...they're full of positive upbeat energy. Our favorite cuts include "Teeth of the Wind," "Time To Go Home," and "Bed of Hot Coals." Purely entertainment.
Peter Vukmirovic Stevens - August Ruins For Cello (CD, Navona, Classical/cello)
Totally remarkable solo cello recordings...! This album features five works composed by Peter Vukmirovic Stevens who is guided by connections with visual media, literature, travel, and works by other composers. Playing the cello is Paige Stockley who is the founder of Seattle, Washington's Saint Helens String Quartet. These five recordings feature Stockley playing alone...quite a feat for any musician...and a testament to both her talents and the skills of Mr. Stevens. There's remarkable emotion present in these recordings. And the impact is strong indeed, particularly when you consider the fact that you're hearing just one musician playing. As with all Navona release, the sound quality is impeccable. This 54 minute disc presents five compositions: "August Ruins," "Tempus Edax Rerum," "Etude for Raising the Dead," "Versatile Hammers," and "Thunder, Perfect Mind." Brilliant and provocative stuff...and a must for fans of the cello. TOP PICK.

Tea Leaf Green - In The Wake (CD, Greenhouse, Pop)
The guys in San Francisco, California's Tea Leaf Green have been making music for about seventeen years now. The band was originally a jam party band but over the years they have apparently evolved from such limiting descriptive terms. The band is comprised of Trevor Garrod (keyboards, vocals), Josh Clark (guitar, vocals), Scott Rager (drums), Reed Mathis (bass), and Cochrane McMillan (percussion). Created in exactly 365 days, In The Wake examines issues such as separation, loss, difficult times, and overall perspective...but the issues are never dealt with in a heavy handed manner. In fact, the songs are much more upbeat than you might think considering what may have motivated their creation. These songs range from pop to rock, sometimes soft and introspective...and sometimes loud and ballsy. The band creates an impressive array of sounds and styles over the course of these thirteen tracks. Smart melodic cuts include "Someday," "All Our Love," "Two Parts," and "We Aren't Done."

---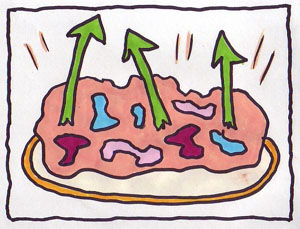 TONKY BOBO POINTERS
Ingredients:
1 Cup of Slidy Mingo
2 Cups of Tonky
4 Slices of Larry
1 Quart of Bobo
1 Dozen Strict Pointers
2 Sprigs of Parsley
1 Doughnut Brow

As fast as the distance from zero to lamb children can go, TONKY BOBO POINTERS are sure to know. We'll make this dish by starting out with a lot of dishes. Places a lot of dishes all over the place and then decide which dish you like the most. Pick up that dish and discard the rest. Place the chosen dish on a table and begin to prepare. Pour the CUP OF SLIDY MINGO into the dish and squirrel it around for two minutes. Gently add the CUPS OF TONKY and blend together with priceless energy. Next, place the SLICES OF LARRY into the mixture while pouring in the QUART OF BOBO. Mix everything for about five seconds. Then chunk in the STRICT POINTERS taking great care to ensure that each one is evenly distributed. Toss in the SPRIGS OF PARSLEY and place in a microwave oven (on ultra high) for one minute. Remove and top with the DOUGHNUT BROW. Instant and delicious for everyone involved...and PLENTY HEALTHY for you as WELL. Fix it tonight.
---
Casey Turner - No Stress Express (CD, Working Brilliantly, Pop)
When gimmicks are used to peddle second rate junk they can be as annoying as donkeys on meth. But gimmicks...when they're used to promote something that is already credible and great...are pretty damn cool. No Stress Express easily fits into the second category. We've yet to see a CD packaged this way. The disc is sneakily hidden inside a 12" vinyl LP jacket...attached to a large black circle that looks like a cardboard LP. To make things even more interesting, tucked away inside is the actual CD cover itself with a duplicate disc inside. An intriguing little gimmick that certainly caught our attention. But we were even more impressed when we chunked the disc into our player...and were introduced to the totally warm and friendly pop music recorded by Casey Turner. This guy writes and records songs that are instantly familiar and hummable...truly upbeat catchy stuff that comes across sounding completely sincere and real. We particularly like the fact that Casey often uses a ukulele as his main instrument...how cool is that? This disc is a pure feelgood experience...and yet the music has heart and soul...and the songs are all completely credible. Flawless pop music created by a totally cool up-and-coming artist. Our favorite cuts include "Never Want To Go Home," "Pipe Dream," "These Old Shoes," and "More Than Gold." Can't get enough of this one... Highly recommended. TOP PICK.

The Ultimate Indie Bundle (Resource data base for musicians)
Most folks are already aware of The Indie Bible, a resource musicians have been using for years as a great way of finding contacts necessary to function and get ahead in the world of music. This year Editor David Wimble is offering a new bonus to the site called The Ultimate Indie Bundle. This bundle allows users to purchase all three components of the web site (The Indie Bible e-book, Indie Bible Online, and The Indie Venue Bible) for a greatly reduced price. Some folks might make the argument that you can find all of this information online anyway without the help of a third party. But the question is...do you really have the time to do this, particularly when you consider the fact that these folks are doing an excellent job of putting all the information in one convenient place for you...? Folks promoting their music and playing live need all the help they can get in today's oversaturated marketplace. Thus, the folks at The Indie Bible are providing an excellent reputable resource that can greatly improve the life and productivity of the twenty-first century musician...
Imani Uzuri - The Gypsy Diaries (Independently released promo only CD-R, World pop)
We knew right off the bat when this album began that this was a different sort of artist. North Carolina's Imani Uzuri has a lot of guts using a lead track like "Beautiful" on her album. The song is peculiar and unusual...and nothing like the sort of potential hit that most artists would choose to start out with. Listeners who may be confused by the stark odd compelling nature of the first cut will more likely be drawn in by the following tracks "Whisperings (We Are Whole)" and "Winter Song." By the time you begin to get into the mid-section of the album you are bound to find yourself falling in love with the strange exotic sounds on The Gypsy Diaries. Instead of going for one sound, Uzuri seems to be driven by the sounds of her soul...and she allows her music to take here wherever it may. And man oh man...what a VOICE. This lady has a super cool resonant voice that you won't soon forget. Imani's music is already receiving rave reviews...and we'd be willing to bet that she's only began to touch the tip of the iceberg. Thirteen dreamy effective cuts that are bound to catapult this lady into stardom. Intelligent reflective cuts include "Beautiful," "Winter Song," "Meet Me At The Station," "Soul Still Sings," and "I'm Ready/She Came Traveling." Truly remarkable stuff... Top pick.

The Wheel Workers - Past To Present (Independently released CD, Pop)
Houston, Texas-based band The Wheel Workers return with another album that's bound to turn heads and create a strong buzz. The folks in this band generated quite a bit of attention with their 2001 release Unite. Our guess is that Past To Present is the album that's really going to put them on the map right where they belong. The band is comprised of Steven Higginbotham (vocals, guitar), Jason Williams (bass), Craig Wilkins (guitar, vocals, keyboard), Allison McPhail (keyboard, vocals, theramin), and Jason Carmona (drums). Although the band's music is best described as pop, it's really much more than that. Instead of predictable melodies and chord progressions, the songs on this album feature wonderfully unpredictable winding melodies that are resilient and instantly familiar. These five folks create a vibe that is virtually impossible to dislike...and every song on this album is magnetic and memorable. So...exactly who do they sound like? That's a hard one to answer. There are traces of hundreds of other classic pop bands from the past and present revolving around here...and yet there's no one comparison that seems to really capture the overall sound. Past To Present will end up on a great many best of lists for 2013...you can bet your best velvet-crusted booties on that. Killer pop tracks include "Power," "Starve The Beast," "Compromise," "Rainbows," and "Want." Smart and inspired music that will stand the test of time. Highly recommended. TOP PICK.

Amanda Jo Williams - You're The Father Of My Songs (12" Vinyl LP, Digital Download, Promo CD-R, Neurotic Yell, Pop)
Amanda Jo Williams is one of the strangest voices we've heard in the world of music in quite some time. It's hard to try and explain exactly what she's doing...and she certainly isn't easily categorized or pigeonholed. To quote directly from the expertly written press release, her voice sounds like the "classic vocal chirp of a little Southern girl with a flashlight under the blanket telling ghost stories..." Yup, that pretty much gets the message across. You've probably never heard a vocalist who sounds quite like her. Apparently Williams was once a model in New York...but she now resides in the Los Angeles, California area. You're The Father Of My Songs is Amanda's fourth full-length release. The songs are strange concoctions with intriguing winding melodies, curious lyrics, and...of course...that instantly identifiable voice. We've very impressed with what we're hearing here...mainly because this lady is operating in a world all her own. Eleven bizarre cuts including "2000Hell," "George," "Slowly," and "Wrong-ong-ong." Totally peculiar stuff...highly recommended. Top pick.

A
A Clever Con - Mannequin love part I
James Adler & Friends - James Adler & Friends
Africa - Original television soundtrack
A Good Day To Die Hard - Original motion picture soundtrack
Aina Haina - Aina Haina
Verden Allen's Soft Ground - Love you & leave you
Angry - Wild ox shangri-la
Animals At Night - Animals At Night
Apple Dot - Dot the dot
Aquarotten - Aqua is a rotten color
David Armo - Poets on the wall
Mike Arroyo Jazz Organ Trio - Full circle
Badi Assad - Between love and luck
B
Matt Barron - Matt Barron
Beekeeper - Shout at people
Lilly Bell - Try to tune the goddamn thing
Jeff Berlin - Low standards
Jacob Blazer - I am Jacob
Jason Blum - Radio dial
Bolts - Wait 'til we're young
Bone of Contention - Bone of Contention
Greg Boring - Heavy syrup
Boss - Original television soundtrack
Brand New Trash - Brand New Trash
Breadwinter - Breadwinter one
Breaking Laces - Come get some
Dewa Budjana - Dawaii in paradise
C
Alan Callahan - Shower of grace
Camera - The panic and the permanence
Brooke Campbell - The escapist
Rob W. Carlson - You better call someone
Marc Carroll - Stone beads and silver
Steven Casper & Cowboy Angst - Trouble
Catbirds Say Yeah - Catbirds Say Yeah
Chapin Sisters - A date with the Everly Brothers
Chestnuts Roasting On A Stove - Dumb nuts
Chicago Arts Orchestra - Al combate
Kyong Mee Choi - The eternal tao: A multimedia opera
Churchwood - 2
Citadel Besieged - Creation/damnation
Nels Cline / Elliott Sharp - Open the door
Coastwest Unrest - High times on lowly streets
Preston Cochran - Stumble into tomorrow
Como Asesinar A Felipes - Comenzaras de nuevo
Convergence - The music of Stewart & Gershwin
Ryan Cook - Wrestling with demons
Copper Gamins - Los ninos de corre
Copper & Glass - Copper & Glass
Laura Cortese - Into the dark
David Courtney - Midsummer madness/Shooting star
Crankshaft and the Gear Grinders - What you gonna do?
Cross Connection - Selected works of Henry Wolking & James Scott Balentine
Crummy Band - This is the life worth dying for
Michael C. Cunningham - Gallry
D
Dances of Eternity - Works for orchestra
Dangfly - Good luck, curiosity
Death Songs - Sung inside a house
Diemakers - Detroit recordings
Dolls On Fire - Ladies and gentlemen...
Sarah Donner - Fossil of girl
Dorothy Doring and Phil Mattson - Compositions by Duke Ellington and Billy Strayhorn
Drgn King - "Holy Ghost" b/w "Son of Wolfman"
Gordon Duthie - Shire and city
Mia Dyson - The moment
E
Eggs Are Eggs - Drippy thugs on corn
Eksi Ekso - Archfiend
Amos Elkana - Casino umbro
Electric Shepherd - The imitation garden
Holly Elle - Leopardess
El Perro Del Mar - Pale fire
Emperors of Wyoming - Emperors of Wyoming
Glenn Eric - Blanket of stars
Every Day Is Picture Day - Every Day is Picture Day
F
Fabulous Rudies - Labor of lust
Faco - Em si bemol
Fat Opie - Victoryville
Stephen Fearing - Between hurricanes
Julian Fernandez - Mi conciones
Fletcher - Open arms
Focus Features 10th Anniversary - A collection of film score
Lisa Forkish - Bridges
Olivia Foschi - Perennial dreamer
Further To Fly - Wave mechanics union
Fussy Fussy - How many things can go?
G
Holly Gentry - So much more
Susie Glaze & The HiLonesome Band - White swan
Go Around - Restating the question
Mac Gollehon - La fama
Jess Grant - Innocent invader
Grassmarket - You are for the ocean
Great Divide - Great Divide
H
Halle & The Jilt - Three roads home
Kyp Harness - The wrong way
Haunted West - Postlude
Joe Henly - The fall comes early
Henry Wagons - Expecting company?
Pamela Hines - 3.2.1.
Hissing Makes Us Hissy - Hisses
Dillon Hodges - Rumspringa
Holy Folk - Motioning
Home By Hovercraft - Are we chameleons?
Hunter - Pressure
I
Il Sogno del Marinaio - La busta gialia
Inside Insects - How we done got ate up
Intestines - The force is forceful
Invader - Original motion picture soundtrack
J
The JAC - I see things differently: Greatest Xmas Hits Vol. 1 2001-2012
The JAC - Record store
Jackpot Donnie - Mayday!
Craig Jackson Band - Sweeter songs
Jim Jacobi - If the show fits...
Jeepers Jeepers - The whopper in my panties
Alan Jeffries - Coffee 'til midnight
JLStiles - Presents house of murmurs
Shawn Jones - Struggle makes you stronger
Jumpy Jerks - Jumpy on the beddie bye
K
Red Russell Kamp - Night owl
Judy Kang - Judy Kang
Brendan Kelley - Quicksand
Lili Kendall - Beginnings
Aarison Kirby - Aries
Gerald Krampl - Wonder way
L
Shannon Labrie - Just be honest
Lady Antebellum - Own the night world tour
Lady Antebooboo - Own the day tiny tour
Dave Lalama Big Band - The Hofstra project
Daniel Lantz Trio - Plays Bond
Lapland - Lapland
Juan Sebastian Lach Lau - Islas
Kait Lawson - Until we drown
Lead Mule - Lead Mule
Lee Boys - Testify
Jim Libby - Made in USA
Life of Pi - Original motion picture soundtrack
Lift - Lift
Frances Livings - The world i am livings in
Loveskills - Multiplicity
John LT - Suburban superstar
M
Andy Macintyre - Ruby
Brad Mackeson - 1945
Madonna & Rose - Bank cormorants
Magic City - Songs and score from the series: Score by Daniele Luppi
Tim Mahoney Band - Shine through
Marbin - Last chapter of dreaming
Marina - Believe in love
Bex Marshall - House of mercy
Michael Mauldin - The last musician of UR
Alison May - Earnest keep
Ian McFeron - Time will take you
Memoryy - Electric city
Midas Fall - Wilderness
Gabriel Minnikin - Parakeets with parasols
Tom Morgan - Orange syringe
Morningbell - Boa noite
Moto Perpetuo -Moving works for cello
Moxi - In my dreams
Muy Cansado - Let it go
Myopic - We were here
Myrasky - License II love
N
New Day Dawn - Rise above this
New Standards - Sunday morning coming down
Karen Nielsen - Woman
Ninners are for Ninners - Something for dinner
NocturnalSol - In this together
No Escape For The King - 13 fjords
Nowherenauts - Warned you
O
Robin O'Brien - Dive into the end of the world
Ocean Floor - Falling star castle
Onoono - Yokoyoke
Oops - See daisy
Orflop - Bannie toe wishes
P
Paperhaus - Lo hi lo
Para Vista Social Club - Scott & charlene's wedding
Charlie Parr - Barnswallow
Rodney Patterson - Love > fear
Nick Peay - Feathers & fables
Perceptions - Points of oview for small ensemble
Dan Phillips BKK Trio - Bangkok edge
Garrett Pierce - City of sand
Paul Pierce Project - Pierce my heart
Pine Barons - Pine Barons
Pint of Pint - How to quart the quart
PLS PLS - EP EP
President Lincoln - The sinking of the President Lincoln
Pretty Little Demons - Flowers
Mark Andrew Pudas - Mark Andrew Pudas
Q
Quick & Easy Boys - Make it easy
Quiet Parade - Old haunts
Q utt - Bras for no one
R
Red Dawn - Original motion picture soundtrack
Red Sammy - These poems with kerosene
Edward Ricart / Tim Daisy - Yiu ja ley
Marga Richter - Poetic images beyond poetry
Troy Roberts - Nuu-jive 5
Rob Roper - The other side of nowhere
Rockabye Baby - Lullaby renditions of Blur
Rockabye Baby - Lullaby renditions of Muse
Rockabye Baby - Lullaby renditions of Rush
Peter Rodocker & So It Is - We're still here
Arrica Rose & The . . . 's - Lucky
Rose Phantom - Abandon
Rumper Rump - How to dump the rump
Run 8 Rider - Tenderfoot
S
Micky Saunders / Dan Susnara - Known & better tomorrows
Save The Date - Original motion picture soundtrack
Garrett Sawyer - Chronicles and vanity
Marcus Schwartz & Monvelyno Alexis - Vo-duo nou la
Scott & Charlene's Wedding - Two weeks EP
Secret City - Secret City
Seven Psychopaths - Original motion picture soundtrack
Shakespeare's Memory - Shakespeare's Memory
Sideman Sez - A Rob Loyot project
Silver Linings Playbook - Original motion picture soundtrack
Keaton Simons - Beautiful pain
Skiggy Rapz - Satellites
Smith III - Diamond in a rock
Snitch - Original motion picture soundtrack
Jeffrey Stadelman - Messenger and other works of Jeremy Stadelman
Stand Up Guys - Original motion picture soundtrack
Stomacher - Clara
Stone Foxes - Small fires
Nora Jane Struthers & The Party Line - Carnival
Sugarman - After the blackout
Summarily Dismissed - To each!
Summer Hours - Closer still
Sunshine - Sunshine
Super Zeroes: Get Awesome - Soundtrack and movie
Swallows - Witching & divining
Phil Swann - Age of opportunity
Sweet Honey in the Rock - A tribute
Sweet Knievel - Collapsible
T
20 Something - 20 Something
Aly Tadros - The fits
Tapestry Ensemble - New York moments
Thought Transfer - Light my way
Tomfun Orchestra - Earthworm heart
Jay Trainer Band - Jay Trainer Band
Chandler Travis Three-O - This is what bears look like underwater
Joe Treewater - The ice cream social
Tune Into My Mind Radio - A tribute to multi-talented vocalist Kelly Keeling
Two Hours Traffic - Foolish blood
U
UFU - Mozie
Up The Up - Down down down
Urp - Slop it up with a mop
V
Bobby Jo Valentine - Home
Various Curelties - Various Cruelties
Jacob Varmus - Terminal stillness
Thisbe Vos - Under your spell
Vulnerable - We're not
VYIE - Nightingale
W
Tim Warfield - Jazzy christmas
Way Back - Way Back
Hope Wechkin - Leaning toward the fiddler
Whitewater Ramble- Roots & groove
Widowmaker - Widowmaker
Wig Party - Glass girls
Wiggy's Popo - Flowers for Wiggy's Popo
Rustsy Wright Band - This, that and the other thing
X
XXX Means Dull - Pornography stinks
Y
Yacht Rock Revue - Yacht Rock Revue
Your Future Lovers - Eat. play. leave.
Yup - Nope
Z
Zamora Rose Project - Stand true
Zeezee - Weewee
Zzinn - Wullywoo