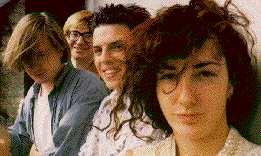 Poster Children Interview

VITAL STATISTICS:
Year band began: 1987
Band members: Rick (guitar/vocals), Rose (bass/vocals), Jim (guitar), Howie (drums)
Based in what city: Champaign, Illinois
Type of music: Rock
Record label: Reprise
Web site: http://www.prairienet.org/posterkids/
To put it quite simply, the Poster Children are one of the best rock bands EVER. They've been playing and recording their quirky brand of rock for several years now. And although they're still relatively obscure, their music gets better with every release. RTFM, the band's latest CD, is their best ever...full of charged energy and highly addictive melodies. The band's live shows are KILLER. If you ever get a chance to see this band play live, you MUST see them. They are one of the most entertaining live bands I have ever seen in my entire life.
These questions were answered by Rose by E-mail in August 1997 following the band's European tour...
1. What is daylight?
According to Webster's People, Daylight is: "The light of day as opposed to the darkness of night; the light of the sun, as opposed to that of the moon or to artificial light." That really helps, doesn't it. I saw a T.V. show once when I was very small where a deaf child was getting her hearing for the first time in her life. She thought that sunlight must have a deafening roar. When she got the bandages taken off her ears, the first thing her nurse did was tear open the drapes in the hospital room, and daylight blared down on the girl, perfectly silent, although she clasped her ears in pain.
2. Are children good or bad? Why?
Yes. Because of their parents and/or ancestors.
3. Is it important to understand things? Why?
Yes, it is always important to understand things. Because then you can apply your knowledge to other things. And that is how you can make things go. And that is how you get power.
4. Is punishment effective?
It depends on the source.
5. Explain the difference between wrong and right.
To do wrong is to act against what is good for your Higher Purpose, which should be to help others live in peace with you and the world.
6. What traits do you dislike in people?
Greed and laziness... and I suppose stupidity.
7. Describe an early memory.
I remember "showing off" at a birthday party of a friend, and then asking my mom why everyone hated me so much, and her telling me that it might be because I showed off. I showed off by telling everyone all of the things I could do. After my mom brought this fact to my attention, I changed my whole persona and spent a lot of energy making sure I never "showed off" again.
8. Why do you continue living?
Because it would piss off a lot of people if I killed myself.
9. What are three things that matter? Why do they matter?
Truth, Health, Freedom. They help you live better.
10. What is wrong with people?
Most don't know what is important. They think money is important. They will trade their time for money. They will work their asses off 80 hours a week at a job they hate just so they can have money to buy themselves things like 20-CD changers and Expensive Dinners-out at Restaurants; things they need because they are too tired after working so hard to buy them.
11. What are the most important items in your home?
This is a really hard question, because I want to answer "me" and "my significant other." and I can't really think of a third thing. I suppose I have a different way of looking at things from being on tour so much. You don't have too many important material objects when you are in a rock band that constantly tours. Anything in this house can be replaced except me and my housemate.
12. Have you ever been arrested? If yes, what happened? If no, what was your closest call?
I have never been arrested. I was once taken into the police station for playing Dungeons and Dragons after curfew.
13. If someone paid you a huge sum of money to kill a dog or a cat, would you do it? Why or why not?
I wouldn't. Money is not that important to me. I would find another way of getting money. I have turned down plenty of money for doing things that were much easier than killing a domesticated animal; you see, money always gets used up; even a huge sum, and you can always get more. You never have to compromise your beliefs or do something stupid or hurt anyone to get money. There's always a better way.
14. Name some famous people who disgust you.
Most politicians. Kurt Cobain.
15. What are the last three things you do before you go to sleep?
Eat ice cream, take out contact lenses, brush teeth.
16. What should everyone know?
Those things I said about money.
17. Explain something.
Take a triangle. Now for each line segment of it, divide each segment into 3 parts. Take the middle part out and substitute 2 segments the same length as what you took out, in an upside-down "V" shape from this: ___ to this _/\_ Now do this again and again forever to each segment. Now you have a figure that has an infinite perimeter. Now draw a circle around it. Now you have a figure with a Finite perimeter that holds inside it a figure with an infinite perimeter. Cool, huh?
18. Is there a reason for everything?
Probably not one that people could understand. I would have to say "yes" but then I would wonder about that Big Bang. I could never figure out the reason for that.
19. What is intelligence?
The thing that comes before Wisdom. I guess it's knowing the Truth about things.
20. Are morals relevant?
Relevant to what?I think a moral, by definition, must be relevant to something. But if you mean "morals" in the right and wrong sense... I could see where someone might believe that doing "right" has no relevance in a world where other people don't "do right." But I don't believe that. I believe that if you live right, you will live happily, and you will help others to be happy too. And all will be well with the universe. Fucking Hippy.
©1997 LMNOP
[Back to the Table of Contents]